Beloved Brand The Ordinary Is Forgoing A Black Friday Sale For Deals All Month Long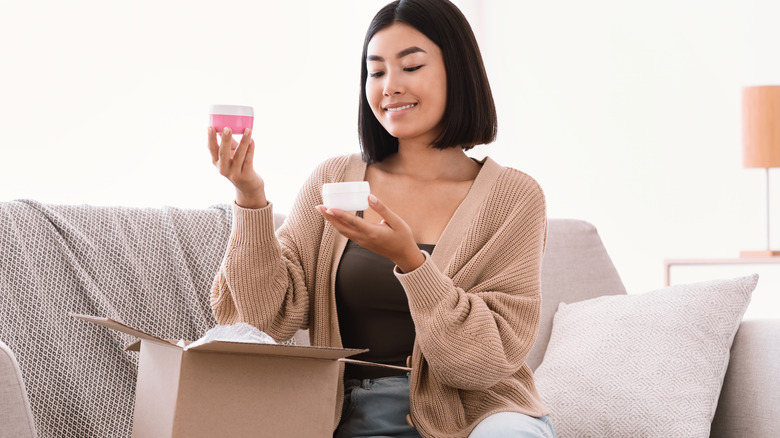 Prostock-studio/Shutterstock
If you're a skincare hoarder, you won't want to miss this ongoing sale. Those who have sampled The Ordinary's offerings know how effective its cult-favorite products are. The brand is known for providing its fans with clinically-researched active ingredients for skin, hair, and body without all the frills. "[We] bring to market effective, more familiar technologies at honorable prices," The Ordinary's official website explains. And right now, you can save even more on beneficial skincare products from The Ordinary all month long. Beauty brand Deciem is currently running its fourth annual Slowvvember sale, which means the entire site is 23% off, including — you guessed it — The Ordinary. Plus, from November 15 through November 21, a portion of all sales will benefit The Solutions Project, an environmentalist group focused on climate change solutions.
Deciem and The Ordinary want you to take your time shopping this sale without any pressure; after all, that's what Slowvvember is all about. However, there's one thing you should know about the unconventional beauty brands before making your list and checking it twice. Although the Slowvvember sale is on throughout the month, Deciem will be closed to customers on November 25. "While Black Friday sales rely on flash discounts and FOMO, we've always believed in education and transparency. As always, we will be transaction-free on Black Friday," Deciem wrote in a recent Instagram post. So, what are some of The Ordinary's best products available during the Slowvvember sale?
The Ordinary's best products for skin
The Ordinary is known for its high-performing skincare products, and the Glycolic Acid 7% Toning Solution is one of its most popular treatments. The Toning Solution is a water-based formula that stars glycolic acid, aloe, and ginseng extract to gently exfoliate skin for glowing results. "I knew this product was working when I was taking a selfie after about a month's use, and I suddenly got confused and thought I unconsciously opened an app with filters," writes one reviewer. According to The Ordinary, those who consistently use the Toning Solution in their routines can expect to see smoother, more evenly toned skin.
Why bother sifting through countless reviews for authentic, cold-pressed facial oils when The Ordinary's is right there? With a 4.5-star rating and only one ingredient, the brand's 100% Organic Cold-Pressed Rose Hip Seed Oil is beloved by skincare fans everywhere. "I've been using it for two weeks, and my partner asked why I have a glow. I just love how it hydrates my skin," writes one customer. According to research published in Bioresource Technology, rosehip oil possesses potent antioxidant properties, making it popular in cosmetic applications for its brightening and toning abilities. You can't beat the single-ingredient formula, and rosehip is one of the best oils when it comes to nourishing and hydrating the skin.
Purchase The Ordinary's 100% Organic Cold-Pressed Rose Hip Seed Oil for $8 (regularly $10) from Deciem.
The Ordinary's best products for hair
Quite a few of us struggle with hair falling out or thinning, especially during stressful situations or changes in the seasons. Fortunately, The Ordinary developed the Multi-Peptide Serum for Hair Density to help users achieve healthier scalps and fuller-looking hair. This serum is one of The Ordinary's bestselling products, and reviewers say it delivers on its promises. "It seems like this serum has turned a lot of my short baby hairs into 'real' hairs. My hair is also growing incredibly quickly and looks better than ever," one customer writes. The Multi-Peptide Serum contains a variety of plant-based extracts, like caffeine, in addition to potent peptides to promote hair growth.
Another clear winner for hair from The Ordinary is the brand's Multi-Peptide Lash and Brow Serum, favored by those seeking thicker brows and eyelashes. Similar to The Ordinary's Multi-Peptide Serum for hair, the company's Lash and Brow Serum stimulates follicles using peptides and botanical ingredients. "To my surprise, this stuff works! I have patches missing from my brows due to thyroid issues, and I finally have hair growing back," says one reviewer. Although there are many lash serums out there, reviewers note that The Ordinary's formula performs well and is kind to delicate skin at a reasonable price. Why not try it if you're looking for a gentle and effective lash and brow serum?
Purchase The Ordinary's Multi-Peptide Serum for Hair Density for $14 (regularly $18) from Deciem.