Gap Is Making An Unexpected Deal With Amazon To Bump Up Sales This Holiday Season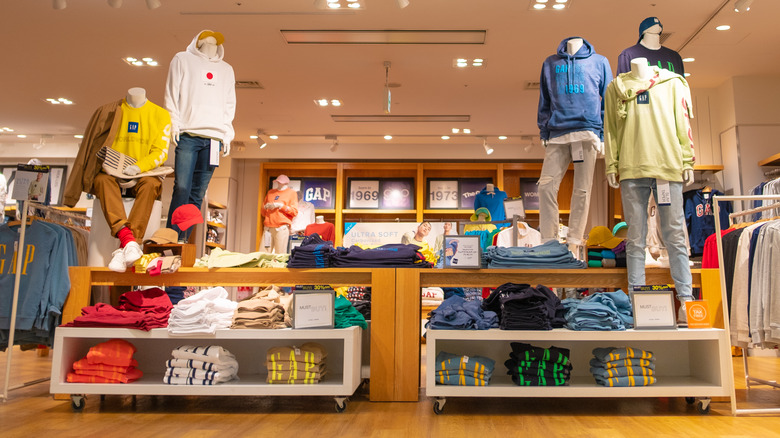 Nor Gal/Shutterstock
We may receive a commission on purchases made from links.
With the holiday season at our doorsteps, brand giant Gap recently announced that it would be partnering with Amazon in the creation of a new storefront (via Women's Wear Daily). According to CNN, Gap products have been available on Amazon in the past, but only from third-party vendors. Now with its own storefront on Amazon, Gap is hoping to boost sales by making its apparel more accessible to a wider shopper base. 
On this, CEO and President of Gap, Inc. Mark Breitbard explains, "Collaborating with Amazon Fashion provides us a new channel to deliver Gap's modern American essentials to even more customers in the U.S. and Canada. We are excited to take this step with Amazon Fashion, to expand our product offering and to deepen our connection with consumers through the Gap brand store." Since the announcement on November 10, stocks have already increased more than 8%, according to The Wall Street Journal, giving hope to a company that's been looking for a turnaround.
Gap has been struggling with sales
Bloomberg/Getty Images
It's been a tough year for longtime clothing and accessory retailer Gap. In an August 2022 press release, Gap revealed that its second-quarter sales dropped 8% compared to last year. Its comparable sales for the quarter ending on June 30 also decreased 10% from the prior year. This news also came not long after CEO Sonia Syngal's resignation in July after failing to turn things around for the company (via Sourcing Journal). Then, executive chairman Bob Martin stepped up as interim CEO, saying, "We are taking actions to better optimize profitability and cash flow in the near term. While our elevated inventory and pressured margins are current realities against unsettled market conditions, they do not define our ability to capitalize on Gap Inc.'s strengths to win."
Things didn't improve immediately, however. Later in October, the company decided to remove all Yeezy merchandise from its stores following offensive remarks from rapper and fashion designer Kanye West (via CNN). The decision now to partner with powerhouse Amazon couldn't have come at a more critical time.
The partnership marks a major change in buying trends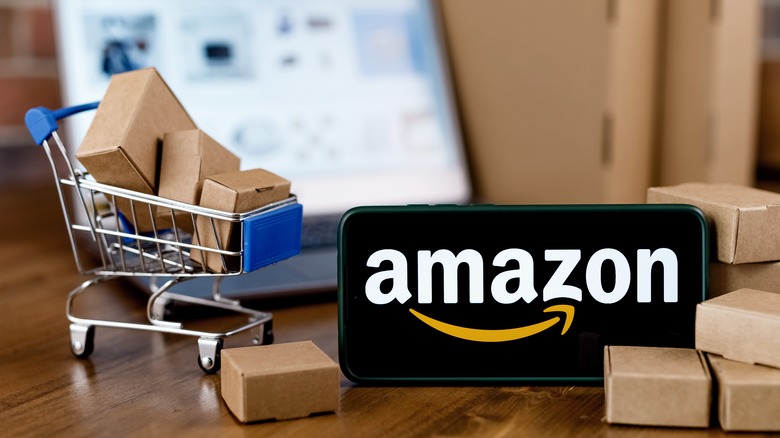 Sergei Elagin/Shutterstock
The new brand storefront comes with excitement from both parties. In fact, Muge Erdirik Dogan, the president of Amazon Fashion,  said, "We're excited to make shopping for Gap products even more convenient for customers" (via Biz Journals). The new line of "American Essentials" for the family includes a selection of hoodies, t-shirts, denim, socks, underwear, and sleepwear for adults, teens, kids, and babies (via Gap Inc.). The online store also includes a Baby Gear section with nursery furniture, strollers, bassinets, and cribs. Although its other lifestyle brands, including Old Navy, Banana Republic, and Athleta, are also declining in sales, per financial reports, Gap will be the only brand to have its own Amazon storefront.
The partnership marks a major change in fashion buying trends. While luxury brands like Neiman Marcus and Lord and Taylor filed for bankruptcy in 2020, Amazon, according to data researchers at Jungle Scout, reportedly sold more than one billion in fashion products alone. It is currently one of the biggest retailers in America and can only provide Gap with hopeful possibilities after what has certainly been a stressful year.