What Are The Benefits Of Edelweiss Flower For Your Skin?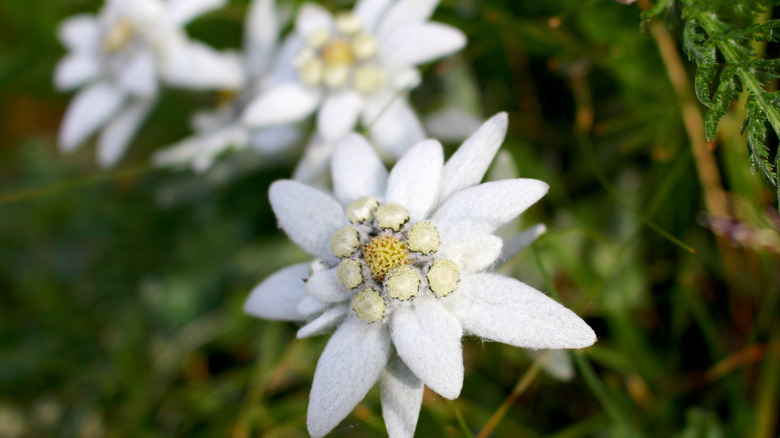 ciud/Shutterstock
We may receive a commission on purchases made from links.
Implementing natural elements into skincare is quickly becoming a phenomenon amongst those who love to indulge in clean beauty (via GlobeNewswire). Whether it is in a moisturizer, oils, serums, or more, many products are adding natural, plant-based extractions for added holistic benefits. The latest to be added into many skincare regimes is the edelweiss flower.
Advertisement
The edelweiss flower is a white star-shaped flower that grows in alpine environments. Its antioxidant, known as leontopodic acid, helps the flower protect itself from the aggressive environment that surrounds it on the mountains, per Paula's Choice Skincare. Because of this, this plant has been used in traditional folk medicine for its antioxidant, antimicrobial, and anti-inflammatory properties to help with a variety of health conditions, such as tuberculosis, coughs, stomach pains, diarrhea, rheumatic pain, and more (via Yuni Beauty). Owing to the way the flower is able to protect not only itself, but also humans through medicinal use, it also brings with it a myriad of benefits for healthy skin. Unlike other skincare products, it seems edelweiss is worth the hype.
Advertisement
Edelweiss skincare benefits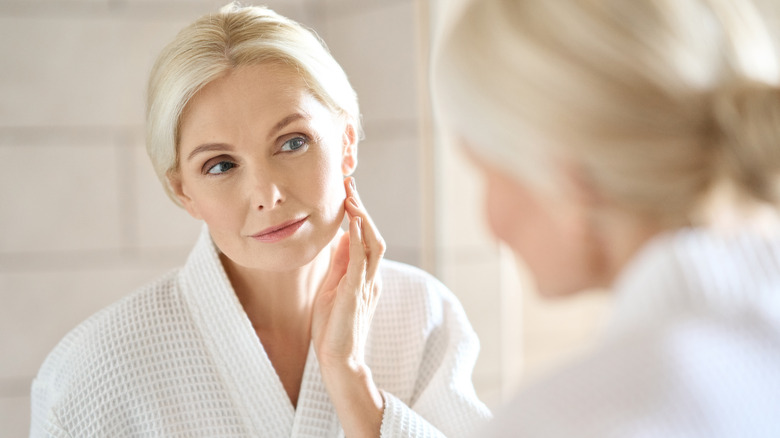 Ground Picture/Shutterstock
According to The Body Shop, about 80% of damage to your skin is caused by "aggressors" that come from dust or dirt particles, pollution, and gasses in the air that can affect the condition of your skin. Some of this skin damage can look like dull, dry skin, fine lines, clogged pores, acne, irritation, and more. But because of the edelweiss flower's capacity to protect itself against similar substances in the alps, many brands have begun implementing the flower into their products for the ultimate protection.
Advertisement
The list of its benefits is glorious for all skin types. In particular, its powerful antioxidant properties allows for the edelweiss flower to defend against free radicals, per Yuni Beauty. More potent than vitamin C, the edelweiss flower is an incredible anti-aging agent, battling the damaging compounds that cause wrinkles and age spots. "A 2020 study [published in the Genes (Basel) scientific journal] demonstrated that edelweiss extracts provide strong antioxidant activity in response to U.V.B., anti-inflammatory effects, and increased moisturizing activity," board-certified dermatologist Dr. Hadley King tells InStyle. "The in vivo data demonstrated that topical application correlated with improved wrinkles, skin elasticity, dermal density, and skin thickness compared to placebo." 
Advertisement
How to use edelweiss in your skincare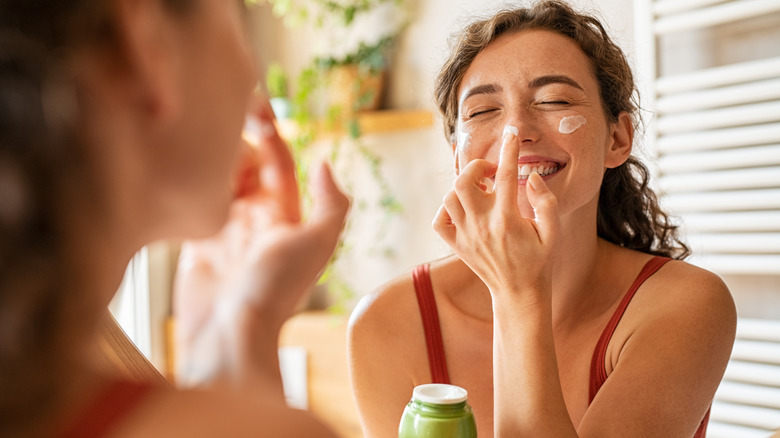 Ground Picture/Shutterstock
Anyone who wants to benefit from all edelweiss has to offer can use it. Plus, it is safe to use every day (via Ebanel). Traditionally, the benefits of the flower were obtained through orally consuming herbal fusions. Today, edelweiss is mostly applied topically through a variety of skincare products. 
Advertisement
For example, you can use it in a moisturizer like the Edelweiss Intense Smoothing Day Cream from The Body Shop, which says it is "made with 97% ingredients of natural origin." Or you can give it a try in the form of a serum like the Radiance Repair Daily Renewal Serum from Goldfaden MD to plump up your skin. Additionally, you can also find it in other products, like oils or lotions, for more skin care benefits.
Depending on which product with edelweiss you choose to use, it should be simple to add it into your regular skin care routine. "As an ingredient with great anti-inflammatory, antioxidant, and cell-strengthening properties, it works with almost all other ingredients," clean cosmetic chemist and founder of KKT Consultants Krupa Koestline tells InStyle. If you're unsure about how edelweiss will do with your skin or other products, experts suggest doing a patch test or checking in with your dermatologist before fully trying it.
Advertisement