Balenciaga's Exit From Twitter Could Be A Sign Of Things To Come For Other Fashion Brands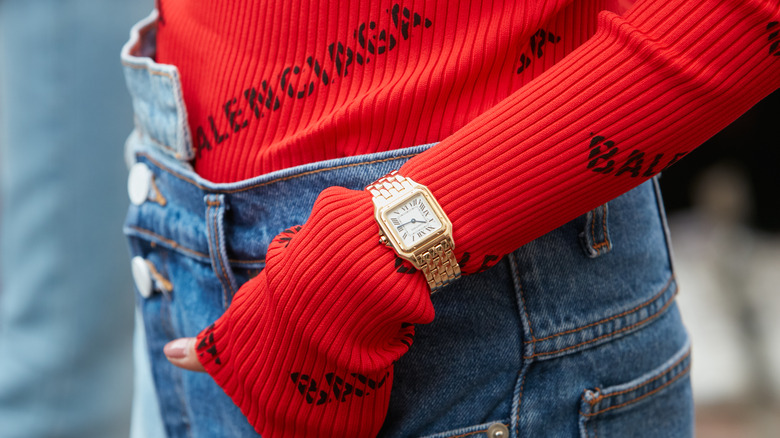 andersphoto/Shutterstock
In a surprising move, Balenciaga has decided not to be part of Elon Musk's Twitter world. On Monday, November 14, Balenciaga removed its account, unashamedly becoming the first major fashion brand to leave the platform, per Business of Fashion. After what has been a very chaotic and messy acquisition, the luxury Spanish brand's exit points to growing concerns over the future of Twitter after what has been an increasingly shaky transition of power.
Since the billionaire tech mogul acquired the company in October, several other corporation giants including General Motors, United Airlines, Dyson, and Pfizer have all packed their digital bags and halted advertisements on the platform (via Giz Modo). In response to the mass exodus, Musk responded in a shaken tweet, writing, "Twitter has had a massive drop in revenue, due to activist groups pressuring advertisers, even though nothing has changed with content moderation and we did everything we could to appease the activists. Extremely messed up! They're trying to destroy free speech in America." Ten days later, fashion all-star Balenciaga joined the growing dissent and deleted its account. Here's what it could mean for the future of fashion brands online.
Balenciaga is setting boundaries with everyone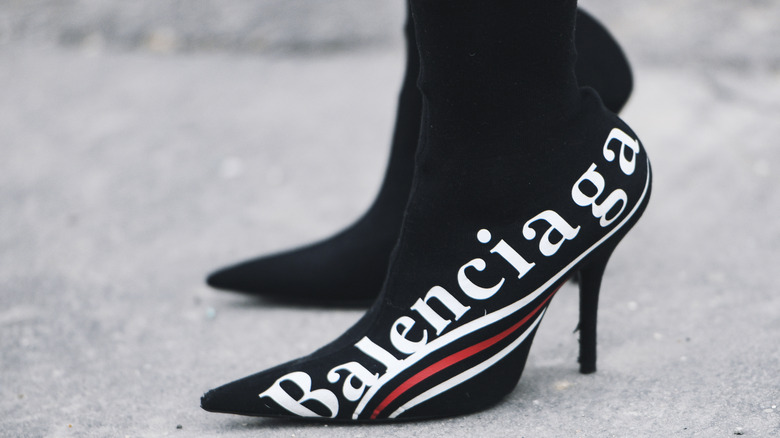 Creative Lab/Shutterstock
Only weeks after dropping ties with Kanye West after his unabashed anti-semitic rant, Balenciaga is continuing to leave its homies in the dust (via CNN). Following Elon Musks' fear-inducing actions and messaging on Twitter, Balenciaga stunned the world and deleted its entire profile. Unlike other big-name companies who simply halted advertisements, this move says with vigor and clarity that the Paris-based brand no longer wants to be associated with the new face of Twitter. Balenciaga has yet to say why it left behind its one million followers, but with Musk's announcements allowing $8-per-month blue check marks, there's at least one reason to be upset.
Balenciaga isn't alone, either. Fashion icon Gigi Hadid wrote in an Instagram story, "I deactivated my Twitter account today," posting a screenshot that showed Musk had fired Twitter's entire human rights department (via ABC News). "Grey's Anatomy" and "Bridgerton" creator Shonda Rhimes also exited the app along with Toni Braxton and Whoopi Goldberg. Balenciaga's departure, however, poses the question of how many more cool kids will leave the Twitter lunch table. Fashion powerhouses are some of the biggest players in the culture at large, and as Balenciaga has proved, they can make the most powerful statements without saying a word. How many more will follow suit? Only time will tell, but one thing is for certain: Balenciaga can do bad all by themselves.
Elon Musk has been on a bridge-burning power trip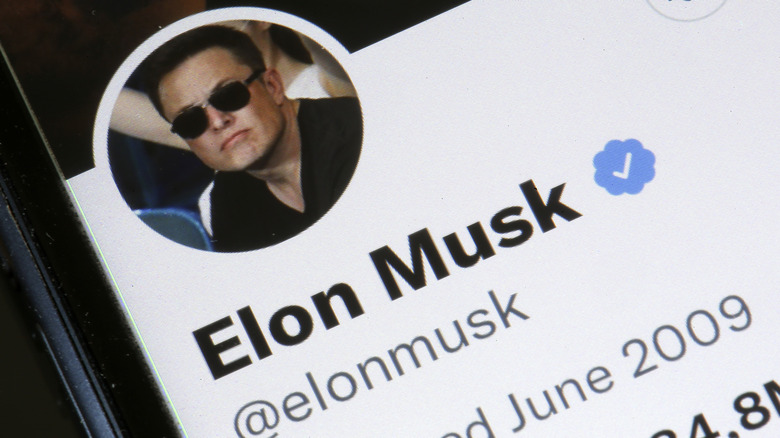 Chesnot/Getty Images
Elon Musk's rise to Twitter power has been tumultuous, to say the least, with nearly 3,700 employees losing their jobs to the billionaire's recent mass firings, according to Euro News. The messy acquisition began in March when the very outspoken and Twitter-active Musk, who had shares in the company, also began vocalizing his worries that Twitter was not allowing free speech (via AP News). After polling his then-79 million followers in a single tweet, he expressed consideration to make his own social media platform but ultimately bought the company for $44 billion.
The world watched with horror as The Washington Post reported that the billionaire was threatening to lay off 75% of the company's workforce in what felt like a manipulative pawn move after extensive legal battles between both parties. Since taking control of the company, Musk has fired CEO Parag Agrawal, CFO Ned Segal, chief legal counsel Vijaya Gadde, and more, according to the Associated Press. He has also overhauled the blue check mark verification process, allowing anyone willing to pay $8/month to have a verified check by their name (via The Guardian). According to reports from The Washington Post, he is also considering charging for video content. Musk has not been quiet about the changes and his aggressive vocality is costing him as more and more advertisers leave the brand, a sector that makes up 90% of Twitter's revenue (via The Guardian).
With such shifting waters, it's clear to see why Balenciaga jumped ship, and we may see more and more fashion houses making the same jump if Musk's plan to change video content is fulfilled. Plus, who could forget the Eli Lilly impersonation fiasco? Ultimately, Twitter isn't a safe place for reputable businesses right now.