Why You're Going To Want To Embrace Overalls As The Hottest Fall Fashion Trend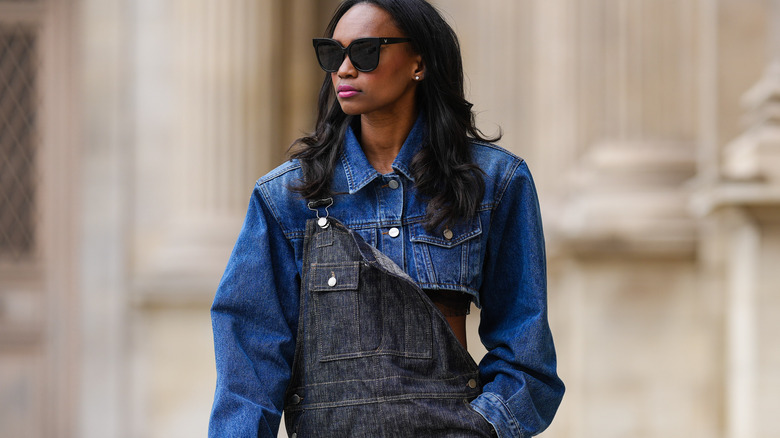 Edward Berthelot/Getty Images
It's an easy sell — that is, if you happen to be a farmer, mechanic, plumber, or practically any other type of hands-on worker. Overalls offer chest-to-toe protection from the natural hazards of the job. Given their roomy style, they offer freedom of movement like few other "uniforms." And because they usually feature an abundance of pockets and other secret hiding places, they're almost like walking toolboxes — as functional as they are practical, WorkWear Command notes.
Advertisement
Given their strong association with America's working class, it may be hard to believe that the British army actually adopted overalls as their own in the 1750s, according to the Kansas Historical Society. It wasn't until more than 100 years later — in the 1870s — that the Levi Strauss company showed railroad workers and miners what a practical choice denim overalls could be. By the time of the Great Depression in 1929, overalls had become a ubiquitous part of the American landscape. Today, it would be hard to thumb through a history book without drawing a connection between the country's working class and their durable outfit of choice. And now, history may be in the process of being rewritten again, and this time in the name of fashion.
Advertisement
Overalls are everywhere in New York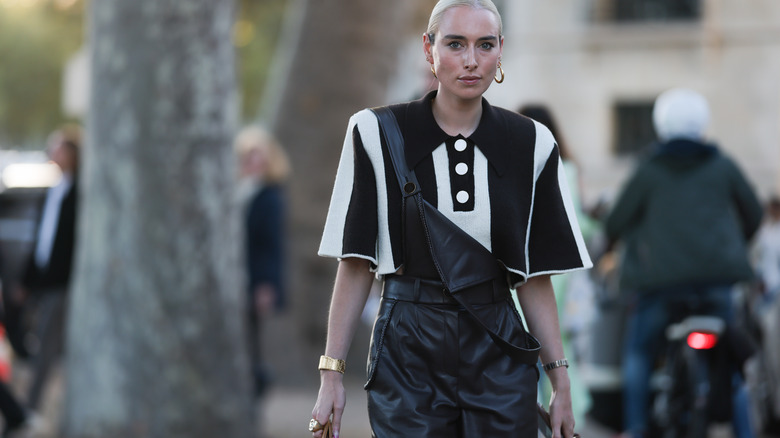 Jeremy Moeller/Getty Images
In case you missed them, overalls started making a quiet comeback in spring 2022. Celebrities like Jennifer Lopez, Blake Lively, Kylie Jenner, and Jennifer Garner did their stylish best to make them relevant again. So what if the women happened to call them "dungarees"? (via People). This was just a minor matter of semantics as overalls were getting revved up for a real comeback in fall/winter 2022.
Advertisement
Although the Brunette from Wall Street insists that overalls are always in fashion, it really wasn't until overalls were spotted at 2022's New York Fashion Week that tongues started wagging, per Nylon. In fairness to overalls' unique construction, they apparently suit the times as neatly as a tape measure glides into a front pocket. In other words, the baggy, oversized look is in, and this quality puts overalls exactly on point. Consider the duly noted competition spotted on New York streets: bell bottoms galore, wide-legged slacks (seemingly with room for two), and cargo pants loaded with pockets.
Of course, you may have to disabuse yourself of some notions to embrace this hot fashion trend. For starters, overalls are not just for tomboys; there are many ways to wear them. And you don't have to be a 6-footer to wear overalls well. Just make sure they fall right below your ankle bone, Thread Curve says. Now only your imagination can hold you back.
Advertisement
Follow your instincts to style overalls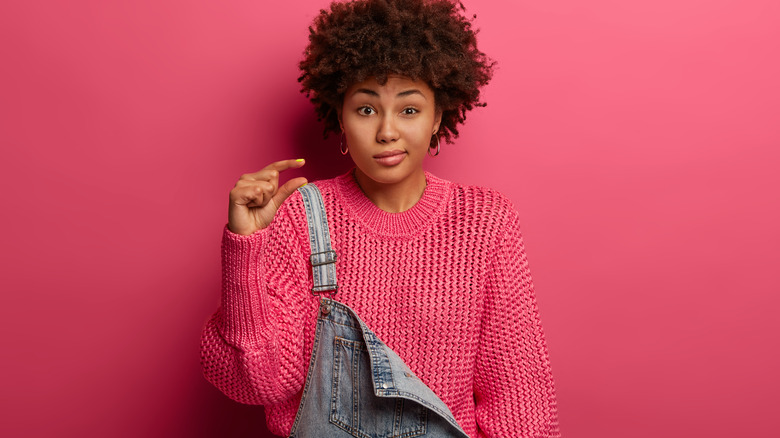 Cast Of Thousands/Shutterstock
Judging from the looks of overalls — from the Depression to the runway models of today — the "secret" to wearing them effortlessly requires not overthinking your dressing strategy. In other words, since overalls literally go over another article of clothing, there's probably nothing they can't make stand out. Think about it: they can go over the tiniest tank top, bralette, or the latest combination: the bralette tank (via SBS-Zipper). And don't forget one of the most endearing qualities of overalls: the fold-down, peek-a-boo flap that exposes exactly what you want others to see.
Advertisement
You may be hard-pressed to pinpoint why overalls look so good paired with sweaters — and sometimes, the chunkier the sweater, the better, per Thread Curve. But if you can't take your eyes off the effect, you share the same obsession as the people watchers in New York. They may gravitate to the layered look because it dares to enter another word in the lexicon: "overall jumpsuit" (via Today).
If you're determined to imbue overalls with feminine flair, return your gaze to New York. Wide-legged overalls, elevated by wedges, platforms, or chunky heels, can be as welcome at the office as your favorite dark corner to savor an after-work cocktail, per Nylon. You get the idea. Overalls are the epitome of low-maintenance styling, which is another reason they remain an easy sell.
Advertisement