How To Seamlessly Blend Clip-In Extensions Into Your Short Hair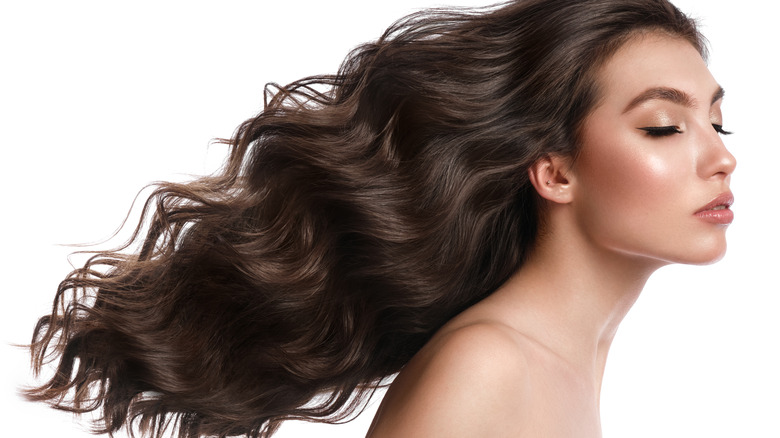 KOBRIN PHOTO/Shutterstock
Fake it 'til you make it may be one of life's greatest mottos, and that's definitely true when it comes to the beauty industry. Press-on nails, false eyelashes, self-tanning, and did somebody say hair extensions? These days, you don't need to wait for those expensive hair vitamins and supplements to work their magic. With the help of clip-in hair extensions, long, voluminous hair is only a few snaps away.
Advertisement
The truth is that being "fake" is only a mindset, and for those who love a good, luscious head of locks, hair extensions may be the answer. Whether you regret chopping your hair off or want to rock a short 'do one day and long hair the next, clip-in hair extensions are a great option. And many swear by them! In fact, in a survey shared by Soocial, 34% of the participants declared that their regular beauty routine consists of wearing extensions. In a separate study, 93% admitted they would consider wearing them. Honestly, we don't blame them.
However, buying extensions and learning how to blend them are two completely different adventures. What's more, making extensions look like they naturally grew out of your head can be a real pain in the neck, especially if you naturally have short hair. If you currently have a set that you are dying to rock but have no idea how to blend them into your short hair, we've got you covered.
Advertisement
It's all about placement and styling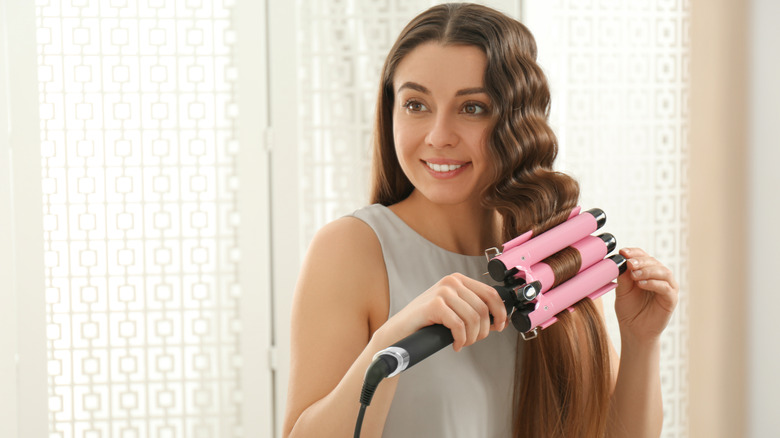 New Africa/Shutterstock
The point of wearing hair extensions is to make them look believable (or "beweavable," as we call it). And where you place the extensions on your head is crucial to achieving that. Typically, you would part your hair at the nape of your neck and secure the clips close to the root. However, for our short-haired beauties, you want to pin that bottom section of your natural hair to your head so the short strands don't pop out under the extensions. A YouTube video by hair extension company Luxy Hair depicts this perfectly.
Advertisement
After the bottom section of hair is secured to your head, you can place the three-clip weft on top of it. Then, section the next layer right above, and secure the four-clipped weft. Continue to section and clip as you make your way to the top of the head, stopping at the crown. This step is vital to ensure your hair blends seamlessly: use those two-clipped wefts in your set for the sides of your head. According to hair extension company Zala Hair, the side pieces will "balance out any layers" along the framing of your face.
After the clips are secured, you want to style your hair with a hot tool to blend it all together. Curling or straightening your hair once the extensions are applied is a great way to integrate your hair and the extensions seamlessly (via Perfect Locks). Finish up by giving your mermaid-esque head of hair a soft brush-through for a seamless blend.
Advertisement
What to know before purchasing your hair extensions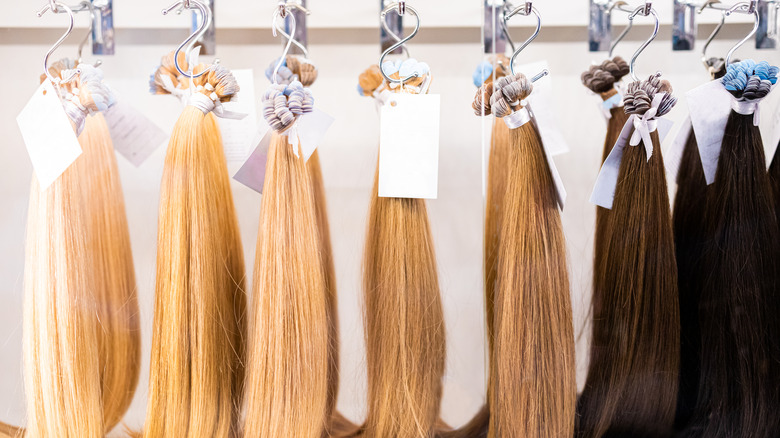 Leszekglasner/Getty Images
Hair extensions are a hefty investment, especially for premium hair that gives effortless length and volume. And if your biggest concern is ensuring your extensions look natural, you'll want to set aside anywhere from $200 to $600 for quality hair, per Fash. When browsing for your perfect set, you'll need to keep a few things in mind.
Advertisement
For starters, what type of hair do you want: real or synthetic? Both have pros and cons, with the obvious being that 100% real human hair extensions are, well, real human hair and typically perform the same way the hair on your head would. For those looking for extensions that last longer and are better quality, investing in real hair is the way to go (via Bellami Hair).
You also want to look for a set that matches your hair's natural volume. If you have thick hair, you'll want to purchase a set with 150 to 250 grams of hair (per Emily Hadrill Hair & Extensions). For medium hair, a set between 125 and 175 grams is perfect. And for the thin-haired queens, you could rock a set between 100 and 125 grams of hair. Also, ensuring the extensions match the color of your hair is essential in establishing a perfect blend. Most online shops offer hair-matching services, so definitely utilize those if needed! And remember, practice makes perfect. You'll be singing, "You like my hair? Gee, thanks, just bought it," just like Ariana Grande in no time.
Advertisement