Hailey Bieber's Rhode Skin Is Launching A Delicious New Lip Treatment Flavor For Her Birthday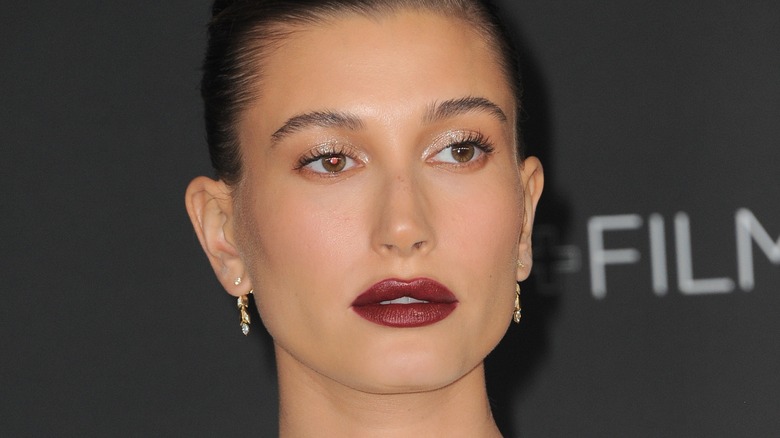 Tinseltown/Shutterstock
Back in June, Hailey Bieber launched Rhode Skin, adding the brand to a long list of celebrity beauty brands that have been popping up on the market. Named after Bieber's middle name, Rhode, this new skincare line has been nothing short of successful since its launch. Fans absolutely love it, so much so that many of the brand's products sold out within minutes of its launch, especially those inspired by her viral glazed donut nails or glossy lips, per Sky Society. These popular products include the Peptide Glazing Fluid, a gel serum to hydrate and protect your skin's moisture barrier; the Barrier Restore Cream, a moisturizer with antioxidants; and the ever-beloved Peptide Lip Treatment, offered in flavors like Watermelon Slice, Salted Caramel, or fragrance-free.
Now, in honor of Bieber's birthday on November 22, Rhode Skin is launching a new flavor for the ever-popular Peptide Lip Treatment to celebrate. Can you guess what flavor it will be?
Rhode Skin is launching a Vanilla Cake flavor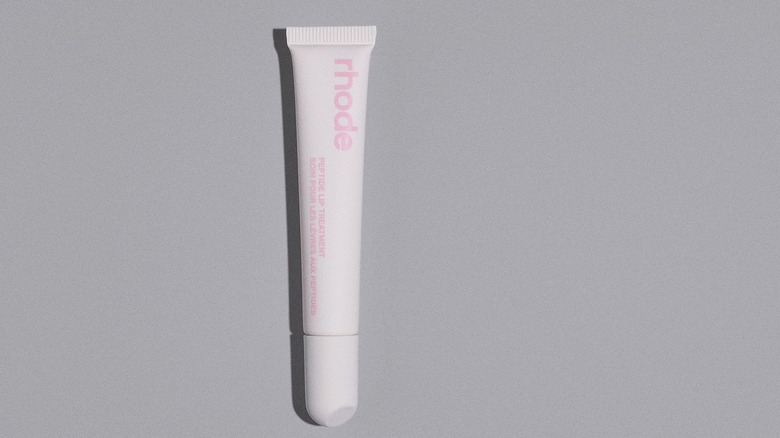 Rhode Skin
The new limited-edition Vanilla Cake flavor of Rhode Skin's Peptide Lip Treatment, priced at $16, will launch on Hailey Bieber's birthday — November 22 — at 8 a.m. PST. You will be able to shop the lip product on its own or with another limited-edition product: the Birthday Duo. This Rhode Skin bundle will include the Vanilla Cake lip treatment as well as the Peptide Glazing Fluid in one set priced at $42, according to an Instagram announcement. As you wait with anticipation, you can join the waitlist to be notified when the item launches.
"I'm always gravitating towards vanilla, or vanilla with some sort of filling. So that's what led me to the idea of classic, yummy vanilla cake," Rhode founder Hailey Bieber tells Harper's Bazaar. "When I picked this flavor, I was thinking about when would be the right time to launch, and would it be kind of fun if it was a limited flavor, and that's what led me to want to do it for my birthday." To add to the celebratory birthday vibes, Bieber tells Harper's Bazaar that the packaging includes a different color. By adding pink to the bottle along with a pink box for the duo bundle, Bieber is hoping to commemorate her first birthday since launching Rhode Skin with "fun and festive" colors.
Why people love it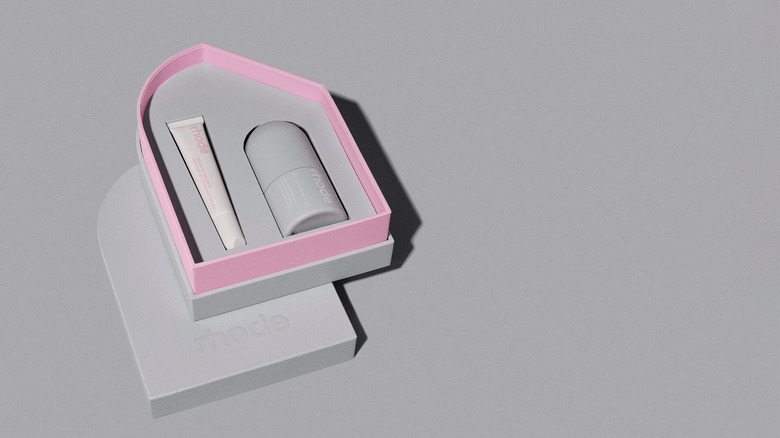 Rhode Skin
The Peptide Lip Treatment has sold out five times within the six months since Rhode Skin's launch. With a waitlist of 300,000 people, many fans can't wait to get their hands on the product, as Beiber teases the launch of its new Vanilla Cake flavor. In the product listing, Rhode Skin states that the lip treatment can be used day or night for "plump, pillowy-soft" lips. The lip treatment offers a multi-purpose use of skincare and beauty in one, as it gives your lips a glossy look, much like Bieber's popular style, while also nourishing dry skin. Key ingredients here include shea butter, peptides, cupuaçu, and babassu, all of which work together to hydrate and plump the lips with a glossy finish.
"It glides onto the lips beautifully, and you can really feel it sink in; it doesn't just sit on top of your lips like other lip masks," television writer and producer Caroline Goldfarb wrote in her column, Celebeauty, for Bustle. "She left my lips feeling moisturized for hours. Like seriously, hours. It gives a glossy finish — I'd describe it as the multitasking, secretly super-hydrating lip gloss I didn't know I needed."
Fans are already excited about the upcoming new flavor. Be sure to set your alarms and reminders so you don't miss out on this limited-edition product, which will be available on Rhode Skin's official website.