Here's How To Buy Perfume Online Without A Smell Test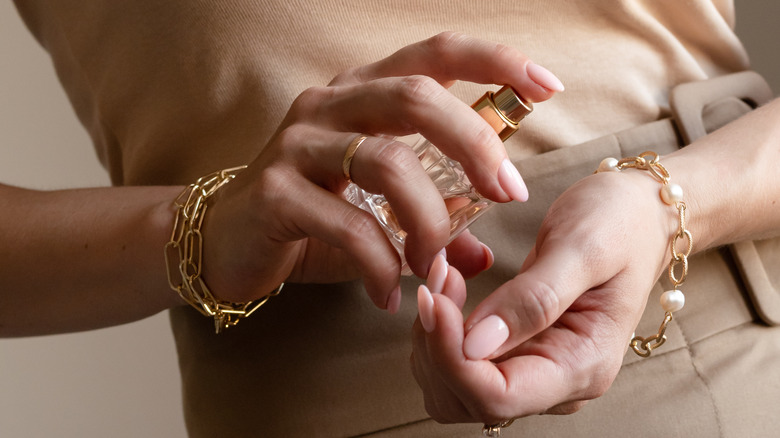 Alena_Kos/Shutterstock
For some, walking up to the fragrance counter at any department store is a thrilling experience. From smelling this perfume to that one while sniffing a cup of coffee beans in between and dodging pushy salespeople, it definitely takes a special person to enjoy such a moment. And truthfully, many people can't stay away from them. In fact, the global perfume market reached a whopping $33.5 billion in 2021 and is expected to increase by 6% by 2027 (via Global News Wire).
Advertisement
For some, the idea of shopping for perfume in person sounds like a daunting task. With the rising boom of online shopping in the last few years, it's no surprise many people prefer to purchase items with the click of a button instead of taking trips to the mall. In fact, Chandler Burr, former scent critic for The New York Times, told Who What Wear that "buying a scent online is arguably better than buying it in a store and for multiple reasons."
From being able to relax and read the ingredients to researching reviews and ordering samples, online fragrance shopping really seems to be taking the crown. And the good news when it comes to perfume shopping is that there are steps you can take to make sure you pick the best one your nose will love.
Advertisement
Make note of your favorite scents and go from there
Jodiejohnson/Getty Images
When shopping for a fragrance online, the first step you can take is figuring out which aromas you tend to gravitate toward the most. In fact, Emma Leslie, editor at perfume and cosmetics company Escentual, told FashionBeans, "To make things easier, begin by making a note of what you've worn in the past and take inspiration from that." From there, you'll likely have a better idea of the types of notes you like the most so you can narrow down your selection when shopping online.
Advertisement
You may also benefit from looking at how your favorite perfumes are marketed. Do they have keywords like "fruity" or "powdery" in the description? Noting those describing words when online fragrance shopping could help guide you toward your next holy grail perfume. Plus, it'll be way easier to describe your favorite smells to your partner when your birthday comes around!
It's also helpful to know which notes work best when referencing fragrance words like "fresh" and "sweet." If you're in the market for a fragrance that smells fresh, look into green and fruity notes of citrus, lime, ginger, fig, and lily (via 9Honey). Conversely, if you prefer sweeter fragrances, you may like warm notes of vanilla, cinnamon, and caramel. Get acquainted with the verbiage and understand your fragrance style, and you'll be an online fragrance-shopping expert before you know it.
Advertisement
The pros of online fragrance shopping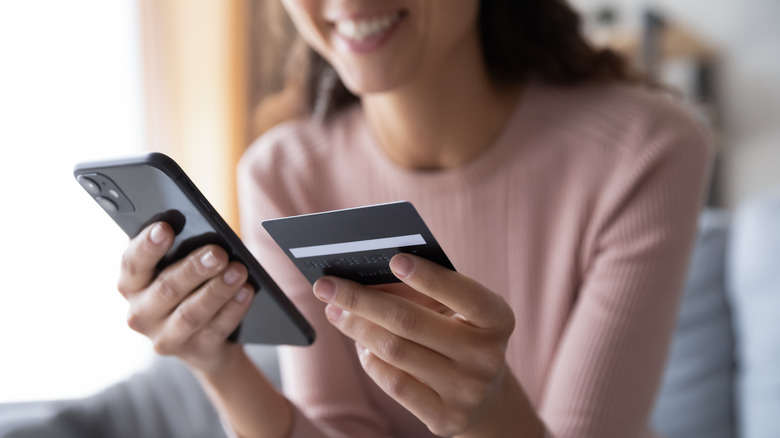 fizkes/Shutterstock
There are other advantages to purchasing your perfume online that go beyond skipping the hustle and bustle of retail stores and lines. According to the online perfume store Perfume Booth, testing various scents in person can mess with your nose and your "judgment skills." After sniffing different scents, you'll eventually be unable to differentiate them as they all begin to mesh into one giant sneeze-inducing aroma. The result? Leaving with a fragrance that smells totally different than you thought.
Advertisement
Former New York Times scent critic Chandler Burr told Who What Wear that online fragrance shopping removes you from gender stereotypes and marketing. Gone are the days of staying toward the "guy" or "female" section of the fragrance counter. In fact, Burr says, "Online, no one cares if you're a man, woman, or something else. You can easily ignore the marketing that tells you which gender a fragrance is 'for.' Fragrances are for everyone." Preach!
What's more, with online shopping comes discounts and special offers. And who doesn't like saving a buck, especially on luxury perfume? You typically wouldn't see a department store offering discounts because most of the fragrances sold there have "standalone stores" that don't often give them (via Perfume Offer). Not only that, but the payment options when shopping online are also a huge bonus. Apple Pay? No problem. Financing options? They may have you covered. PayPal? Sure! Next time you're in the market for a new perfume, you may want to head to your smartphone instead of the mall.
Advertisement