Why You Should Add Almond Oil To Your Beauty Routine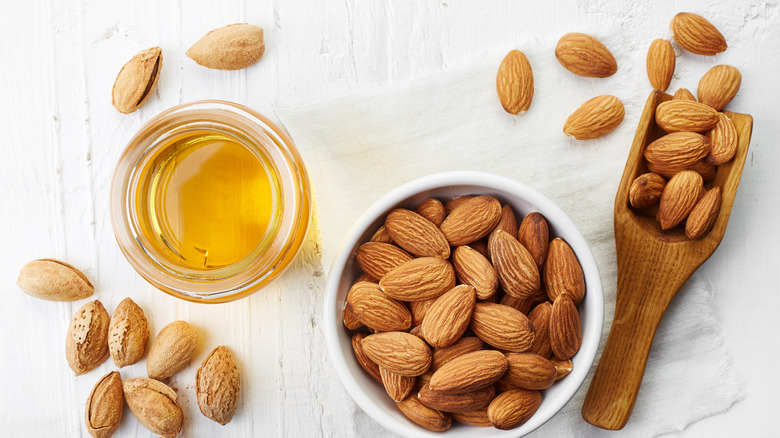 Baibaz/Getty Images
Typically when you think of ingredients to add to your beauty routine, the last place you think to check is in your pantry. In recent years, adding ingredients like avocado oil has become more common in your beauty routine. One new ingredient that has become a new trend in the beauty world is almond oil. According to Midtown Market, almond oil is used as a finishing oil for fish, vegetables, salads, and cream soups. While an excellent ingredient for cooking, almond oil has also become a great addition to your beauty routine.
Advertisement
Almond oil has plenty of properties that can help improve many aspects of your beauty routine. Depending on how you incorporate almond oil, you can be sure it will add many benefits. Like with any new ingredient you introduce into your routine, ensure your skin does not get triggered or irritated by it. Unlike other ingredients, almond oil is more natural and accessible, as it can be found almost anywhere. Finding beauty alternatives like almond oil is one way you can make your beauty routine more personalized and unique to suit your needs.
Benefits of almond oil in your routine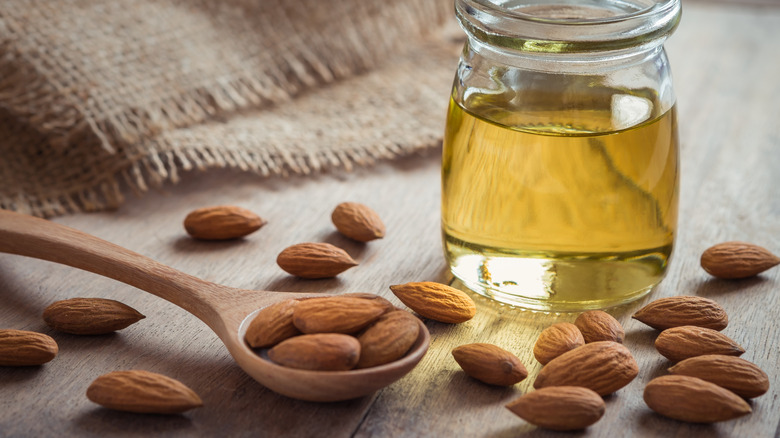 Amarita/Getty Images
Like most ingredients derived from plants or food, almond oil carries many benefits that you may want to add to your hair routine. Nectar USA explains that almond oil can be an ideal resource for a healthy scalp. Almond oil can help to deeply moisturize your scalp to help get rid of dandruff and itchiness that might occur. If your scalp gathers too many dead skin cells, it can cause dandruff and cause your hair to stop growing as healthy as it could. Almond oil can help refreshen the scalp to ensure it stays free from any obstacles getting in the way between you and the hair you've always wanted.
Advertisement
Skinkraft adds that almond oil is a great resource of fatty acids which can help improve your skin health and appearance. The various vitamins and anti-inflammatory properties in almond oil can help with skin cell regeneration and soothing the skin. As well, almond oil can help repair and strengthen the skin barrier and retain moisture within the skin. Almond oil can overall improve hydration in the skin and smoothen any fine lines, wrinkles, or spots. This ingredient is especially great for those who live in dry, cold climates where they may lack the necessary moisture for healthy skin in the winter months.
How to add almond oil to your routine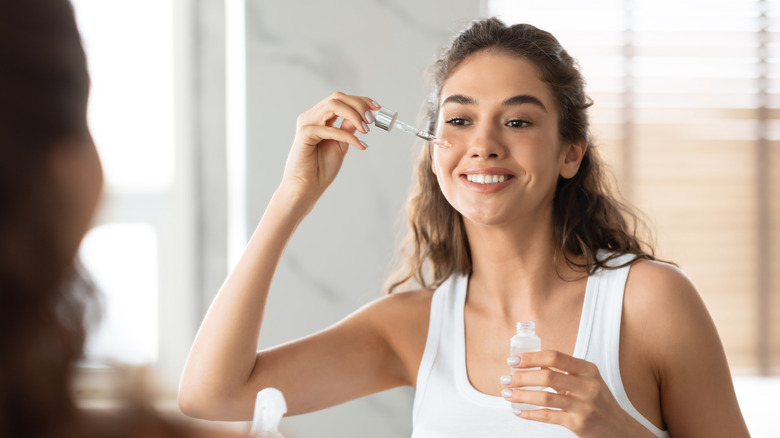 Prostock-studio/Shutterstock
Depending on how you like to go about your routine, adding almond oil is fairly simple. Nordstrom recommends adding a few drops of almond oil onto your finger or a cotton pad and using it on dry skin as a makeup remover. Spread the product around and remove it with water. You can also use a few drops as a post-shower body moisturizer by just rubbing it wherever you feel needs the extra hydration. As another bonus, you can use a few drops on your cuticles to soften them and leave your hands soft.
Advertisement
Kama Ayurveda adds that if you wanted to use almond oil for your hair, it is as simple as adding a few drops to your scalp. Massage drops of almond oil into your scalp to let it remove dead skin cells and stimulate hair growth. Make sure you cover the entire scalp in your massage to fully rid the area of dandruff and dead skin cells. You can also add a few drops of almond oil to your hair if you want to soften it enough to brush through it without struggling with any tangles or knots. Almond oil will also help to condition your hair and make it softer and easier to manage, so why not give it a try?