Pointed-Toe Pumps Are Having A Triumphant Fashion Comeback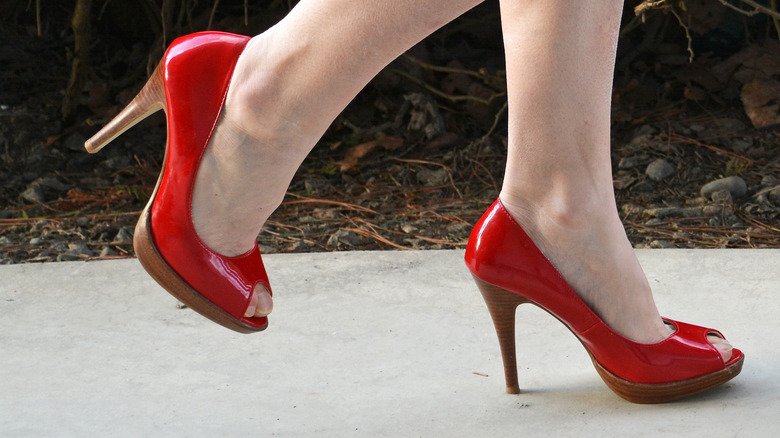 Kallie Kantos/Shutterstock
We may receive a commission on purchases made from links.
Pumps with pointy toes provide an intriguing mix of style, discomfort, and flattery. For instance, pointed-toe shoes famously help your legs look longer (via YouLookFab), making pointy shoe options an ideal choice for petite people, medium-height people with short legs, or tall people who want their legs to look even longer. Plus, the sexy yet serious pointed shape makes these pumps convenient to wear at a wide variety of events and occasions. For instance, you can wear your favorite pair of pointy pumps to work and keep them on for a romantic date afterward without having to bring a change of shoes, even if you switch your outfit.
Keep in mind that while these pointy heels are gorgeous, they aren't super comfortable. One Quora user even wrote, "I am ardent lover of high heel shoes, but I can't stand pointed toe heels for longer periods. Definitely they are most beautiful and elegant to view, but not so comfortable to walk around." While pointy pumps aren't known for being comfy, they look stunning, so their lack of comfort hasn't stopped them from making a significant comeback.
Pointy pumps are all over social media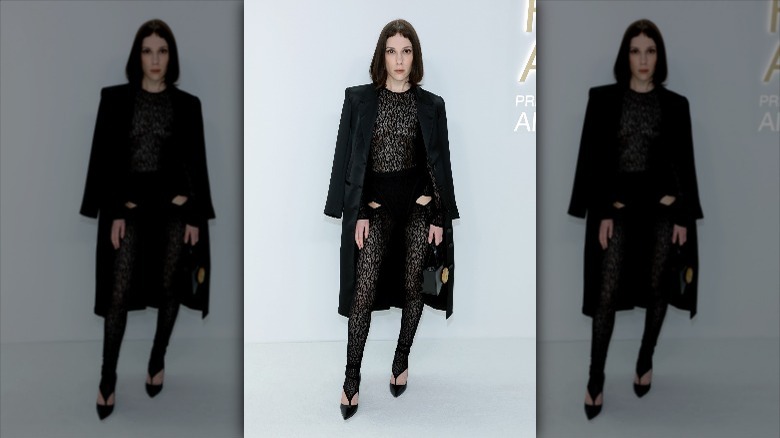 Dimitrios Kambouris/Getty Images
Somewhat painful yet ultra-stylish pointed-toe pumps are back with a bang, as there are more than 15,000 posts devoted to #pointyheels on Instagram. The social media platform is an excellent place for people curious about this type of footwear to look for inspiration, as you'll find a plethora of examples of pointy heels on Insta. While black pointy pumps are a classic, what you see on Instagram might tempt you to explore bolder options, such as a vibrant red pair, a daring black and white pair, or even a bright green pair with some sparkly details. Even the one and only Kim Kardashian posted in neon pink pointy footwear on Instagram, and whenever she flaunts a trend, everyone knows it's here to stay!
The pointy heel resurgence is so prominent that there are many TikToks centered on the trend. For example, a TikTok user named Alisa posted a video showing viewers how to style an outfit with black pointed-toe heels, including ripped jeans, a fitted white top, sunglasses, a black bag, a neutral jacket, and dainty jewelry. She captioned the video, "I heard pointed toe heels are making a come back?" And another TikTok user commented, "Pointed toed heels will always be a staple." So, whether or not you love wearing pointy heels, they'll be sticking around — at least on social media.
Our favorite pointed-toe pumps
Another sign that pointed-toe pumps are trending for the long term is that many significant fashion retailers are selling them, including Bloomingdale's, Nordstrom, Macy's, Target, and DSW. So, if you want to invest in a new pair — or more than one new pair — you have options, and some stand out above the rest. For instance, the Sam Edelman Women's Hazel Pointed Toe High-Heel Pumps feature a 3-inch heel and are available at Bloomingdale's for $140. These sleek, pointy pumps have 4.5 out of five stars and come in your choice of black leather, beige leather, black suede, white, and navy suede.
On the other hand, anyone who wants a modern, unique pointed pump should check out the Schutz Cendi Transparent Pointed Toe Pump. Selling at Nordstrom for under $120, the sides of these pumps are clear, and the heel is 4.5 inches. Furthermore, the pumps were made in Brazil, and the shoes have 4.2 stars. Moreover, the BCBGeneration Women's Hawti Pointed Toe Pump is available for around $50 at Macy's and features fun embellishments toward the bottom for a subtle yet glamorous touch, drawing more attention to the pointy toe. What's more, the heel is 3.75 inches tall, and the pumps have a perfect five-star rating.
So, are you ready to experiment with pointy pumps?