Fran Drescher's Partnership With thredUP Is The Perfect Way To Capture Her Iconic "The Nanny" Style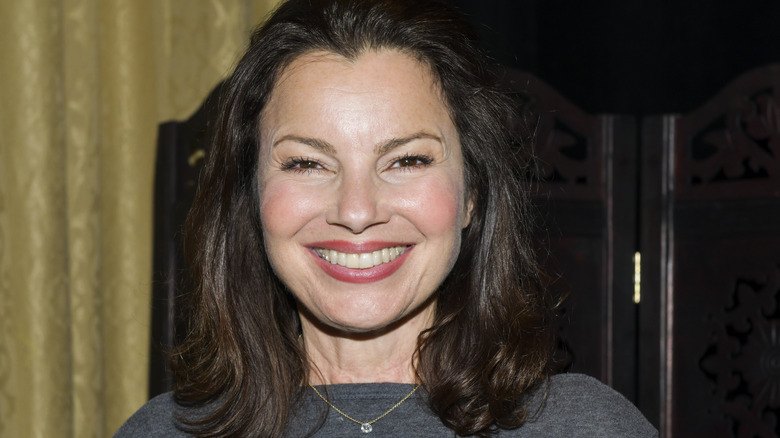 Rodin Eckenroth/Getty Images
Anyone who grew up watching television from the '90s likely knows a program called "The Nanny." The sitcom became an instant classic, mostly thanks to its boisterous main character Fran Fine and her bold wardrobe choices, and has even transcended into later generations. As noted, one of the highlights of the program is the main character Fran Fine's style, and even long after the program ended, "The Nanny" influenced fashion trends and inspired many people's personal styles. It's no wonder that resale clothing site thredUP's latest collaboration with Fran Drescher, the actress who played Fran Fine, has been causing a frenzy.
While it's not new to see another celebrity fashion collaboration, this pairing is something fans of fashion and sustainability will absolutely love. Channeling the character's unique style, this collaboration is the perfect upcycled holiday collection to add to your wardrobe. As Drescher explains to People, "The holiday collection is fun, and it's unique and bohemian, which is nice. It's original. It's representational of where we need to be heading."
Although you definitely will want everything from the collection simply due to the fashionable looks, the messaging and purpose behind the collab will convince you to splurge on anything you can get your hands on.
What to know about Fran Drescher and thredUP's collaboration
If you are in need of your newest holiday partywear, no need to worry as the collaboration between Fran Drescher and thredUP will most likely give you a few ideas. Besides being fashion-forward, the collection was inspired by the idea of celebrating the holiday season without breaking the bank or filling up landfills. 
"As one of the largest online thrift stores, we are committed to thinking creatively about how we can recirculate and make use of every single item that comes through our doors," Erin Wallace, Vice President of thredUP's Integrated Marketing, said (via thredUP Newsroom). "We also love a fashion throwback, so we decided to marry two of our favorites: secondhand clothes transformed into new looks, and unforgettable '90s fashion. Who better to represent this combination than the ultimate then-and-now fashion icon, Fran Drescher. We are thrilled to partner with her and [designer] Zero Waste Daniel on this campaign and show the world that some things just never go out of style."
Adweek adds that besides being a stylish way to use recycled materials, there is a charitable component to the campaign. 20% of the proceeds from sales of the collection will be donated by thredUP to Drescher's charity, Cancer Schmancer. The charity's purpose is to help the fight against cancer by bettering early detection and prevention.
The must-have pieces from the collection
Part of the reason why this collaboration is such a hit is because of its unique nostalgic style. With current fashion trends favoring nostalgia and the entire '90s era, it's easy to see why plenty of these patchwork looks are going to be in everyone's carts. While many items have already sold out, there are still some pieces you get your hands on. One of the items still available in the collection is a burgundy patchwork sweater, which makes the perfect addition to your winter wardrobe (via thredUP). Made out of 100% recycled material, this sweater is both cozy and seasonally on-trend.
If you want the complete Fran Fine look, you can also opt for some of the patchwork coats available. Although they are the highest-priced items of the collection, they are both warm and unique. Since they are made of leftover articles of clothing, you can be certain that the coat you purchase is a one-of-a-kind piece. Made out of an assortment of materials, these coats are everything but minimalist. Just like Fran Fine, they will command attention this holiday season.