The It-Sneaker Of 2022 Is An Undisputed Classic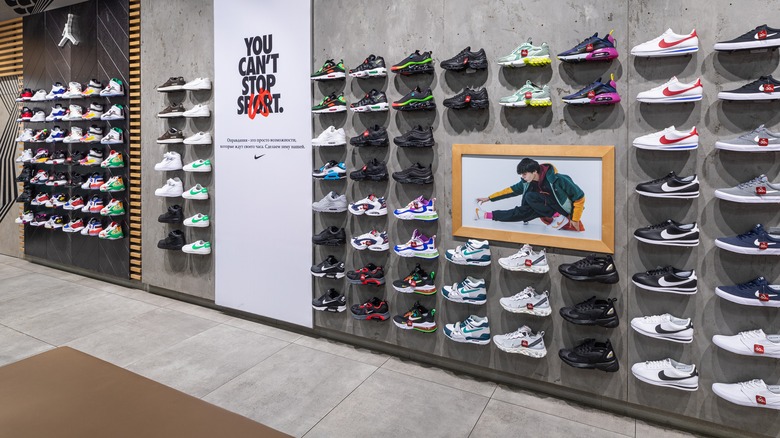 Jasen Wright/Shutterstock
Today's trends are heavily inspired by '90s grunge and Y2K poppy ensembles and we're seeing variations of those looks making their way back into many people's wardrobes. But while trends come and go, classics stick around for the long haul, as they should. Classic sneakers, especially, will never go out of style (via Hypebae).
Advertisement
Sneakers probably are not the first thing that comes to mind when you think of high fashion, but they have quickly worked their way into the mainstream fashion world. Many sneakers in their original designs were created for athletes who played a variety of different sports. However, when musicians and celebrities began wearing them, they became much more than athletic shoes. 
Today, sneakers are popular in streetwear fashion and styles from brands like Nike or Adidas have inspired luxury designers like Balenciaga or Prada to create their own high-end versions (via The Collector). Now, they can be worn with just about anything. But there is one it-sneaker standing out from the crowd that will likely find itself on many holiday wish lists this year.
Advertisement
It-girls wear the it-sneaker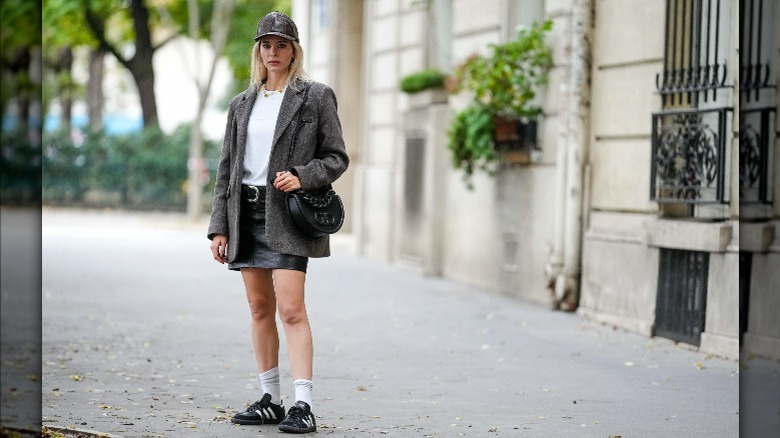 Edward Berthelot/Getty Images
Seen on top models like Bella Hadid and Kendall Jenner and influencers like Emma Chamberlain, it is safe to say the Adidas Samba sneakers are big this season. Originally designed by Adidas founder Adi Dassler back in 1949, they are a great example of function turned into fashion, as they were meant to give European soccer players proper traction when they practiced on icy ground. 
Advertisement
With comfort and agility at the forefront, Sambas features a rubber sole for a strong grip, per Sneaker Jagers. And in the '90s, many skaters began wearing them as well. Today, they are in style yet again.
This classic sneaker is so popular that a wide variety of sizes and styles are constantly selling out. One of the most popular color combos is the cloud white and black, which is what Adidas describes as a "faithful reproduction of the 1950s Samba sneaker." The design consists of an all-leather upper, gum rubber outsole, the classic serrated 3-stripes on its sides, and a woven Adidas label on the tongue of the sneaker. Depending on the design, you can purchase Adidas Sambas for anywhere from $75 up to $130.
Advertisement
How to style the sneakers
With a slim design, many fashionistas argue that this shoe is on its way to replacing the chunky sneaker look that was once in style. The best thing about the Adidas Samba sneakers is the versatility that they offer in how you can style them. "The low profile, sporty silhouette of the Samba makes it easy to style and is a departure from some of the more chunky, traditional Dunk, Yeezy, and Jordan silhouettes that have been popular," influencer Ruby Lyn tells Refinery 29. "The Samba's vintage aesthetic and classic heritage serve to make it fresh for any season, and likely contribute to its unisex popularity."
Advertisement
There are a variety of ways to style your Sambas, no matter your look. They are perfectly paired with a casual outfit inspired by the off-duty model look. You will want to keep it simple and implement other classic garments for this. Think classy t-shirt and jeans. Your top can be cropped, a basic t-shirt, or even a tank top. Opt for a pair of subtle capris or mom jeans to show off the sneakers. Stylish trousers will also work to show off the sneaks. Don't forget to accessorize with dainty jewelry, sunglasses, and a statement belt. Additionally, oversized t-shirts, blazers, or sweatshirts can really take this look up a notch (via Gabrielle Arruda). And don't be afraid to wear some of your dressier ensembles, too. Sambas also pair great with a skirt, particularly maxi skirts, or dresses.
Advertisement