The Estée Lauder Companies Is Adding Fashion House Tom Ford Into Its Fold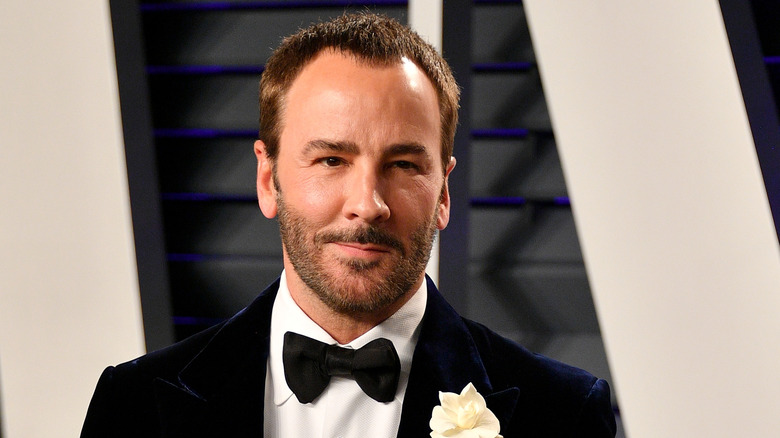 Dia Dipasupil/Getty Images
Before becoming the incredible fashion mogul that he is, Tom Ford explored his talents in architecture and film. Most notably, he is credited for reviving Gucci from the trenches it was headed into when the fashion house was nearly declared bankrupt in the 1990s (via Business of Fashion). Serving as creative director for Gucci from 1994 to 2004, Ford was able to bring a transformation to the brand resulting in a nearly $10 billion dollar value for the company by 2004. After his time at Gucci, Ford continued in his filmmaking journey as well as delving into the world of fashion design under his own self-titled label in 2006.
With stores across the world and the trust of A-listers and fashion icons, Tom Ford has seen spectacular success and growth. The brand known for producing men and women's fashion has also gained significant sales from beauty, fragrances, and accessories. According to Fashion United, Tom Ford hired the Goldman Sachs Group to help with the potential sale of the company in July 2022. Now, the brand has officially sealed the deal with The Estée Lauder Companies this week.
Estée Lauder acquires Tom Ford labels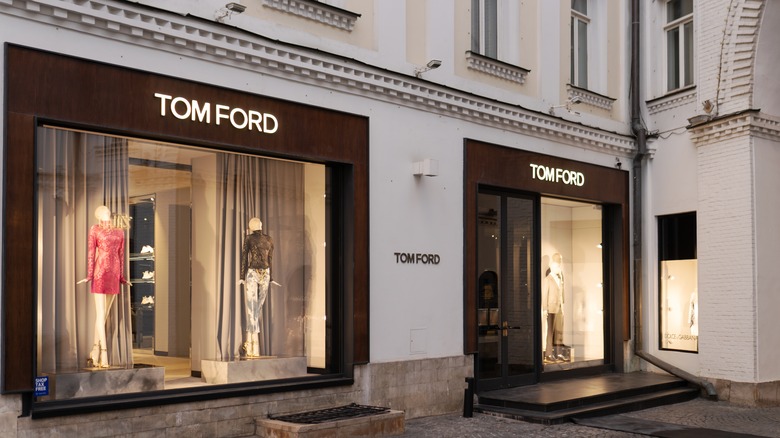 avtk/Shutterstock
On November 15, the Estée Lauder Companies, or ELC, became the sole owner of the brand for a total of $2.8 billion dollars. According to a statement by ELC, this deal includes the purchase of the Tom Ford label, which it bought for $2.3 billion dollars, as well as the purchase of Marcolin for $250 million dollars, which licenses Tom Ford eyewear. Previously, ELC did hold a licensing deal for beauty with Tom Ford, but this new acquisition allows the company to keep its license past the 2030 expiration date. Additionally, this deal also eliminates any royalty payments moving forward. Furthermore, the deal continues the brand's partnership with Ermenegildo Zegna, and will branch out to include licensing for Tom Ford fashion and accessories.
"I could not be happier with this acquisition as The Estée Lauder Companies is the ideal home for the brand. They have been an extraordinary partner from the first day of my creation of the company and I am thrilled to see them become the luxury stewards in this next chapter of the Tom Ford brand," Tom Ford says in the statement. "With their full commitment, I trust they will continue the brand's future as a luxury company that strives to produce only the highest quality fashion and eyewear." Forbes estimates that Ford will receive an estimated $1.1 billion dollars in cash following the sale, post taxes. This payout is expected to place Ford into the billionaire ranks himself.
A highly desirable talent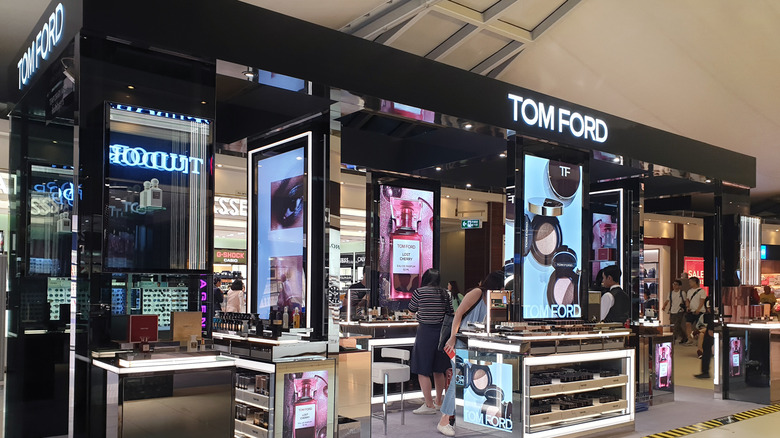 TY Lim/Shutterstock
Moving forward, Tom Ford will still have a role in the company as a "creative visionary" alongside the brand's chairman Domenico De Sole, both until the end of 2023, per the acquisition statement. "Tom Ford sits firmly among the elite group of megabrands that benefit from high awareness, high desirability and (very) high margins," partner and co-head of merchant banking at Stanhope Capital Pierre Mallevays told Vogue when the sale was still in discussion. "It is a virtuous circle that feeds on itself — allowing for market share gains in both good and bad times." 
Following his impeccable fashion footprint and success, Tom Ford's talents were desirable beyond just business. After all, he has proven countless times the kind of powerhouse his creativity and business mind is. In a 2021 report by Zegna, it was detailed that Tom Ford had a total of $1.7 billion dollars in sales, resulting in a $96 million dollar profit for the brand that year.
"We are incredibly proud of the success Tom Ford Beauty has achieved in luxury fragrance and makeup and its dedication to creating desirable, high-quality products for discerning consumers around the world," president and chief executive officer of ELC Fabrizio Freda says in the statement. "This strategic acquisition will unlock new opportunities and fortify our growth plans for Tom Ford Beauty. It will also further help to propel our momentum in the promising category of luxury beauty for the long-term, while reaffirming our commitment to being the leading pure player in global prestige beauty."