Rock A Chic, Slicked-Back Bun Without Damaging Your Hair With This Tip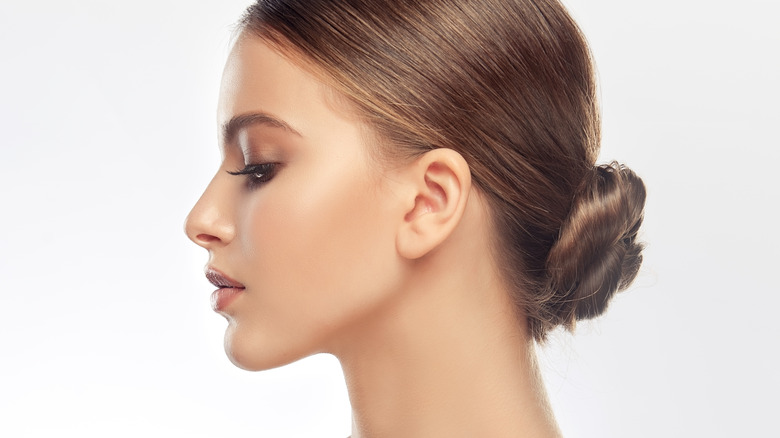 Sofia Zhuravets/Getty Images
Move aside messy buns! It's the slicked-back bun's time in the spotlight. Okay, we know messy buns aren't going anywhere (probably ever), but there's something super chic about a sleek and tight bun. This trendy hairstyle made waves within the last few years and won't let up, with celebs like Kim Kardashian, Beyoncé, and it-girl Gigi Hadid sporting the 'do all over the red carpet (via BeBeautiful). Plus, it's a major help for those days when your hair could really use a wash. And the good news is you don't need to be a pop icon or have a celebrity hairstylist on speed dial to achieve the look yourself.
Advertisement
While a slicked-back bun is undeniably gorgeous, the long-term effects can come at a price. According to The American Academy of Dermatology, frequently wearing your hair back in tight styles can cause hair breakage and loss. What's more? A receding hairline (gasp!). This is called "traction alopecia," according to hair experts who talked to the Mirror, and it's a common result of tight buns.
While it's not likely to happen if you wear the style every now and then, daily use can increase the risk of significant hair damage. For those who can't help but rock this style often, there is one specific tip we'd love to share so you can keep that sleek-looking bun without trading in your hair's health.
Advertisement
Get your hair a little wet first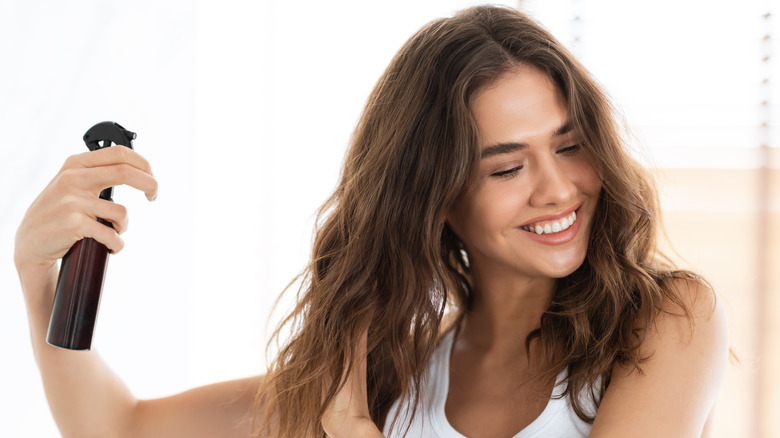 Prostock-studio/Shutterstock
When typically styling your hair, the last thing you may think to do is get it wet. After all, there's a reason many people blow dry their hair before styling it, as certain tools can damage your hair depending on its texture if it's not completely dry. However, when it comes to the slicked-back bun look, it's the very first thing you want to do. 
Advertisement
This way, the water will provide some grit, so you aren't pulling at your hair tightly to manipulate the strands where you want them to go (via Coveteur). You can do this by spritzing water with a spray bottle all over your head or running your holy grail leave-in conditioner through your hair.
To avoid giving yourself a receding hairline, section the fringe and edges surrounding your face, and pin them out of the way when creating your bun. Then, slick those hairs back with hair wax or gel, securing them with pins underneath the bun if your framed bits are too long. Thus, your hairline isn't being tightly pulled, as those edges are simply sitting on top of your head, free from tight hair ties. Renowned hairstylist Jean Louis David recommends using gel to slick the hair down and finish the look off with hairspray for added hold.
Advertisement
Other tips for protecting your hair when styling a slicked-back bun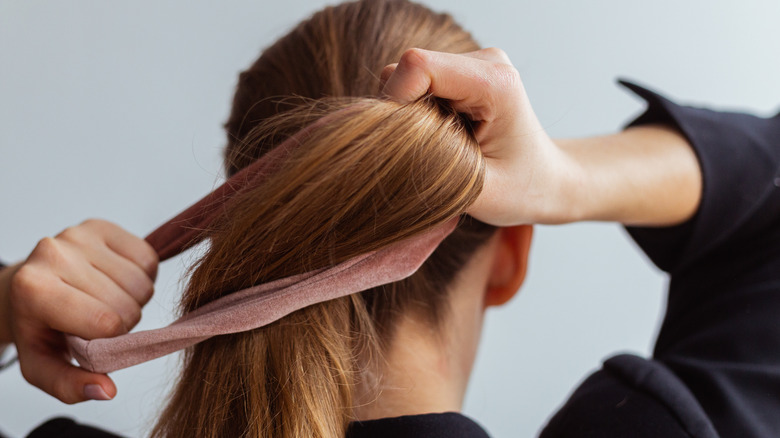 Jan Cieplik/Shutterstock
Although dampening the hair and sectioning your edges are helpful tips to avoid hair damage, there are other things you can do to ensure you aren't prematurely losing hair. Obviously, you could skip this hairstyle and wear your hair down, as Healthline recommends. There are other model-worthy hairstyles like sleek middle parts and braids. Or, you could look at the tools you use to style your slicked-back buns and start there, specifically your hair tie.
Advertisement
Master hairstylist Trey Gillen told Sunday Riley, "Hair ties can rub on your scalp, causing irritation and breakage but also break your hair off in the tie — either from the material the tie is made of or when pulling the tie out." Therefore, it's recommended you reach for a hair tie that is made up of silky material, so it produces less friction.
Another trick is to loosen up the base where your hair tie sits by wiggling it around a bit to relieve some tension. If you notice any pain, stinging, or crust on the scalp, The American Academy of Dermatology recommends removing the hairstyle immediately. While it may be true that "pain is beauty and beauty is pain," some may argue that the pain of a self-induced receded hairline is worse.
Advertisement