New Skincare Brand Futurewise Is Capitalizing On The Viral Slugging Trend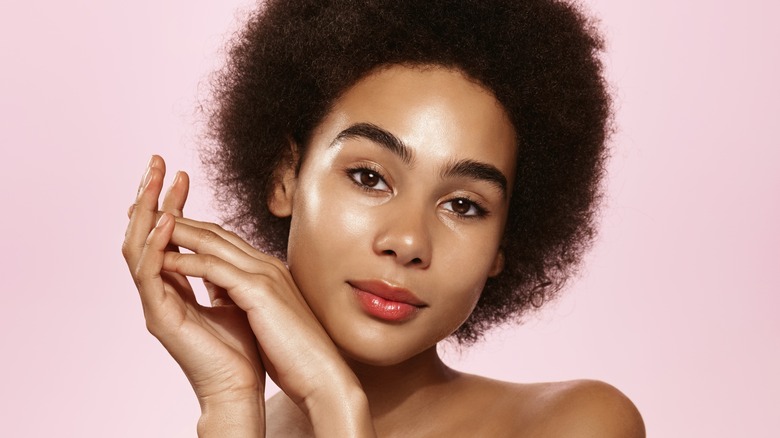 Lyubov Levitskaya/Shutterstock
Social media apps like TikTok, YouTube, and more have given many creators a platform to share their knowledge. You've seen fashion advice, makeup guru tutorials, and, now, skincare on a growing basis. These skincare trends come at a time when health and wellness are at the forefront of self-care. Whether it was home remedies, the latest skincare product, or specific ingredients, more people began paying attention to what these efforts can do for the health of their skin. "Skin will continue to be the big focus, with many of us wearing less makeup and therefore becoming more aware of our skin's condition," Skinesis founder Sarah Chapman tells Vogue. "Over the last 18 months, people have also started to recognize that our skin is a barometer of internal health and general wellbeing — a radiant, clear complexion is a strong indication that the body is in a healthy state."
As different skincare techniques, products, or ingredients are constantly trending, many brands are paying attention. The new skincare brand Futurewise is a direct response to a viral skincare tactic called slugging, and it hopes to fill a need and make skincare more fun and approachable for younger generations.
Futurewise focuses on slugging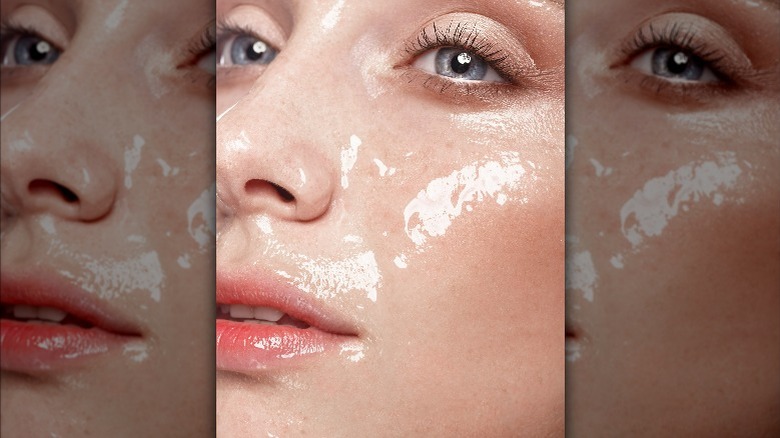 Kobrin_photo/Getty Images
Brought to you by the creators of Starface pimple patches and skincare, Julie Schott and Brian Bordainick, Futurewise is here to change the game. Each product from this new brand is meant to help skincare fans everywhere have a product dedicated to the trending skincare method called slugging. With over 516 million views on the hashtag #slugging on TikTok, many people have tapped into its incredible benefits, making it an important step in their skincare routines.
Slugging is a skincare technique inspired by the nature of a slug in all its slimy goodness. It involves slathering your full face in a layer of petroleum jelly to protect and seal hydration in your skin, which then creates a slimy texture similar to a slug. "It forms a seal over the stratum corneum (outer layer of skin or skin barrier) to protect the skin from the environment while preventing water loss," dermatologist and associate professor of dermatology at Mount Sinai Hospital Joshua Zeichner tells The Washington Post. It creates a protective barrier against any dirt or bacteria while simultaneously protecting your skin's moisture.
Futurwise's new line of products aims to provide just that through each product it offers, with each also having additional beneficial ingredients. Beyond the social media trends, slugging dates back to the 15th century when Native Americans used it as a skincare staple. Additionally, slugging is particularly popular among Black women and other communities of color, something of which the creators of Futurewise also took note on their website, offering their own inspired products.
Futurewise product benefits
The Futurewise Slugging System consists of three products: the Slug Boost, Slug Cream, and Slug balm. According to Futurewise, these products are made with occlusives, humectants, and emollients to effectively hydrate and moisturize your skin through a slugging technique. "When we think about the product philosophy, we're all about skin health and promoting strong barrier hydration," Futurewise co-founder, co-president, and general manager Janet Park tells Byrdie. "That was the focus as we were thinking about ingredients and the individual products."
The Slug Boost is a spray that contains "water-attracting" humectants to better penetrate your skin, as it hydrates and prepares it for the rest of your skincare routine. Its key ingredients contain hyaluronic acid for hydration, polyglutamic acid to boost moisture and elasticity, glycerin for its thick texture, and squalene to help hydrate and condition the skin. Meanwhile, Futurewise's Slug Cream contains a vegan triple lipid complex in what the brand describes as "a marriage of plant-derived plumping fatty acids, replenishing cholesterol, and hydrating ceramides" to protect your skin's moisture barrier. Its highlighting peptide ingredient further boosts this hydrating effect with added soothing and glowing effects.
Lastly, the brand's Slug Balm is a non-sticky jelly balm that works as an occlusive layer on the skin when it is applied for the utmost slugging benefits as it protects your skin from the environment while locking in hydration and moisture. Its plant-based oils serve to help in creating this protective layer while also boosting moisture. Its lipid complex helps to strengthen the skin's barrier while also helping it retain water. Each product can be shopped individually or in a bundle online.