The Runway-Approved Look You're Going To Take Inspiration From All Season Long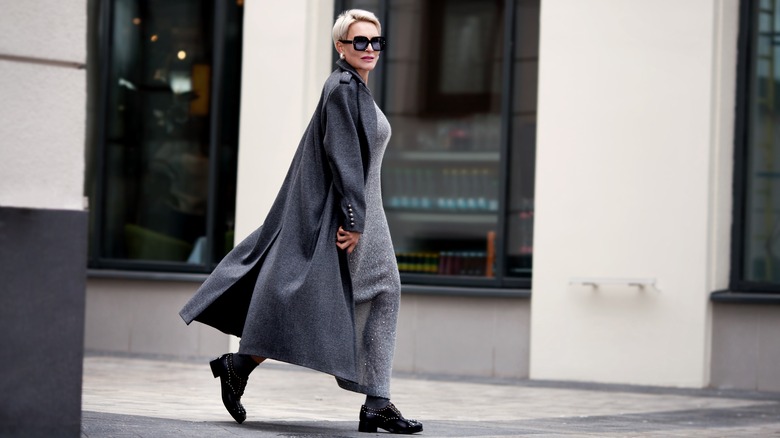 Anna Zhuk/Shutterstock
If we have learned anything from the fall and winter fashion seasons, it's the fact that glamour is the keyword. Head of womenswear elevation at Flannels, Emma Ilori, mentions to Who What Wear, "Expect the unexpected. Over-the-top, more-is-more, experimental wardrobes—pushing the boundaries of everyday dressing. We're ready to be out and be seen. Think fresh-off-the-runway social media moments and head-turning full looks." This season is all about bringing out the clothes saved for a special day, even if it's just for running errands.
While the colder months tend to lend the way for dressing in as many layers as possible, new trends are finding ways to mix both style and practicality. Instead of sacrificing style to stay warm, designers are now showcasing how you can fend off the cold weather while still rocking your style. No matter what your style is, recent fall and winter trends can easily be styled for your preferences. Taking inspiration from the runway looks, this season is set to be one of the most stylish that we've seen yet.
Maxi coats and snug dresses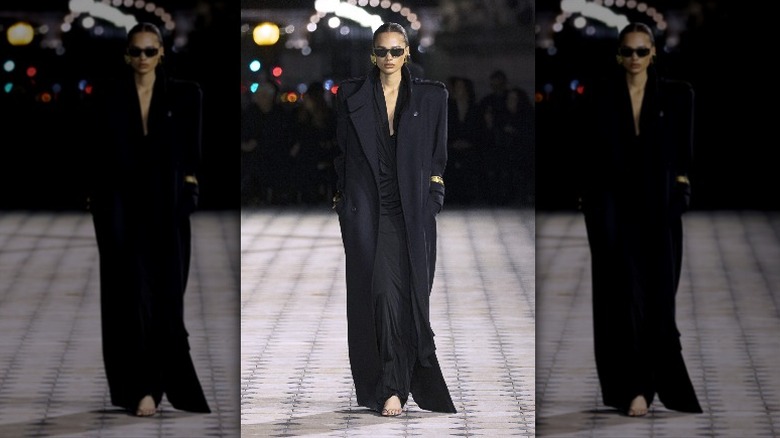 Estrop/Getty Images
The combination of maxi coats and maxi dresses isn't a new concept. However, in recent times, designers have reimagined this styling duo to fit modern trends. One major inspiration for this winter trend comes from the Saint Laurent Spring Summer 2023 collection. In this collection, the designer brand pulled off various monochrome looks that showcased loose maxi coats in contrast with body-hugging maxi dresses. This combination is not only an elegant way to layer winter pieces, but it gives you the ability to try out two chic silhouettes.
During the Ann Demeulemeester Fall 2022 collection, we also saw an oversized maxi coat could be the perfect juxtaposition to a more form-fitting maxi dress underneath. While the coat may initially conceal the dress, the small piece that appears at the bottom gives you a sense that there's more going on with this look. Once the coat is open, you can showcase the amazing contrast between two vastly different spectrums.
How to pull off this combination
While this combination looks amazing on the runway, there are still ways you can bring this look into your day-to-day. Influencer Naomi shares on Instagram how a simple body-hugging black slit dress is the perfect choice to pair with a gray maxi coat. Finishing the look with combat boots, all of the pieces stay within the same color palette, making it easy to style together. While it may be challenging to style two maxi pieces together, pairing them in the same palette will give you a much easier time. If you are afraid of being overwhelmed by these pieces, add in a slit as well. This little detail will break up your look just enough to give you some height.
On the other hand, if you aren't afraid of taking it to the next level, you can also try your hand with color. Kelly Rowland (via Fashion Bomb Daily) showcased how a catsuit and oversized maxi coat are the perfect pairings. As shown during the Saint Laurent show, this maxi coat and dress combination can also be alternated with a jumpsuit or catsuit. In this case, Rowland went for a matching catsuit, boots, and oversized coat in a beautiful emerald green shade. This look shows us how even by wearing a statement color, this combination is a must-have for any winter wardrobe.