Can You Really Dye Your Hair With Walnut Shells?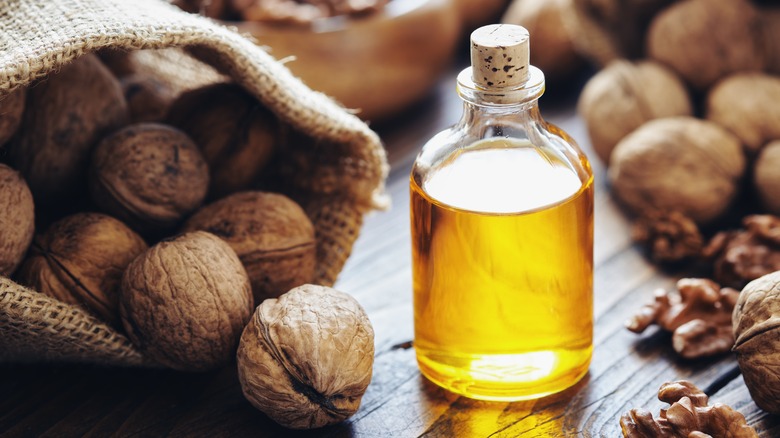 Chamille White/Shutterstock
An easy way to switch up your look is to change your hair color. A different natural color to reinvent yourself or a funky neon to stand out will both do the trick. Going to a colorist can be expensive, but box dyes are not always a safe alternative. At-home box dyes are designed to be one size fits all. According to Byrdie, they are formulated to work on every hair type. Generally speaking, however, what works for one does not always work for all. In some cases, box dyes can ruin your hair. They are not professional-grade dyes, therefore, you run the risk of the finished product being dry and damaged.
Advertisement
Coloured Hair Care warns box dyes can weaken the integrity of your hair strands. Many of the at-home color treatments have ingredients like ammonia, which can comprise your hair's elasticity. An alternative to expensive colorists and cheap box dyes is natural hair dye — it's an alternative that is both DIY-friendly and lowers your hair's exposure to harsh chemicals.
Can you dye your hair with walnut shells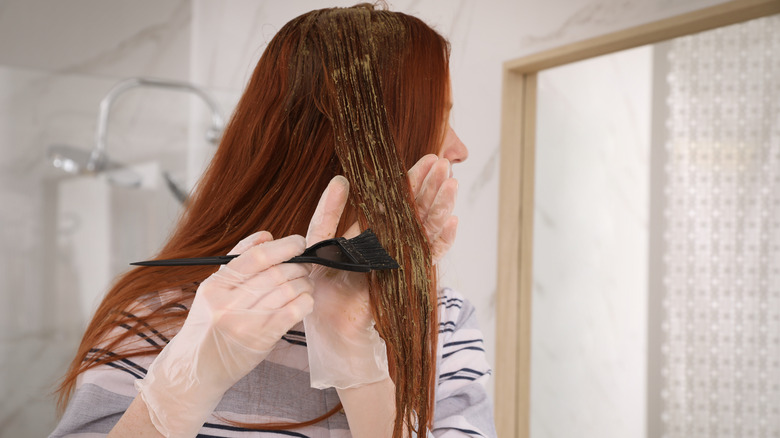 New Africa/Shutterstock
One natural hair dye method involves walnut shells. While this nut is known to make a great snack — according to WebMD, walnuts provide your body with good fats, lower cholesterol, and have heart-healthy benefits, the shell is also known to make a natural hair dye.
Advertisement
You can't get every color from dying your hair with walnut shells, but if you're in the market for a dark brown, you are in luck. According to Mane Addicts, making the dye is easy. After you've snacked on a pack of walnuts, crush the shells, and boil them in water for 30 minutes. The boiling process releases the pigments from the shells. Strain the shells and let the dye cool. From there, let your hair strands soak in the liquid to gain the brown coloring.
To make the process easier, Mane Addicts recommend swapping the walnut shells for walnut powder. To make sure your hair really takes the coloring, add the mixture to a sulfate-free shampoo. This way, you will get a fresh color-rinse with every clean, and won't have to worry about the color fading.
Advertisement
Natural ways to dye your hair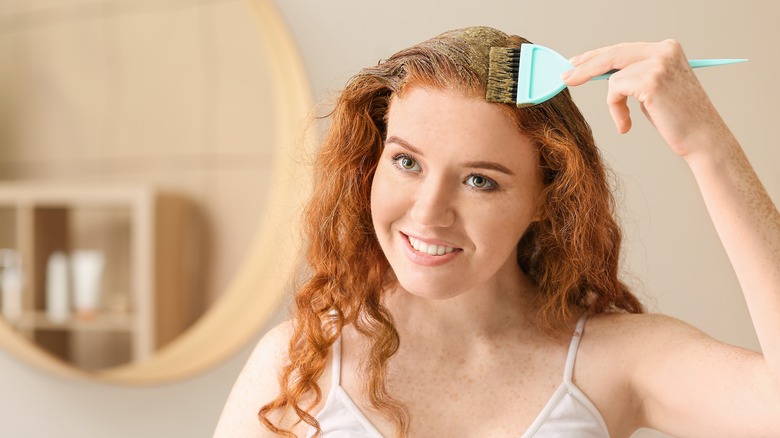 Pixel-Shot/Shutterstock
Walnuts are not the only natural way to dye your hair. You can use different fruits and vegetables to get various colors. For a red-orange look, Healthline suggests carrot juice, or you can use beet juice to get a more saturated red. Simply mix the juice with coconut or olive oil to create a paste. Apply the paste on the hair strands you wish to color. You will need to wrap your hair in plastic wrap and let the paste sit for at least an hour before rinsing.
Advertisement
Nature is not only good for dyeing hair but brightening it too — you can use lemon juice to lighten your hair. According to Glamour, you will need lemon juice, water, and sun exposure. To get the bleaching liquid, mix the warm water and lemon juice in a two-to-one ratio. Dampen your strands where you wish to receive the highlights and take a trip into the sunlight. There's no need for box dyes and colorists when you have Mother Nature.