We Have The Secret To Pulling Off A Perfectly Controlled Black Eyeshadow Look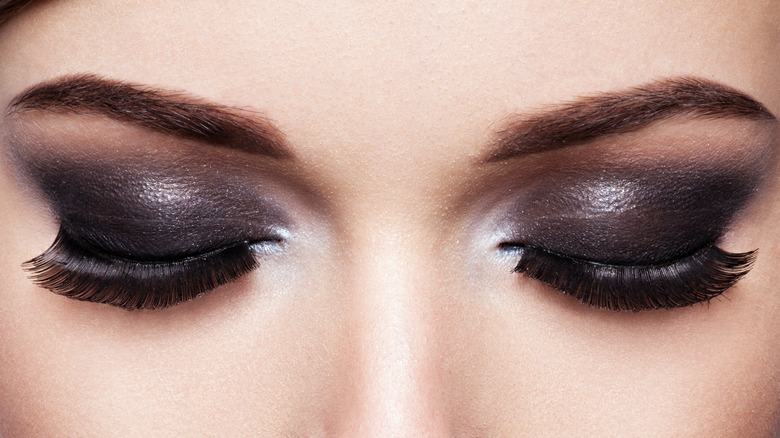 VALUA VITALY/Shutterstock
You may love a beautiful smokey eye, but if you lack confidence in your makeup application technique, you might avoid it at all costs. Some women also seem to know how to rock black eye makeup naturally, which can deflate your confidence even more. However, nothing is out of the realm of possibilities once you know the secrets to pulling off a controlled black eyeshadow look.
When it comes to black eyeshadow and the smokey eye in general, there's no bad time to wear it — so long as you create a tasteful, elegant look. As Makeup & Beauty explains, this means you need to have the right tools and cosmetics on hand to develop a flawless look in front of your own mirror. Understanding techniques, such as blending, is also essential to making your eye makeup look like it was done by a pro.
Before you begin, make sure that your black eyeshadow of choice has a matte finish — if you want to add glitter or shimmer for a special occasion, this can be done later. Next, grab your eye primer and concealer for your lids, and your go-to eye makeup brushes. Then, pick out a dark eyeshadow (dark green, blue, or purple work beautifully) to use for contrast, and don't forget about mascara to top off your lashes. Once you have everything in hand, you're ready to create that polished black eyeshadow look.
How to create the perfect black eyeshadow look
To begin, Makeup & Beauty recommends making sure your face is clean and then applying your eye primer to your lids. Primer will not only help with blending but also prevent smudging and creasing throughout the day. Next, apply concealer to your eyelids, as well as under your eyes to hide any bags.
If you're not feeling confident about your technique, Makeup.com recommends starting by using black gel eyeliner to outline the shape of the look you want to create. Then, you can fill in the shape with the eyeliner to establish a strong base. To eliminate any harsh lines, put your eye makeup brush to use and buff around the edges of the liner.
Now, it's time to apply your matte black eyeshadow. Make sure you cover your lids evenly before blending. Once you're finished, grab your contrasting eyeshadow, and use it in the center of your eyelids. Afterward, you're ready to start the blending process. Re-apply your matte black eyeshadow on your lids as needed to blend your contrasting eyeshadow. Makeup.com recommends using a fluffy makeup brush at the creases of your eyes for blending. Line your bottom lids with your eyeliner, top it all off with your favorite mascara, and voilà! For a sparkling finishing touch, consider applying a bit of shimmery eyeshadow or glitter with your eye makeup brush on the crease of your lids.
Avoiding common black eyeshadow mistakes
Pulling off the perfect black eyeshadow look can be challenging, but it can be just as difficult to avoid some of the most common pitfalls of creating and wearing this look. As Miss Malini notes, eye primer is everything, even if you don't intend to wear dark eyeshadow. Primer can keep your eyeshadow from running and creasing throughout the day. As a rule of thumb, you should also ensure that the lids themselves are hydrated before you apply any eye makeup. Dry skin can immediately result in flaking, but a moisturizing eye cream can help you avoid this problem altogether.
Another helpful tip to take into account is the order in which you apply your makeup. Insider states that to give your eyeshadow the best shot at staying in place, apply it after your foundation and concealer. "Powdered shadows can leave tiny particles of dust under your eyes and on your cheeks, and a quick blink, sneeze or mascara misstep can leave you looking like a raccoon," makeup artist Zach Dishinger told Insider. "[To avoid 'raccoon eyes,'] simply apply eye primer, shadow, liner and mascara before you put on your foundation and concealer. If fallout or a smudge occurs, it's easily wiped away without having to reapply your foundation or concealer making clean-up a snap." Finally, as Makeup.com notes, don't forget that a dry cotton swab can be your best friend for cleanup post-makeup application.