How To Use White Nail Polish To Make Other Colors Brighter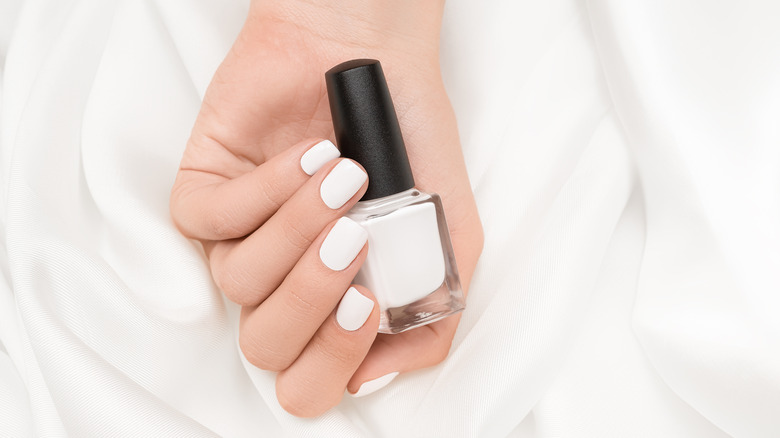 Dev_Maryna/Shutterstock
White nail polish might seem boring to some, but it's actually pretty versatile. From classic French manicures to striking nail art designs, there is so much that you can accomplish with a white shade of polish. Southern Living explains how this ultimate neutral is flattering on any skin tone, always looking put together and polished.
Advertisement
If you're wondering what white as a nail polish color might say about you, Orly explains that this shade indicates a person is classy and sophisticated, while Insider attributes the color choice to a partiality to cleanliness. We should also mention that white nail polish did have something of a viral moment on TikTok in 2021, with teens using it to express their singleness (per Scratch Magazine).
Beyond the styling and symbolism of white nail polish, it can actually be used practically to make other nail colors brighter. Read on to learn about this nail polish trick!
White nail polish can be used as a base coat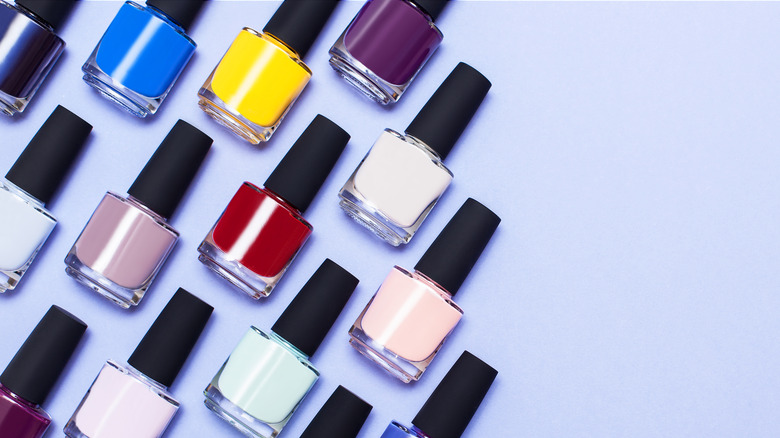 me_slavka/Shutterstock
Base coats serve a unique purpose in the nail painting process, as Good Housekeeping explains that it helps your manicure last longer and prevents nail staining. Plus, some base coats are formulated to address specific issues, such as moisturizing dry nails or flattening out uneven nails.
Advertisement
Similarly, using white polish as a base coat can help prevent nail staining while making your colored shades more vibrant (per Easy Nail Tech). As mentioned by Glamour, more than one coat of white nail polish might be necessary to create a solid foundation for your pigmented polishes, but it can make a real difference in the coloring of your nails.
The great thing about using white nail polish as a base is that you don't need to buy a specific polish if a white shade is already in your collection. However, if you're looking for a recommendation, we do have some options for you to check out.
Glamour mentions OPI's "White Alpine" as a great polish for this purpose. Deborah Lippman is a cruelty-free brand with a positively reviewed white polish (via Byrdie), while Halo Taco has a strong vegan and cruelty-free option, too.
Advertisement
White nail polish can make accent nails stand out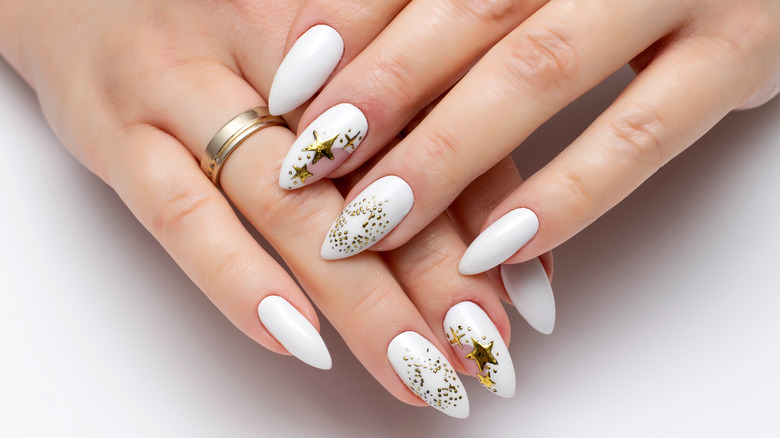 Dina Shuba/Shutterstock
While using white nail polish as a base coat is a great way to make your colorful nail polishes pop, you can also pair white polish with accent nails to make them stand out.
As explained by L'Oreal, accent nails are a super popular design that utilizes at least two polishes, one of which is used as an "accent" to the primary color. This is the typical way that accent nails are designed, but there is so much room for customization within this nail style.
Advertisement
Byrdie highlights a white nail polish look that is accented with two brightly-colored ombre nails featuring cartoonish icons. Against the starkness of the white polish, these creative designs really steal the show. Buzzfeed features a simple white and pink nail look, mentioning how well the light pink accent color works well with the white polish.
Overall, white is a very versatile and pretty nail polish that can really make your more vibrant shades pop. We recommend trying out these nail polish tricks to see what you think!