Fashion Designer Raf Simons Announces Sudden Closure Of His Label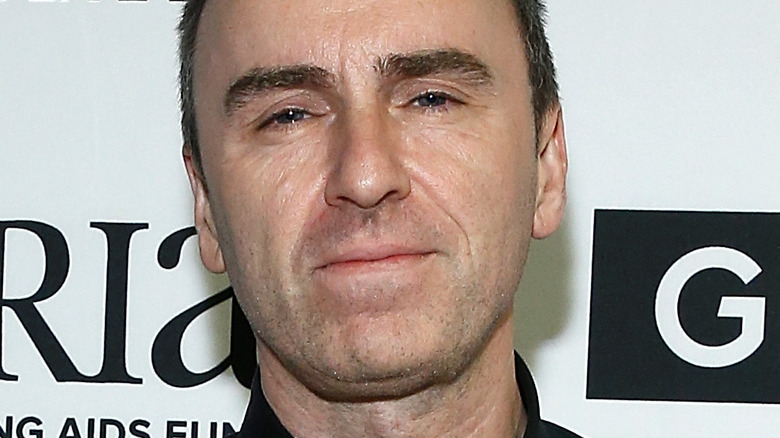 John Lamparski/Getty Images
In an unexpected turn of events, Raf Simons has announced the end of the Raf Simons fashion label after 27 years. This move was certainly unforeseen, leaving the whole fashion industry stunned. The designer, who left a deep impact on the very culture that inspired him, has decided to shut down his namesake label in what many fans are calling a sudden move, per Highsnobiety.
Raf Simons, who was born in Belgium in 1968, had many accomplishments throughout the span of his career. Simons' work is well known for his inspiration in creativity, pop culture, and especially art. Upon shutting the fashion house down, the designer also mentioned on Instagram that the Spring/Summer 2023 collection marked the end of the brand, making the brand's runway show in October the final Raf Simons show. Fans of the brand and of the designer himself are left heartbroken by this news. The legacy and impact of the Raf Simons fashion label, however, remain to be reminisced and celebrated in all its innovation as well as its impeccable creative designs.
Raf Simons legendary history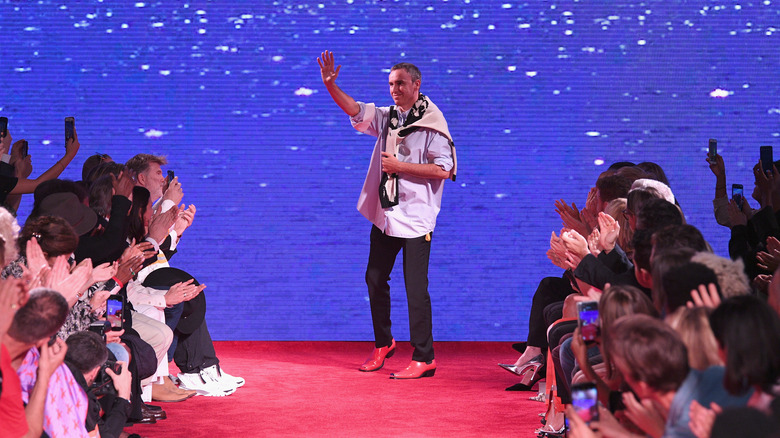 Slaven Vlasic/Getty Images
Raf Simons began his fashion label in 1995 with the launch of his first menswear collection after being encouraged by Linda Loppa, the head of the fashion department of the Antwerp Royal Academy (via Britannica). Before his fashion career, however, Simons worked as a furniture designer for private interiors and galleries. In doing so, he had the opportunity to intern for Belgian fashion designer Walter Van Beirendonck. Following this, Simon's extensive fashion career took off. 
From 2005 to 2012, Simons was named the creative director for Jil Sander, a menswear and womenswear brand, shortly after celebrating his first decade in fashion. Notably, Simons has also impacted many other legendary brands, as he simultaneously worked his own namesake label up the ranks. In 2012, he was nominated as artistic director for Christian Dior's women's haute couture, ready-to-wear, and accessory collections. Later in the year, he launched his first haute couture collection with the brand. From 2016 to 2018, Simons worked as the creative director for Calvin Klein, which earned him the womenswear and menswear designer of the year award at the CFDA Awards. Most recently, in 2020, Simons was appointed as co-creative director for Prada alongside Miuccia Prada.
Now, Simons says goodbye to his label with a sentimental post. "I lack the words to share how proud I am of all that we have achieved," Simons wrote in an Instagram announcement. "I am grateful for the incredible support from my team, from my collaborators, from the press and buyers, from my friends and family, and from our devoted fans and loyal followers." Many fans speculate he will continue at Prada full-time, but the reason for shutting down Raf Simons remains unclear.
The brand's impact on the people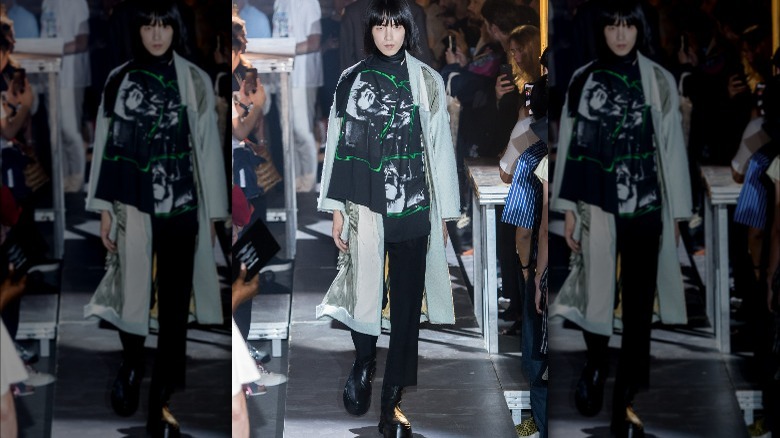 Victor Boyko/Getty Images
Because Raf Simons' inspiration comes from the people and from the culture of individual thinkers, the brand very quickly grew in popularity amongst the many people that resonated with his vision. According to GQ, artists like Quavo, Lil Uzi Vert, Playboi Carti, Frank Ocean, and A$AP Rocky have deeply connected with the brand. In fact, these artists released a song called "RAF" with A$AP Mob in dedication to their love of the brand, displaying the kind of impact it has had on them. "I am heartbroken. He is one of the reasons why I got into fashion and love fashion so so much," fashion and pop culture influencer Gabrielle Marie says in a TikTok video responding to the news. "This is just really sad because he really has influenced the industry so much."
With a vision inspired by music, youth culture, and art, Raf Simons became a brand for "confident outsiders." In an effort to present a different take on masculinity, the Raf Simons fashion label combined rebellious youth culture with traditional menswear aesthetics. Movements like the flower hippie culture, underground raves, artists like Sonic Youth, Joy division, Robert Mapplethorpe, and more inspired what Simons presented in its collections. At the core of it all, Simons always looked to be more innovative and creative with each new design.