The Makeup Hacks That Will Make Your Lipstick Look More Structured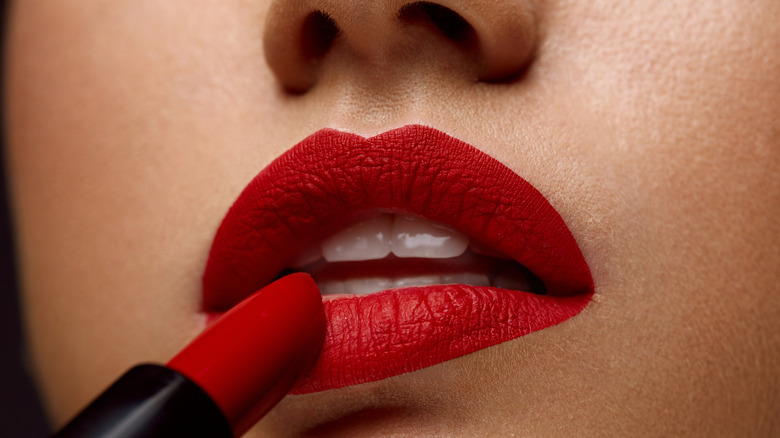 Puhhha/Getty Images
No matter who you are or what your makeup routine looks like, lipstick is one of the most important parts of most of our beauty routines. The shade, type, and color of our lipstick, as well as the way we apply it to our lips, can completely alter our look. Consequently, we want to make sure we're getting this part of our makeup right. Still, while many of us have been applying lip color since we were young, there are probably better ways to make our lipstick work for us. 
Advertisement
Have no fear, lipstick lovers! We've got some tricks that have the potential to totally revamp how you do makeup. If that's not tempting enough, a totally upgraded makeup look may cost you no more than the price of a single new lipliner. So, what's the trick to perfecting your lipstick routine? According to makeup artist Alexandra Anele, it's all about structure (via Instagram).
Use lip liner to help contour your lips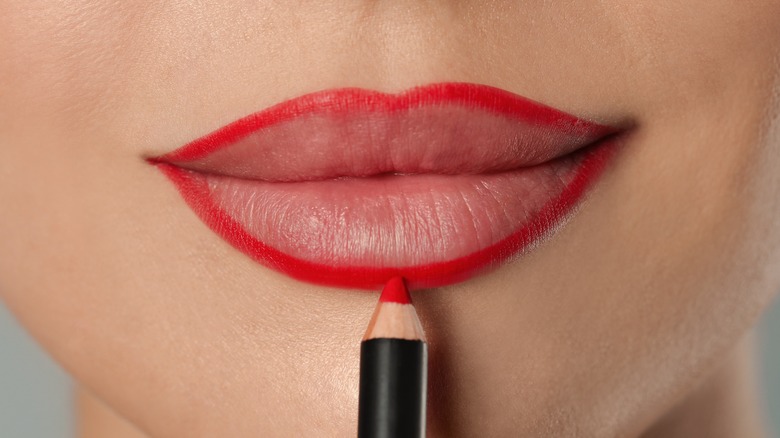 New Africa/Shutterstock
We all know about the benefits of contouring our faces and just how easy it can be to change our entire look with a makeup brush and a few easy steps. Yet, most of us never think about doing this with our lips. Using lipliner in a similar way to how we use contouring can make our lipstick look structured and anchored. Makeup artist Alexandra Anele recently posted an Instagram Reel about the power of lipliner that made us say: "why didn't we think of that?!" 
Advertisement
Anele explains that you can ground your lipstick color with the use of a neutral lip liner. She suggests that a neutral lipliner can make any lipstick shade look better with your coloring. Most of us are used to aiming for matching our lipliner as closely as we can to our lipstick and using it only to give our lips that crisp, flawless outline. Certainly this makes your lipstick look neater and more precise than applying it sans liner entirely, but opting for a neutral shade will allow your makeup to have a more cohesive look. 
The lipliner color that you choose should complement your skin while still being quite a few shades darker –- sort of like your contour color. Applying this under your lipstick color will not only ground your look and give it depth, but if applied correctly, it can even give your pout a little bit of a push-up (via MasterClass).
Advertisement
How to apply your liner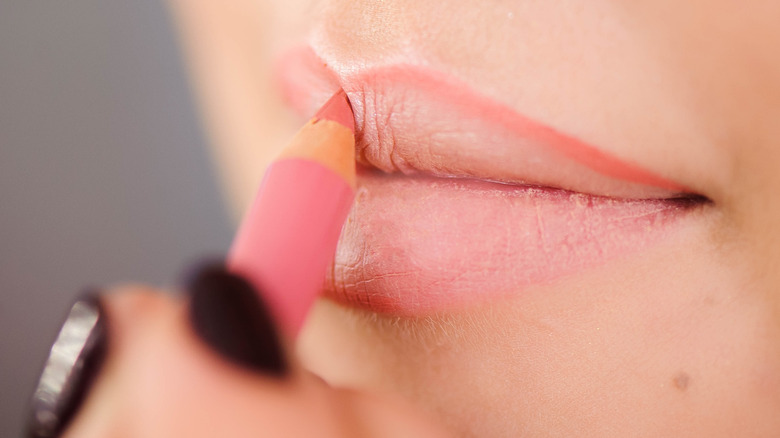 Oleksandr Nagaiets/Shutterstock
Most of us know from experience that applying lipliner is easier said than done. It's not easy knowing how and where to over line or making sure that the color is even. Luckily, though, there are super simple tricks that make this foolproof. To make sure that your liner is perfectly even, start by drawing an X where your Cupid's bow is (via Huda Beauty). You can over line a bit here; just make sure that as you follow the outline of your lips, you're tapering down so that you're not over lining by the time you reach the corners of your mouth. This hack can be the difference between lips that look like Rihanna's and lips that are more like Ronald McDonald's.
Advertisement
If you're trying to perfect Alexandra Anele's lip contouring trick, the next step is important. Lately, the '90s trend of extra dark lip liner has been back, and while this hack is also all about non-matching lipliner, contrast actually isn't the goal here. To pull off this hack, you'll want to blend out your liner after applying it and before putting on your lip color (via Instagram). This is the key to making your liner a base and not a literal line around your lips. Once your liner is softened and smoothed out, you can apply your lip color of choice, then blend again. You'll be amazed at how this new approach pulls your whole makeup look together while still looking effortless.