Ways To Style Your Hair With A Bandana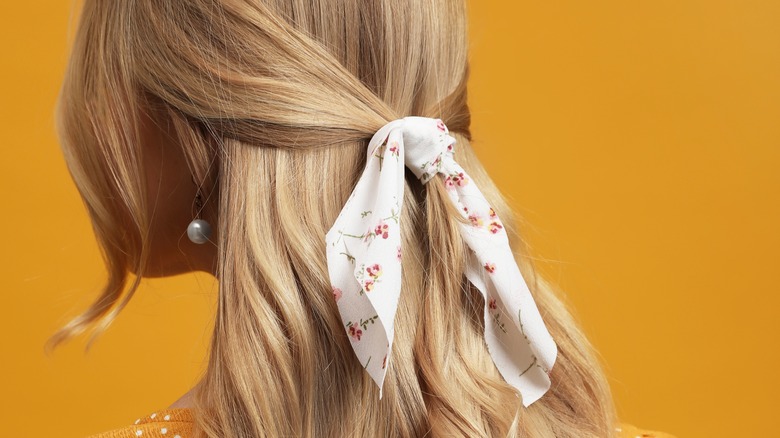 New Africa/Shutterstock
Countless Y2K staple pieces and '90s fashion trends are finally coming back in style during the 2020s. One of those bold garments is the bandana, as these pieces are popping up everywhere. According to InStyle, a couple of ways to rock a bandana as a fashionable accessory include wearing it around your neck like a scarf or tucked under your top to elevate the neck area of your ensemble. Some daring fashion enthusiasts have even been wearing bandanas instead of shirts, and this carefree style is perfect for festivals and wild nights out.
Advertisement
Over 5 million posts relate to #bandana on Instagram, and there are endless bandana-related posts on TikTok, too. We all know that you can do a lot with a bandana when it comes to elevating your outfits, but have you ever thought about working a bandana into your next hairstyle? There are plenty of fun ways to use a bandana to bring your hairstyles to the next level.
Wear it like Rosie the Riveter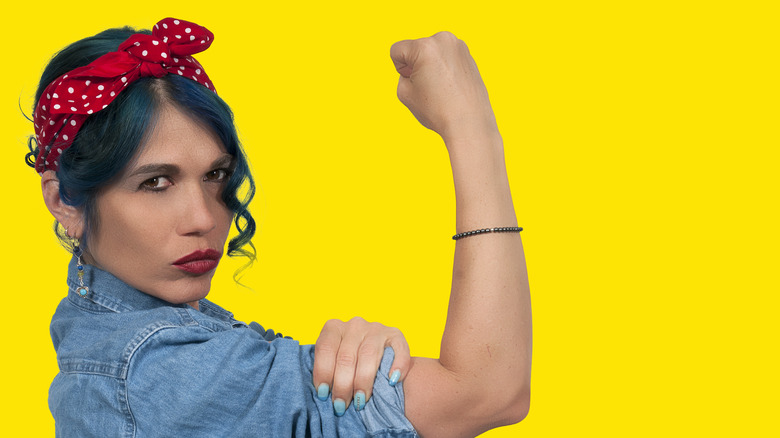 Rob Byron/Shutterstock
We're aware that there's been a lot of darkness in the world, and women must face obstacles they thought they would never have to deal with in the 2020s. For instance, many women felt their worst nightmare came true when Roe v. Wade was overturned (via CNN). Moreover, many people believe that the #MeToo movement has only made men develop fear of punishment rather than genuinely understanding that women deserve respect — as famously outspoken model and author Emily Ratajkowski discussed this point on TikTok. But if you want to make a statement, you should consider using a bandana to style your hair like Rosie the Riveter.
Advertisement
The Rosie the Riveter image is a famous feminist symbol of a strong woman wearing a red bandana with white polka dots as a headband, per Britannica. So, if you want to make a statement and flaunt your independence, try wearing a Rosie the Riveter-inspired hairstyle. You can find many tutorials for this hairstyle on TikTok, such as an easy-to-follow video by XMONDO Hair that explained that you should begin with a bun, and if you have bangs, curl them. Next, roll up your bandana, wrap it around your head like a headband, and tie it into a simple bow at the top. Rocking this hairstyle will show that no matter what happens in the world, you're still an independent woman, and no one can take that away from you.
Advertisement
Use it to hold your ponytail or enhance your bun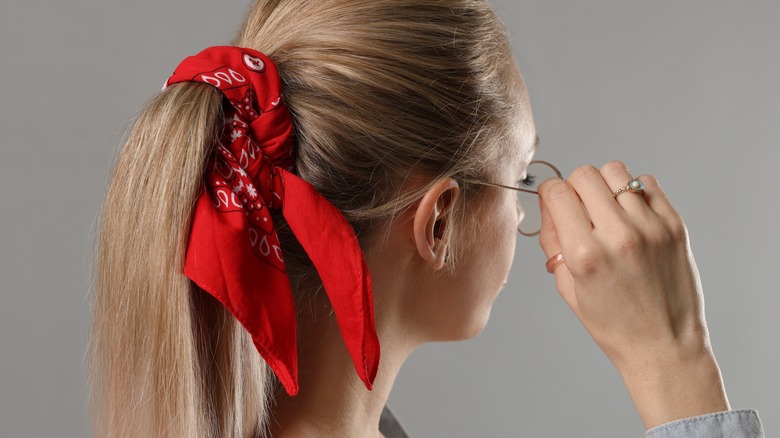 New Africa/Shutterstock
In addition to channeling your inner Rosie the Riveter, you can use your bandana to add a stylish, girly detail to your ponytail or bun. "A lot of people also like to do a ponytail, fold the bandana all the way up, and tie it around the elastic. It's just this cute, fun accessory in your ponytail," Ashlee West, a content creator, told NYLON. We even found a creative variation of this look involving dutch braids on Instagram, so don't be afraid to try a bandana ponytail with a unique twist.
Advertisement
Furthermore, you can make any bun more fun with a trendy bandana! You can find a plethora of tutorials for bandana buns on TikTok. For example, a TikTok user shared a convenient way to style a bun with a bandana, per TikTok. First, put all your hair into a high ponytail and flip it in front of your face. Then, take your rolled-up bandana and wrap that ponytail around it until you have a bun. All you'll have to do is tie it after, and you'll have a fun bandana bun! Some TikTok users expressed excitement about this hairstyle, commenting, "Love this idea!" and "Going to have to try this, another Target run 😁," as many people can't wait to try the trend.
So, are you ready to start styling your hair with a bandana?
Advertisement