Here's What Users Dislike The Most About The Grindr Dating App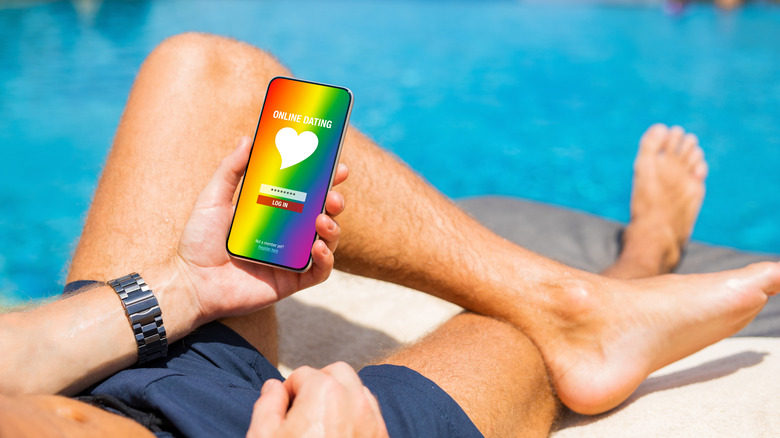 Kaspars Grinvalds/Shutterstock
Grindr is an app used by men to look for other men for a casual hookup, typically using your location in order to inform you about who's around your area, according to Pink News. Grindr first came about in 2009, becoming the most popular dating app for gay men to meet. At its surface, Grindr is a hookup app, meaning it wasn't often downloaded by those looking for anything serious. But, as the app grew in popularity, many began to find love using Grindr, including their own employees. Still, with the simple interface, the Grindr app still screams hookup central.
Advertisement
The app allows users to include a short bio and location status, along with the option to "filter" their matches based on superficial things, like preferred sexual position, body type, and even HIV status (per Vox). And even if you are picky, you are likely to find someone that piques your interest. Although Grindr has soared in popularity and even, per The Guardian, started the intense interest in dating apps, it's not all sunshine and rainbows for those who use it.
It may be taking a hit to users mental health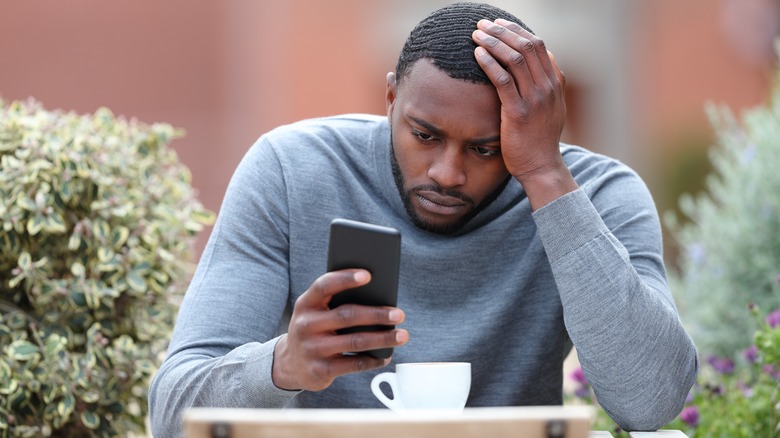 Antonio Guillem/Shutterstock
Dating apps are called dating apps for a reason: they are used to find a date. While some apps, like eHarmony or Match.com, are geared towards long-term relationships, others are known to be more of a spot to hookup, have sex, and connect casually and temporarily (per Mashable). Grindr is at the forefront of temporary connection apps and while its position as a hookup app is well known, it can actually be making those who use it quite miserable, according to Go Freddie.
Advertisement
In fact, about 77% of Grindr users wished they never used it in the first place because it left them feeling down in the dumps after their experience with it. The number of users who felt worse about themselves or their situation is so high that the Center for Humane Technology named Grindr the most "misery-inducing app" currently out there. With the app asking users to identify their body type, many who were quick to scroll and look through tone body after tone body were left feeling unhappy about themselves, as per a 2020 independent study out of California State Polytechnic University Pomona. But beyond the potential hit to your mental health, Grindr does have its pros if you use it right.
Advertisement
For some users the cons may be the same as its pros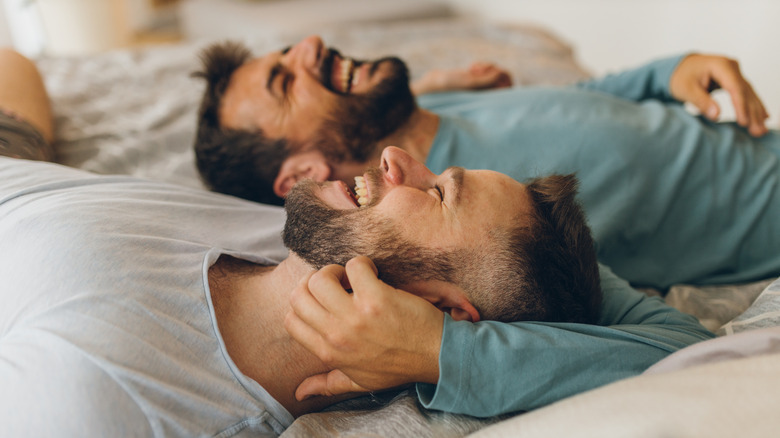 astarot/Shutterstock
While the mental health aspect is a major fail on Grindr's part, that isn't the only thing users don't like about it. According to Pride, many users speak negatively about the fact that there are so many men on the app ready to brisk through the initial encounter rather than form a connection via the app first. But some reading this may actually see that as a positive note. If you are looking for a quick hookup, the app is a great resource for you. On vacation and want to have a quickie in a town you aren't familiar with? Grindr is a great tool for that. Feeling lonely during a mundane day and want to spice it up a bit? Logging into Grindr will give you a ton of options to make a boring day quite interesting.
Advertisement
So, take Grindr with a grain of salt and use it for what it's known for — hooking up. In other words, as Mashable says, look at it as a "gay paradise." You may end up finding your prince charming on the app, but if you download it knowing you likely won't meet a long-life partner, you can protect your mental health and have some fun at the same time.