The Truth About Shaving Your Head To Make Your Hair Grow Back Stronger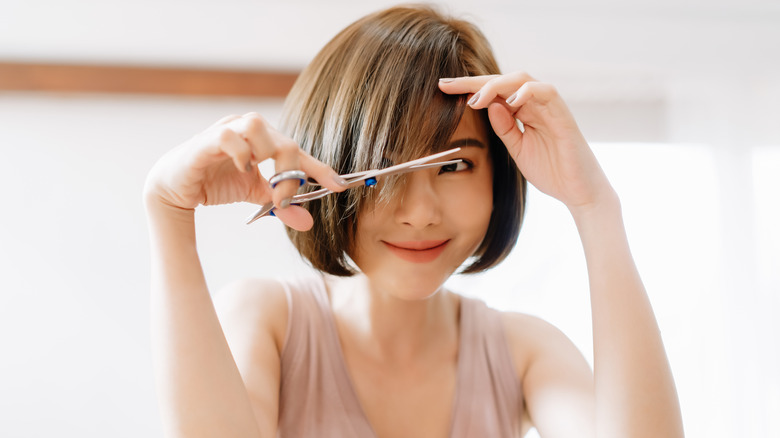 zEdward_Indy/Shutterstock
We may receive a commission on purchases made from links.
If you've ever thought about shaving your head so your hair will grow back healthier and stronger, there are some things to consider. If your hair is damaged, shaving your head will certainly get rid of the broken strands. But Nicole Rogers, a dermatologist and hair transplant surgeon, has a few words of warning — "When your new hair grows in, it will ultimately look just as unhealthy if you treat it the same way you treat your existing hair," Rogers tells Allure.
If you continue bleaching, using heat, and other damaging processes, shaving your head will basically be for nothing. In fact, taking care of your shaved head can be more difficult than caring for your hair (via Allure). While a shaved head can be a super chic look, should it be your first choice when it comes to hair health? Before you decide to shave your head it's a good idea to consider the benefits and drawbacks.
Think twice before shaving your head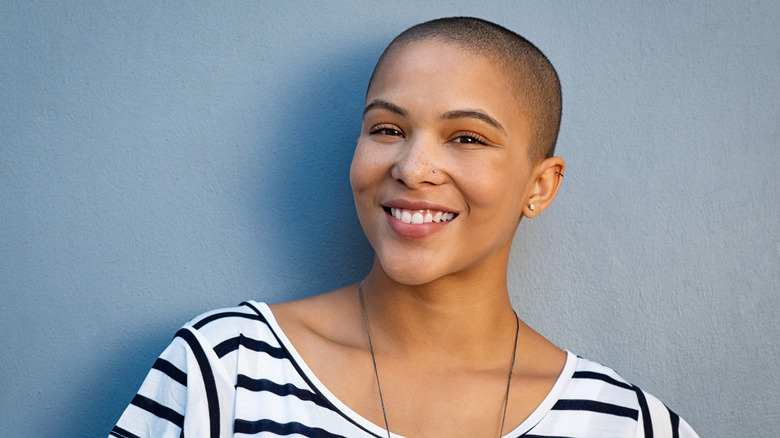 Ground Picture/Shutterstock
There are some situations where shaving your head can be helpful, however, if you're thinking about shaving your head purely for the reason of making it grow back faster, you may want to reconsider. Celebrity hairstylist Nick Arrojo explains that shaved hair growth is not all that it seems. "When people see a person with a shaved head and then two weeks later see them with a non-shaved head, the dramatic difference can lead people into thinking that the hair must be growing faster than it was previously," says Arrojo to Byrdie.
The visible growth and blunt ends can make people think the hair has grown back longer and stronger, but that simply isn't true. Healthline compares it to hair dye: it'll dye the existing strands, but new growth will grow back your natural color. The same applies to growth and density. Since your follicles are living, shaving your head won't affect them at all.
There are ways to help your hair grow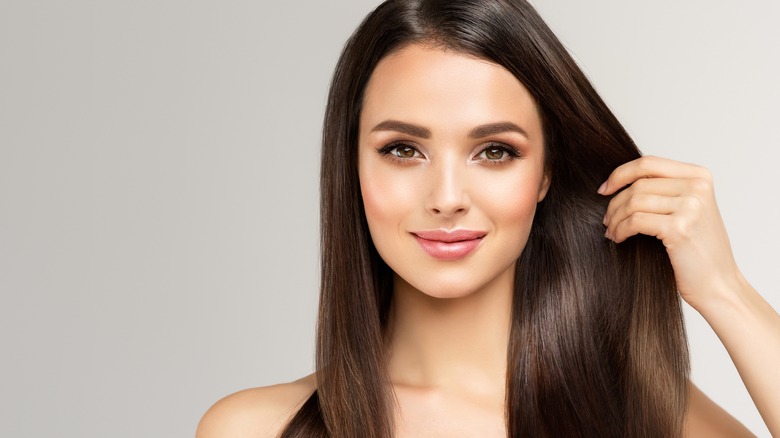 Sofia Zhuravetc/Shutterstock
Fortunately, there are some ways to help your hair grow faster and stronger. You may want to turn to your diet first. If you have an overly restrictive diet or don't get enough protein, that can negatively affect hair growth (via Healthline). Another nutrient that can help with hair growth is caffeine. Unfortunately, drinking coffee won't help you glean the benefits, but the right hair products could. Michele Burgess, Executive Director of Product Development at Oribe, gave Stylist the scoop on caffeine and hair. "Healthy hair starts at the scalp, and much like it energizes the body, caffeine is a great ingredient to help energize the scalp, too," says Burgess. "That's important because it rejuvenates the hair follicles and promotes an environment for optimal hair growth."
So before you reach for the clippers, maybe choose an alternative route. Marc Anthony Grow Long Shampoo features ginseng and caffeine to help stimulate hair growth. Alpecin C1 Caffeine Shampoo has over 4 stars on Amazon and thousands of reviews. If you want to grow your hair out, try these shampoos along with a supplement that will actually help your hair grow.