Bachelorette Party Decoration Ideas That Are Actually Classy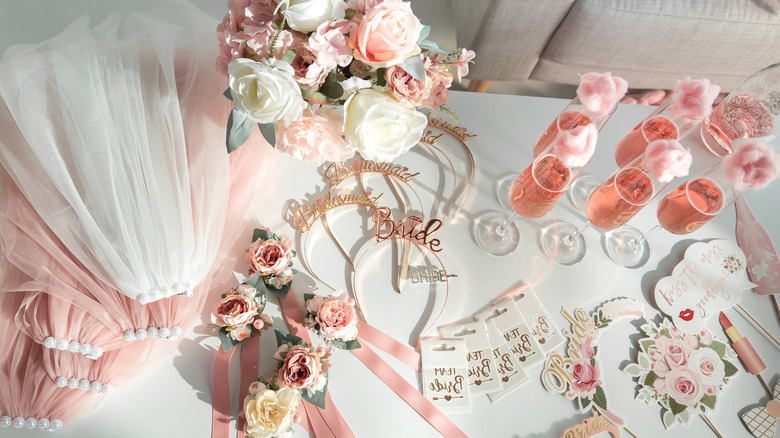 luchik08/Shutterstock
We may receive a commission on purchases made from links.
Bachelorette parties have long been associated with booze, strippers, and phallic memorabilia. Though a raunchy night on the town might be exactly what some brides want for their pre-wedding celebration, others envision something different for their girls' night out. Whether they plan to invite family members who they don't feel comfortable partying with, would rather spend the day unwinding from wedding planning and budgeting, or simply find penis-adorned party decor tacky, there are many reasons a bride might be looking for alternatives to the traditional festivity (per Your Bach Party).
Advertisement
If you're a maid of honor hoping to fulfill your friend's wish for a "classy" bachelorette party, then the first step is clarifying what is meant by this. For some, classy might mean an upscale and fancy party, while others may just see it as avoiding raunchy games and decor (per The Wedding Bee). Once you've discussed this, you can move on to figuring out location, activities, party cost, and of course, decorations.
Pick a theme that doesn't lend itself to tacky decorations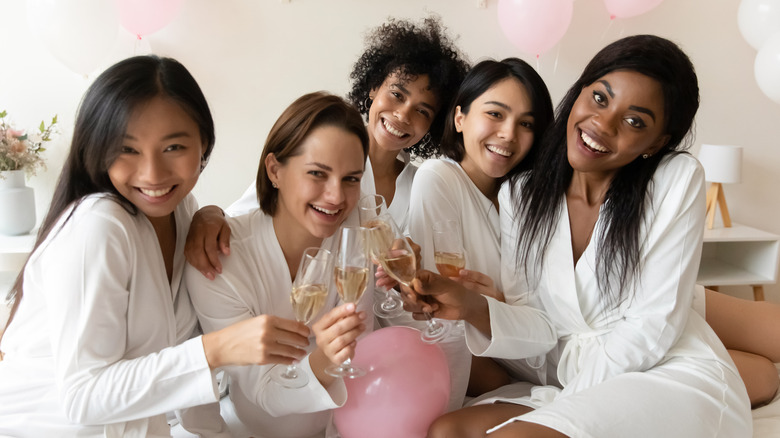 Fizkes/Getty Images
If your bride-to-be is looking to avoid phallic balloons, colorful wigs, and kiss-the-stud party games, then choosing a more classy theme is a great way to give your decor focus without slipping into the tacky territory.
Advertisement
"Wine Night" makes a great bachelorette party theme, because it allows for fun drinking without things necessarily getting out of control. A wine-themed party can mean having a wine-tasting event or you could host it at home with hand-picked bottles, spreads of fancy cheeses, and fun activities. There is plenty of wine-themed decor available for a bachelorette party, such as this glass-shaped garland or this red, pink, and gold confetti, both found on Etsy. "Vino Before Vows" is a common spin on this theme, so there is premade decoration with this saying that can be used, as seen in this collection of items from Stag and Hen.
A spa-themed bachelorette party is perfect for the bride who just wants to take a breather and relax, as mentioned on The Dating Divas. If you want to decorate your hotel room or if you're recreating the spa experience at home, there are some easy decorations to pull off. For starters, think customized robes, cushy slippers, and headbands or scrunchies, all of which can be found on Etsy. Incense burners, candle lights, fancy towels, and champagne will really complete the spa vibe. We also love these spa-themed desserts from Pretty My Party if you're looking for something cutesy and fun.
Advertisement
Go with a chic color scheme and classic decor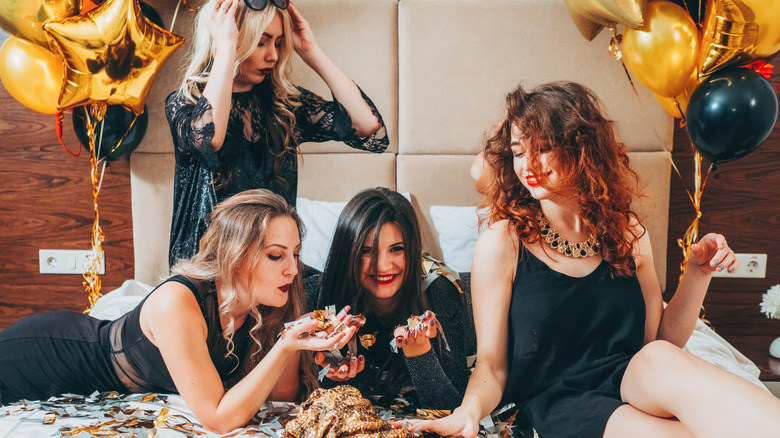 Golubovy/Getty Images
If you or your bride aren't looking for something themed, then you can also center your bachelorette decorations around a classy color scheme to give the party an upscale vibe. A benefit of choosing a color scheme over a party theme is that you don't have to worry about curating events that add to your event's theme, but can choose and customize to do whatever you want.
Advertisement
An easy go-to is rose gold, as this color has been popular in recent years and has an abundance of possible decorations to really personalize your party, per Mode. We're fans of this rose gold balloon set, this holographic fringe curtain, and these fan poofs from Etsy. Ginger Ray also has several rose gold items, including this super fun party game set.
Black and gold is a color scheme that will look luxurious and fun no matter how you style it. You could go for a Great Gatsby-inspired art deco look, or a more modern little black dress party. Either way, we recommend checking out something like this decor kit from Amazon.