The Best Tips For Using A Round Brush For All Your At-Home Blowouts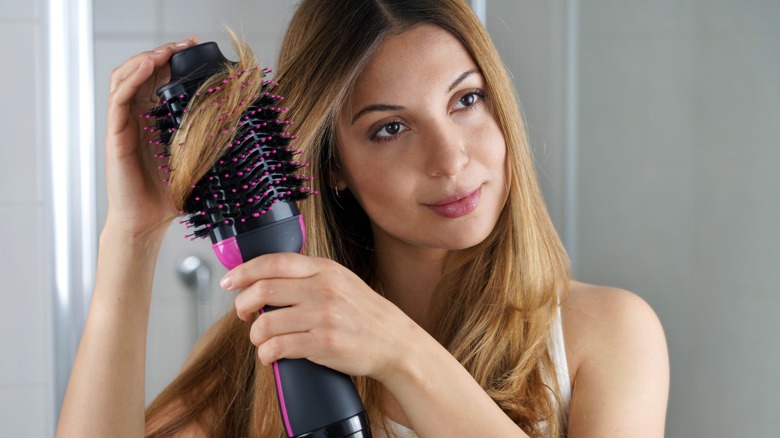 Zigres/Shutterstock
Everyone wants to have a good hair day every day. However, it's not always easy to have one or make one happen. While you can go to a salon and get a typical blowout, it's not always the easiest option. Salon Rates explains that an average basic blowout will cost anywhere between $45 and $90, depending on the salon you visit and the type of blowout you get. A Brazilian blowout or anything higher-end can go up to over $200. With these kinds of prices, getting a regular blowout at your favorite salon can start to add up. Another option is doing it yourself from the comfort of your own home.
While doing your blowout is more inexpensive and less time-consuming, many people struggle with how to get a salon-quality blowout by themselves. Thankfully, if you have a round brush, you have everything it takes to give yourself a salon-style blowout from your own home. Like anything, practice will make perfect. However, with a few tips and tricks, you can easily do your own blowouts for cheaper.
How to blowout your hair using a round brush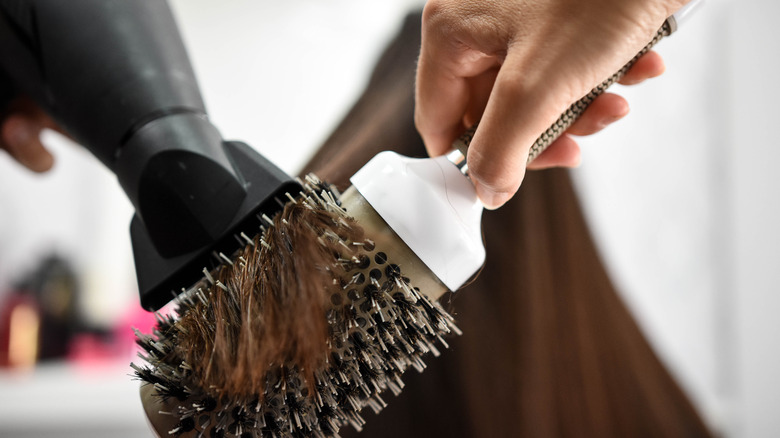 Gorica Poturak/Getty Images
Getting a blowout at home doesn't need to be a painful experience. L'Oréal Paris recommends starting by letting your hair slightly air-dry. Squeeze out any excess water and wait until it is half dry. Before you pick up the round brush, spray heat protectant spray on before using any heat. This will help smoothen frizz and protect your hair from heat damage. Section off your hair into small pieces, helping you dry off the hair a lot quicker. Ensure you have your round brush on one hand and your blow dryer on the other, with its respective nozzle attachment. At this point, you are ready to begin.
Twist Me Pretty recommends starting by placing the round brush underneath the first section of your hair. Point the blow dryer near your round brush and brush it down til you reach the end. Toward the end, create some tension by rotating the brush around the ends. Finish each layer before dropping the top layer down. This extra caution is in case the top layer is still damp. Repeat these steps until the section is 100% dry.
What round brush should you get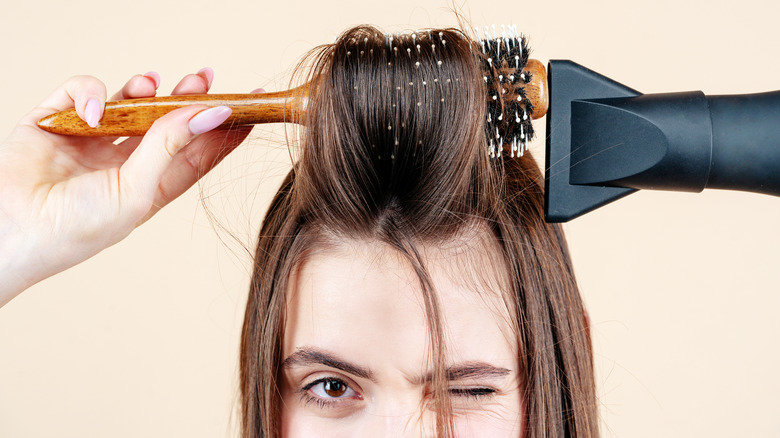 Puppy 9/Shutterstock
Considering the round brush is one of two tools you need to create your at-home blowout, you need to ensure it's the best one for your hair. On this, Vanessa Giani, head of training at Jean Lous David, explains, "These days, ceramic-headed brushes are preferred as they redistribute the heat evenly across the brush's surface and therefore through the hair. This type of brush also causes less damage to your hair than a metal brush for example." Choosing the best brush will help you create this look more often without the danger of having it affect your hair's health.
Blowout Studio also explains that the length of your hair will ultimately decide the size of the brush that you will need. Those with short hair should pick up a small to medium round brush, which typically is around 1 to 1.4 inches. Medium hair should stick to a medium round brush. Long hair should use a medium to large round brush from 1.7 to 2.2 inches. Grabbing the correct size will help make the entire process much quicker and simpler for your blowouts.