How To Use False Lashes To Make Your Eyes Appear Larger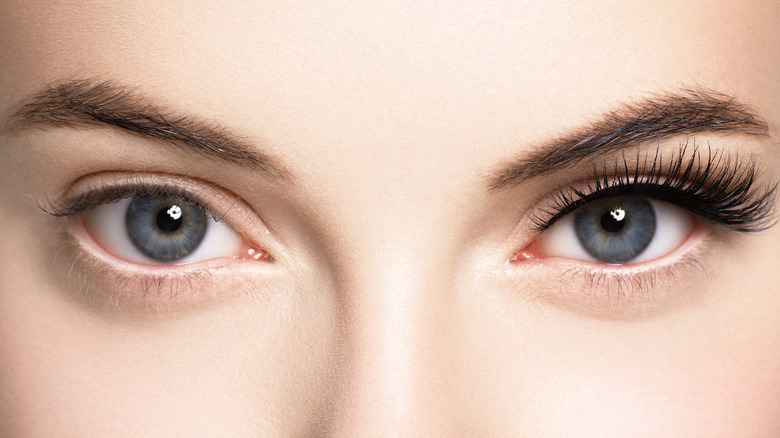 Irina Bg/Shutterstock
There are no two ways about it: big lashes are all the rage. Despite the uptick in lash extensions, though, many of us want an option that's less expensive and healthier for our natural lashes, notes Healthline. While false eyelashes that you can apply yourself with glue aren't the same as wearing your lashes au natural, they tend to be safer for repeated use than eyelash extensions (via WebMD). Plus, false lashes allow you to control exactly how your lashes transform your eyes. 
Like with any makeup, how you choose to apply your lashes and what lashes you use can change the effect they have on your look. If you're looking to make your eyes pop, you've likely tried plenty of tricks, from white eyeliner to tactful eyeshadow placement. What you may not know is that fake lashes can do more for making your eyes look bigger than any other makeup strategy. It's all about how you apply them.
Choosing the right fake lashes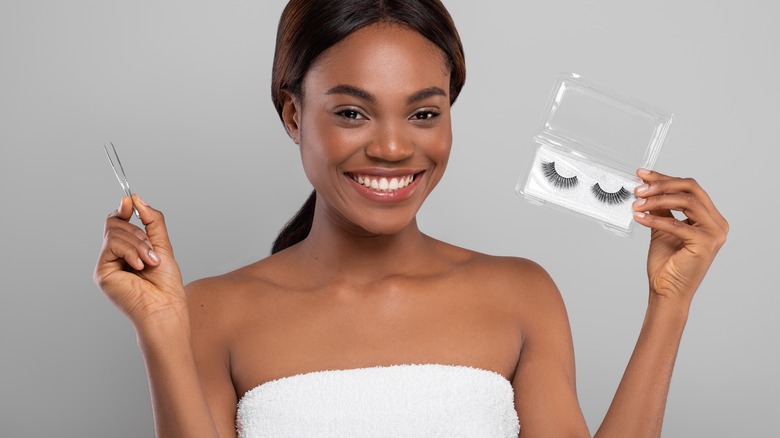 Prostock-studio/Shutterstock
The first step to using fake lashes to make your eyes look bigger is picking the right ones. There are tons of false eyelashes on the market, and they're designed to meet a wide range of needs and desires. The shape of your eye can affect exactly how you'll want to go about making them look bigger, explains Her World. Across the board, though, long, curled lashes are a safe bet.
You can also apply your fake lashes only on the outer corners of your eyes, suggests Ipsy. Heavy lashes that are consistent in length from the inner to outer corners of your eyes can have the opposite effect of your goal — they can weigh down and overwhelm your eyes. Instead, choosing lashes that only extend the outer corners of your eyes can make your eyes look bigger from side to side and allow them to look more wide set at the same time. 
Don't be afraid to cut your strip lashes in half and apply them only to the outer corners of the eyes. If you choose to do this, though, it helps to choose lashes that get shorter as they move to the inner corner of the eyes; this will make it easier for you to blend the falsies into your normal lashes. To save you some time and room for error, try these Ardell accent lashes from Amazon, which are designed to go only on the outer corners of your lashes.
Applying your lashes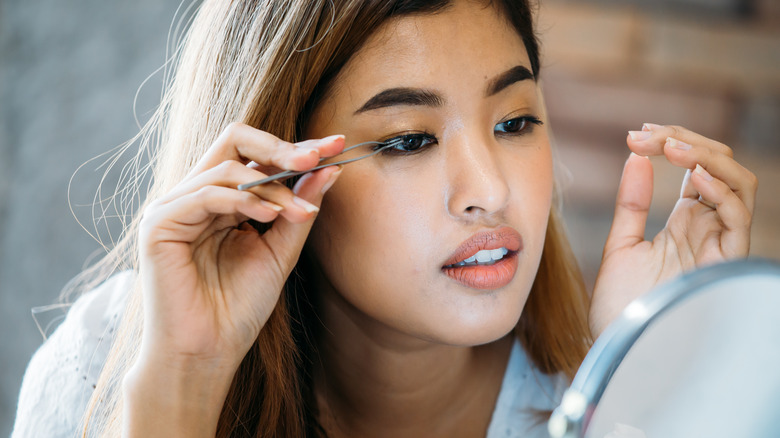 Twinsterphoto/Getty Images
Once you've selected your lashes, you need to apply them, and this, too, can have a huge effect on how you transform your face. Start by applying the rest of your eye makeup, including liner, shadow, and mascara (via Teen Vogue). Using liner and mascara only on your upper lashes and not on the bottom ones will make your eyes look bigger, notes Ipsy. Once your eyes are prepped, apply clear lash glue (like this one from Duo,) to the strip on the bottom of your falsies and give it a moment to dry. Place your falsies on your eyelid as close to your lash line as possible. Some people prefer to use tweezers for this part, and others like to use their fingers. 
If you used trimmed lashes or accent lashes, add some extra mascara to the inner lashes so that the transition from your natural lashes to your fake ones is seamless. If you'd like, you can gently use an eyelash curler to further blend your real and fake lashes and give them a bit of extra volume. And, just like that, you're done, and we have a feeling that your eyes have never looked bigger.