How To Create Glazed Donut Nails With Eyeshadow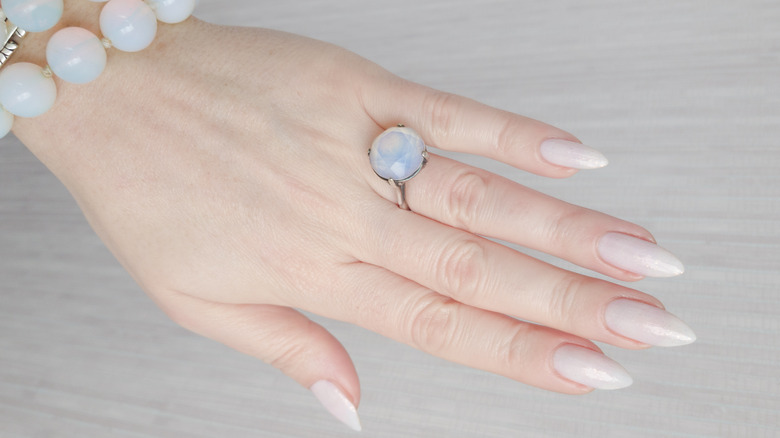 TanitaKo/Shutterstock
People all over TikTok have been fangirling over Hailey Bieber, copying her style left and right. No, it's not because she's married to "Baby" singer and former teenage heartthrob Justin Bieber or because she's drop-dead gorgeous. Rather, it's because she has been trailblazing major trends lately, one of which being glazed donut nails, which look just as delicious as they sound.
Glazed donut nails have quite literally swept the globe, with Good Morning America perfectly describing them as the perfect opulent look without being too flashy Ever since the nail trend went viral on TikTok, with #GlazedDonutNails racking over 132 million views, users have taken the inspiration to their nail salon in an attempt to recreate such beauty. Others are trying to achieve the look at home themselves, using DIY chrome powders and polishes.
Well, instead of running to the salon or your local beauty supply store to create that glazed donut look, chances are that there's something in your makeup bag that will help you achieve it. Grab that eyeshadow!
Shimmery eyeshadow gives the perfect iridescent shine
To fully recreate the look, you may want to reach for Hailey Bieber's iconic glazed shade, which is a soft white pearlescent color. However, you can use any shimmery or metallic eyeshadow color you desire — and "chocolate glazed donut nails" are another fan fav (via Shape). TikTok nail artist Connie Wi (aka @connie.wi) is one of many who shared this at-home glazed donut hack using eyeshadow, and the results are gorgeous. 
First, coat your nails with whatever color you want your glazed nails to be. Wi uses the OPI lacquer in the iconic shade Funny Bunny to achieve that soft white look. After that dries, go in with a base coat which eventually provides a tacky layer on the nail. Then the fun part! Grab your eyeshadow and a small, clean eyeshadow brush and gently tap the shadow on the sticky base coat. You can also use one of those small eyeshadow applicators that come in makeup compacts. 
While you can use a generous amount of product depending on the chromatic intensity you desire, you don't want to apply too much pressure on the nail, or the polish can streak (via ET). To finish, apply a glossy topcoat to the nail and wait until it's fully dry before wiping any excess powder off your skin and cuticles with an alcohol wipe. In the end, you'll be left with gorgeous glazed donut nails.
Mistakes to avoid while giving yourself a glazed donut manicure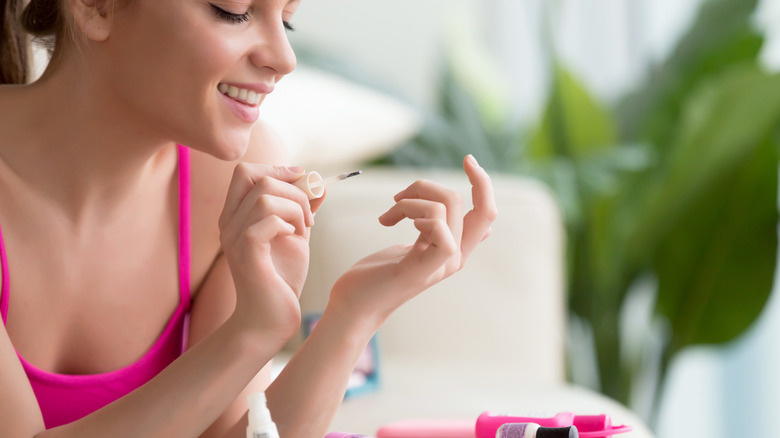 fizkes/Shutterstock
Achieving the glazed donut nail look is pretty simple, but there are things you should keep in mind to ensure the best possible outcome. While it may be tempting to whip out your products and apply them immediately, you want to properly prep your nails first to give a clean and dirt-free base (via CNN). That way, your glazed nails will last longer and look clean and polished. Plus, clean nails are healthy nails! 
To prep your nails, remove any leftover polish from your last manicure, file the nail, gently push back and cut your cuticles if needed, and wipe away any excess debris with an alcohol wipe (via Blue Sky Cosmetics). You also don't want to skip out on that topcoat after applying the eyeshadow! Using that clear topcoat after will smooth everything out and ensure the manicure lasts longer, per BeBeautiful. It will also seal in that eyeshadow, which is, of course, the most essential product in your glazed donut nail routine. 
Let those nails completely dry before attempting to do anything around the house to avoid unsightly bumps and smudges. We know you can't wait to have the shimmery glazed donut nails of your dreams, and with a bit of patience (and a gorgeous pearlescent shadow), you'll be there in no time.