The Barbie Ponytail Is About To Be Your Go-To Party Look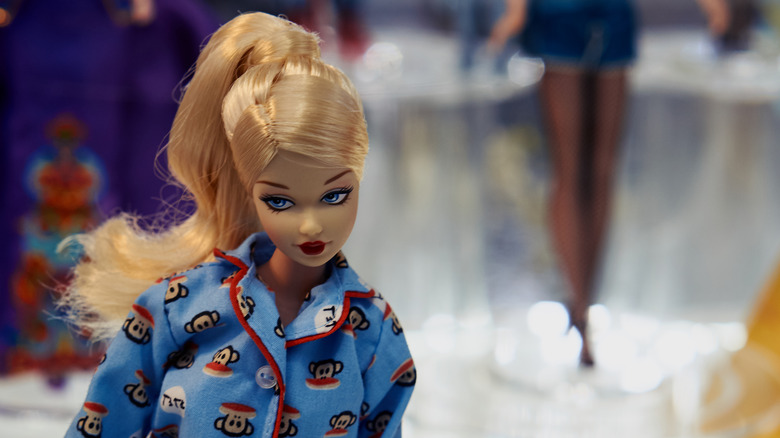 c.I.I.o/Shutterstock
If she were anyone else, you might cast a dubious eye at that super high, bouncy ponytail of hers and remark, "Girl, don't you think you're getting a little old for that little girl look?" But this is no ordinary girl. This is a 63-year-old instantly recognized the world over and affectionately regarded as Barbie, the legendary Mattel doll, whose full name suits her age even if her style doesn't. 
Barbara Millicent Roberts and her ever-widening circle of gal pals have been setting style trends since she made her debut on March 9, 1959 (via Britannica). Since then, Barbie has been implicitly telling girls it takes more than sugar and spice and sexy shades of pink to lure a man. (And she ought to know since Ken joined her social circle in 1961.) And just for the record: Barbie might whisper that, among her many other talents, she's ageless. Mattel has frozen her in time at age 19, which partially explains her ongoing appeal, per Netflix Life. 
Throughout the years, Barbie has catapulted to the top of Mattel's doll division, earning nearly $1.7 billion (via El País). So, you could say she's earned the right to zip along in her 1976 purple-pink Corvette, with her ponytail flying in the wind, as pictured in Hagerty. That imitable tail continues to inspire conversation today — but in a different manner.
Yep, the tail is back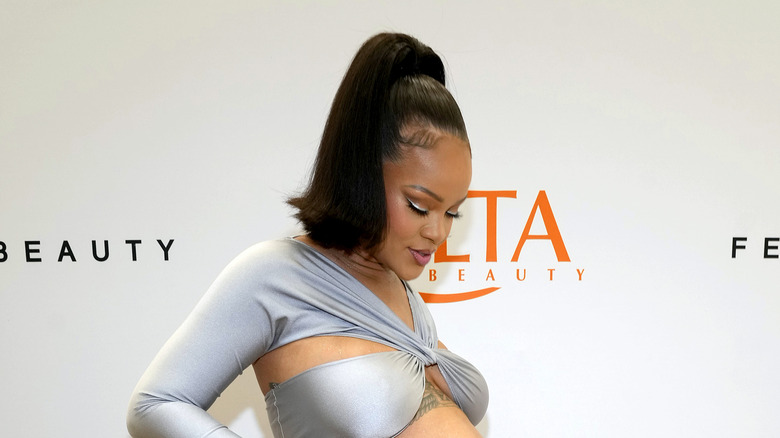 Kevin Mazur/Getty Images
"Barbie" — the live-action film featuring Margot Robbie in the starring role and Ryan Gosling as Ken — is expected to hit theaters nationwide in summer 2023 (via Los Angeles Times). So, it certainly looks likely that we'll be seeing plenty of premieres inundated with Barbie lookalikes sporting the perky ponytail. By next summer, people will have had plenty of practice perfecting the style, which Lifestyle Asia says is making a "serious comeback" and becoming a growing presence on the party scene. 
Consider the evidence: Cultural trendsetters, such as Ariana Grande, Hailey Bieber, and Rihanna, are popping up everywhere with the flirty-curly-but-often-sleek ponytail. They may have taken their cue from this year's Emmy Awards, where the look was ubiquitous (via Pure Wow). And now MSN predicts "the Barbie ponytail may be your holiday go-to."
Meantime, Yahoo! News was among the first to spot the re-emerging trend in March 2022. The "B tail" continued to gain style traction throughout the year, as the look was upgraded with wide hair ribbons, the substitution of scrunchies for plain holders, and decorative combs. Today, you might "toy" with the tail itself, learning how to braid and twist it this way and that. Barbie predated Pinterest, but you can probably still imagine her sitting on a couch in her dreamhouse, looking at online pictures and trying to catch up.
You can become a Barbie clone, too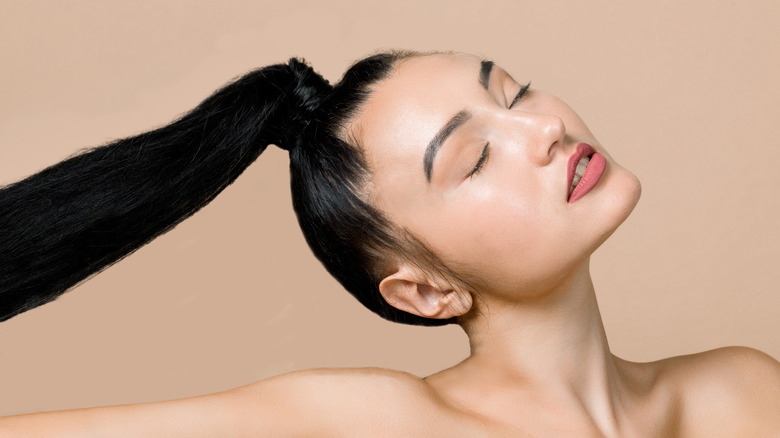 SofikoS/Shutterstock
Perhaps people's biggest fear in copying the Barbie ponytail is that they won't end up with a tail at all; instead, their hair may be so short that they end up with a stump. Nothing can compare to the glorious swish factor of a long tail, but Barbie knows she's a fashion force to be reckoned with. You get the feeling she would approve of a ponytail of any length, as long as people get into the spirit of her signature style.
As such, set your fears aside and have fun, even if you don't have a sparkle-style salon like Barbie (via Mattel). Lifestyle Asia recommends straightening (or at least smoothing) your hair first. It will be easier to gather into a tail this way. If you wish, leave a few strands of hair dangling on either side of your face. Then, sweep the rest of your hair into a ponytail, stretching on each end of the tail to add height. Alternatively, some report greater success if they flip their head over and gather a tail from a bent-at-the-waist position.
Either way, you'll probably need to repeat the formation step several times, so try not to get frustrated; it's normal. A mist or two of hair spray will set the style in place — and adding a quick curl to those strands with an iron may be the final touch to make Barbie blush a fitting shade of pink.