Do Powder Sunscreens Actually Provide Effective SPF Coverage?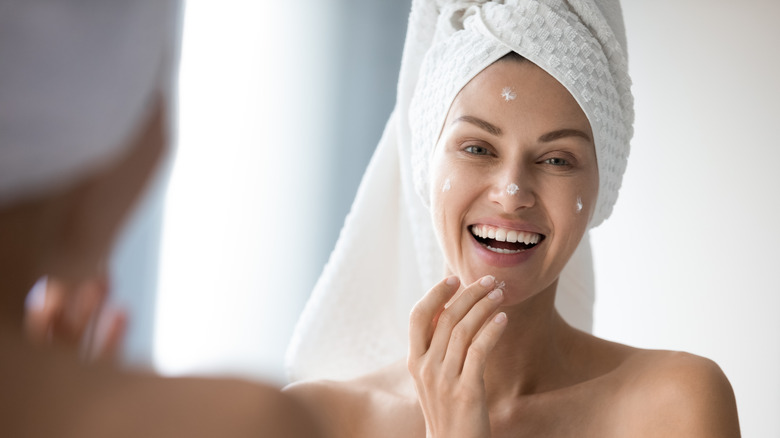 fizkes/Shutterstock
We may receive a commission on purchases made from links.
No matter what season you're in, dermatologists everywhere recommend always applying sunscreen before you start your day. Even a cloudy, cold day can lead to irreversible sun damage that can easily be avoided by a quick application of SPF. If you begin to do your research, you will see that there is a plethora of options when it comes to sunscreen. According to Self, there are chemical sunscreens that work to absorb the heat and mineral sunscreens, which use zinc oxide or titanium dioxide to reflect the light off your skin. There are also sunscreens meant just for your face (even ones that can offer a nice glow), ones that can be used throughout your body, and powder sunscreens.
Advertisement
According to Cleveland Clinic, dermatologist Alok Vij MD explains that powder sunscreens are "sunscreen particles that are dispersed in a powder instead of being dispersed in a cream, lotion or spray." The use of these is quite simple: you apply the SPF the same way you would your powder foundation, using a brush to blend it onto your skin. Powder sunscreens are usually low in SPF, with the highest option being about 30, and are mineral based. But is this a good option when looking for effective SPF coverage?
Powder sunscreens should only be used in addition to regular SPF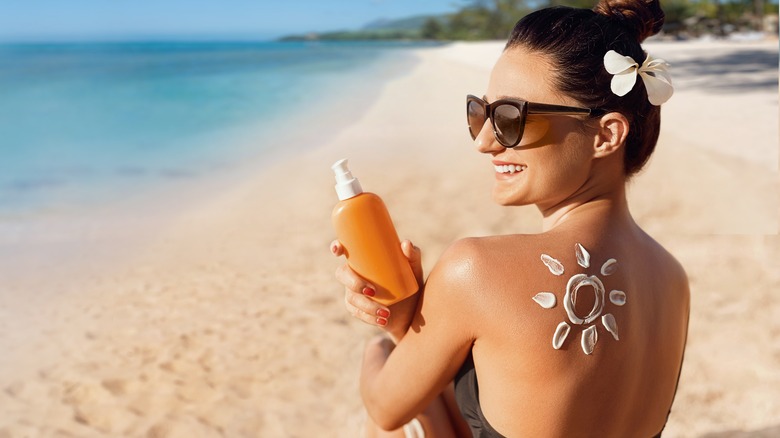 verona studio/Shutterstock
If you don't like the feeling of a sticky lotion on your skin first thing in the morning, then you may prefer the ease of powder sunscreen. Recently, TikTok has been full of influencers and even dermatologists recommending the use of powder sunscreen since it not only provides sun protection but can also be a great way to reduce the look of oil and sweat on your skin.
Advertisement
Unfortunately, simply using a powder to protect from the sun isn't quite enough to get the full protection you need. According to Cleveland Clinic, while powder sunscreens do help protect your skin from the sun, it is only beneficial if used with your regular lotion-based SPF. Moreover, according to Very Well Health, the best use of powder sunscreen is as a tool to reapply sunscreen throughout the day, especially if you have already applied your makeup. Putting a lotion-based SPF over your makeup isn't ideal, so dermatologists recommend using a powder to reapply throughout the day. If you are looking for the best powder sunscreen, here is what to look for.
How to find the right powder sunscreen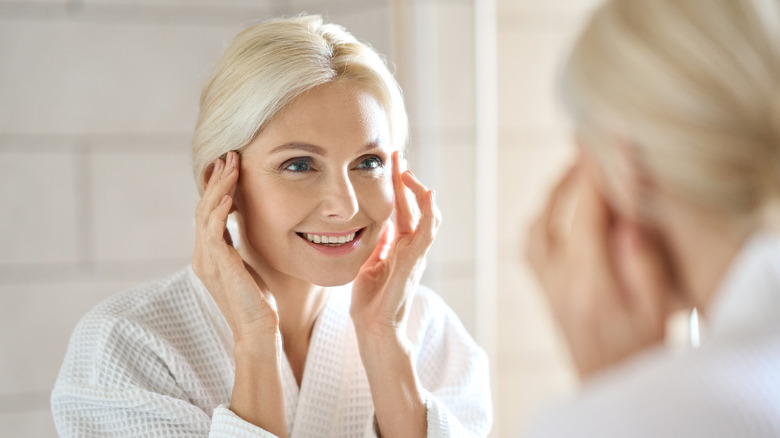 Ground Picture/Shutterstock
Before you start your search for the best powder sunscreen, experts spoke to Cosmopolitan about the top things you should look for when it comes to powder SPF. First of all, this product is something you need to use a lot of, so if price is a concern, consider sticking to a smaller budget as you may find yourself buying this often. They also recommend finding one that fits your lifestyle, whether that means you sweat a lot (consider a water-resistant formula) or are out all day long (look for all-day coverage).
Advertisement
Byrdie also recommends looking for a broad-spectrum option that offers 30 SPF or higher. If it contains titanium and zinc, rather than unknown chemicals, this is also a big plus. They suggest the Supergoop Resetting 100% Mineral Powder Sunscreen, which offers SPF 35 and is made with ingredients that not only protect your skin but help keep it from drying out as well. Other great options include iS Clinical PerfecTint Powder SPF 40, which offers a tint in addition to sun coverage, and the Hawaiian Tropic Mineral Skin Nourishing Sunscreen Powder Brush, which is the ultimate affordable option that you can find at most drugstores.