How To Give Yourself The Perfect French Tip Manicure At Home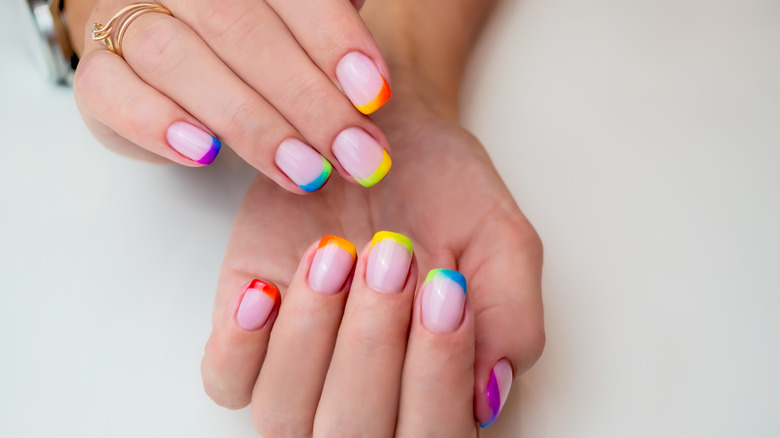 Yuliya Ufimtseva/Shutterstock
There are many benefits to doing your nails at home, and they aren't limited to your wallet. There's actually pretty concrete evidence that painting your nails is good for your mental health. Psychotherapist Greta Angert gave Glamour the self-care scoop. "Sitting down to paint your nails is a simple gesture that tells you 'I'm worth it,' 'I deserve this,'" said Angert. "People also talk with their hands and seeing a pretty color can brighten their mood. Women also compliment each other's manicures quite frequently, and there's nothing wrong with a little ego boost during your day."
Advertisement
Doing your own nails also requires you to use your non-dominant hand, which is an awesome exercise for your brain. The more you practice painting your nails with your weaker hand, the better and faster your manicures will get. Pretty nails, a confidence boost, and a brain workout? Sounds like DIY manicures are a great idea. There are tons of ways to make sure your DIY makeup looks salon-worthy, so keep reading to find a few.
Prep your hands for a great manicure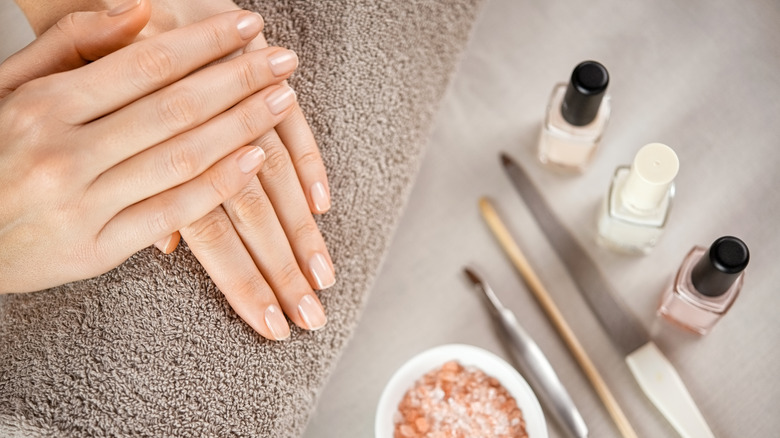 Rido/Shutterstock
When doing a home manicure, good prep is key. Allure recommends wiping down the plate with an oil-based polish remover instead of regular acetone. The oil in the solution keeps your nails nice and moisturized, while acetone can weaken the nails and cause damage. Then, shape and buff to the desired shape.
Advertisement
While it's tempting, don't skip the buffing step. Essie Lead Educator Rita Remark says it's important for the overall look of the nail plate. "If you don't buff, the natural oils in your nails can build up, leaving manicure-ruining residue on them," the educator told Glamour. "Buffing your nails is kind of like brushing your teeth — it's brightening, it makes nails look more youthful, and it gets rid of ridges." After you're thoroughly buffed, rub on some cuticle oil and wash your hands to prep for polish. You can exfoliate your hands and arms at this step for an extra salon-like feel.
Get a salon-worthy French manicure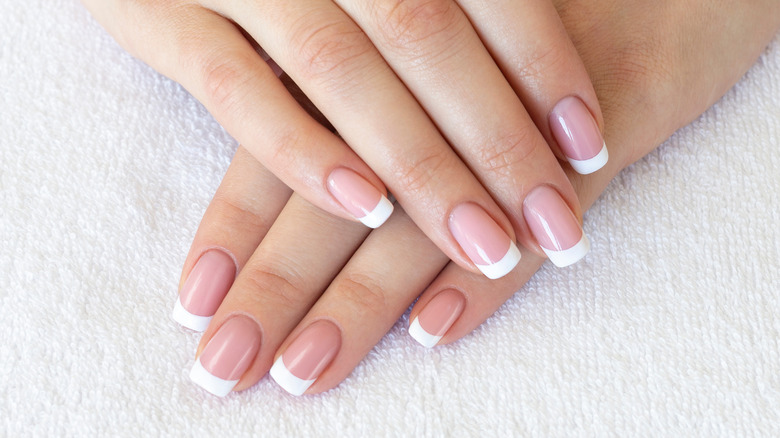 n.k.junky/Shutterstock
Once you've cleaned your nails, it's time to paint. Since it can be hard to paint straight lines with a steady hand, Byrdie recommends using nail tape. Gently press the nail tape where you'd like your French manicure to begin. Then, paint the tip of the nail with any color you'd like. Keep in mind that a more solid shade will help you get perfect tips without multiple coats. But what about a bit of steer from the classic white? Instead of reaching for a standard clear topcoat, try pink for a classic yet chic French manicure look.
Advertisement
Remember, it's always worth it to use a topcoat. It makes the manicure last longer, preventing chipping and other damage and it also makes it look better. With these steps, you'll look like you just stepped out of the salon. As long as you avoid the most common manicure mistakes (chemical-packed polish, multiple thick layers, etc.) you, too, can reap the benefits of an awesome at-home manicure. So get your supplies together, grab some tape, and get ready to love your look.