What Are Tanning Wipes And Do They Actually Work?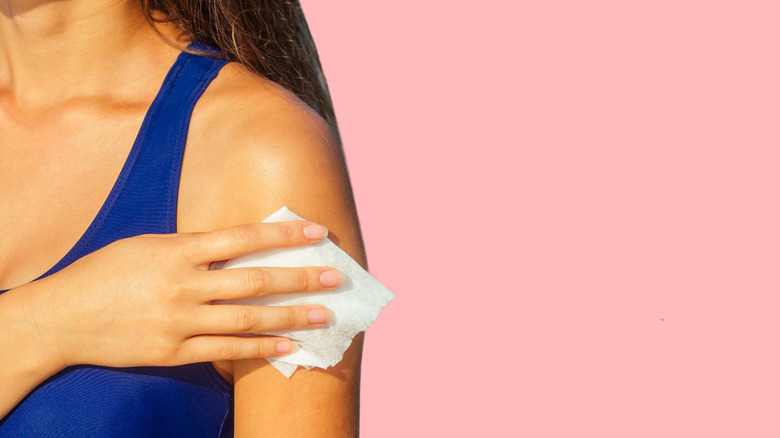 yurakrasil/Shutterstock
There are plenty of safe, easy, and affordable options for those looking to obtain a bronzed glow all year. But, as many devoted self-tanner consumers would tell you, the dangers of continued UV exposure simply aren't worth the benefits of a literal sun-kissed tan. Let's be honest; the correlation between tanning beds and skin cancer is quite clear. That, combined with the desired look of having sexy, beachy bronze all year round, has caused the booming self-tanning market to skyrocket. In fact, the $877 million industry is estimated to continue to grow by 4.5% by the year 2030, according to Grand View Research.
Advertisement
Plus, having a tan is said to make you appear healthier, younger, and thinner, a look many people desire (via Self Tanning). From creams and lotions to sprays and serums, achieving this from a bottle is only a few hours away — no need for frying your skin in a tanning bed or under the sun. However, one convenient option that doesn't get enough attention is tanning wipes and towelettes. So, we're here to give you the lowdown on what exactly they are and if they actually work.
Tanning wipes are soaked in self-tanner and rubbed on the skin
Tanning wipes are exactly what they sound like — wipes that give you a tan. Disposable, easy, and trouble-free, these wipes are an excellent option for those who need quick application and fast sun-kissed skin (via Glamour). The wipes are drenched in a mixture involving dihydroxyacetone (DHA), which is the smelly active ingredient that creates that bronzed color on the skin, per Coco & Eve. According to Jergens, one single towelette contains enough DHA to tan your body from your head to your toes.
Advertisement
But do these towelettes even work? Yes! According to Byrdie, who chose Tan Towel Self Tan Towelette Classic as their number one recommended self-tanning towelette product, these wipes are genius. Consumers approve of the self-tanning product so much that the wipes have seen a 22% increase in online searches between 2021 and 2022 (via Spate). Perfect for touching up previous self-tanning applications or packing with you during your busy schedule, self-tanning wipes are effective, safe, quick, and provide a natural glow, per Jergens.
Tips for a flawless self-tanning application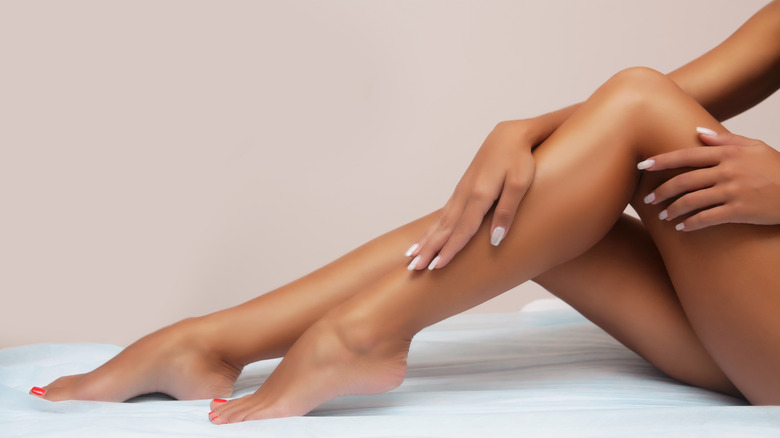 Alina Troeva/Shutterstock
To achieve the best results with your tanning wipes, there are steps you must take before and after application. According to the American Academy of Dermatology, you should gently scrub your skin before applying the tan, paying extra attention to dry areas of the body. This will remove any dead skin and give a clean base for your self-tanner to adhere to. If you shave your legs, be sure to do so the day before you apply tanner so that the color isn't seeping into any minor abrasions caused by your razor (via Self).
Advertisement
When using a tanning wipe, there is no need to go for a mitt or glove like other lotions and creams; however, it's never a bad idea if you want to completely avoid stained palms, per Jergens. If you don't use gloves, ensure you thoroughly wash your hands after applying to get all the DHA off your palms, and don't forget to pay special attention to the areas between the fingers. Rub the towelette in broad, circular motions, and wait a few minutes after application before getting dressed. Read the instructions on the label of the towelette for developing time and when to shower. Within 24 hours, you will have a noticeable glow that will leave everyone wondering which tropical island you just flew in from.
Advertisement