Ways To Touch-Up Your Roots Without Going To The Salon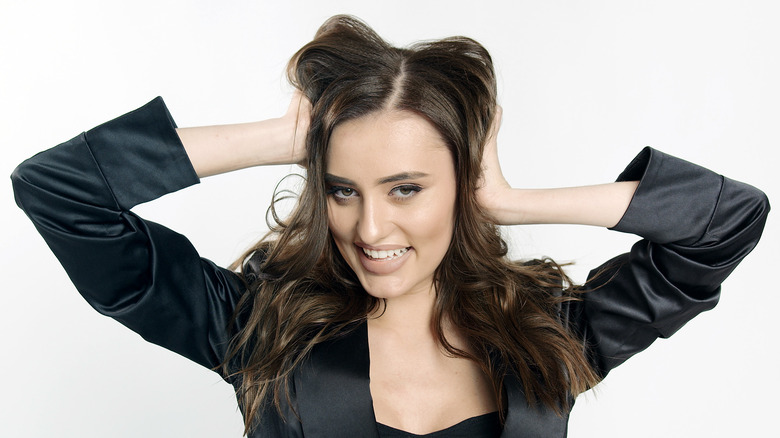 Deflector Image/Shutterstock
Dang. You did it again. You waited too long between coloring your hair, and now you've got (gasp!) roots. While it may not seem like a big thing to someone who isn't dealing with the bi-color issue, there is some justification for why you believe covering them would make you feel better. In a study by Wella, as reported by Regis, having fresh hair color is mood-boosting. According to the research, 72% of women felt more attractive, 69% more confident, 49% sexier, and 42% more youthful after dyeing their hair.
Whether it's gray hairs you'd like to hide, or your red tresses have a telltale dark line at the part, go ahead and cover those roots. "I think it comes down to doing whatever we can to make ourselves feel good," proclaims Rachel Bodt in The New York Times. "If you're looking at your roots and feel like you just have to fix them, just do it." Luckily, you have several options available for your hair color adventure.
Quick fixes for root cover-up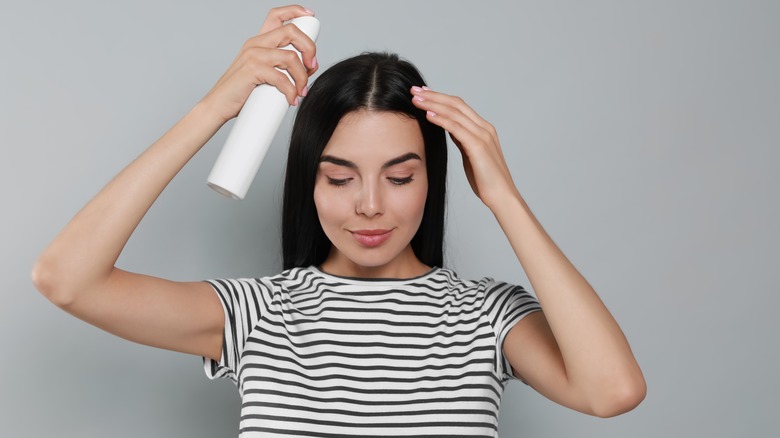 New Africa/Shutterstock
Got someplace to be and no time for a salon trip? A quick temporary root touch-up is the perfect solution. "Powders and sprays are temporary colors that will wash out in one wash; they're great for getting you by until you can see your hairstylist," celebrity colorist Nikki Lee explains in Hello Giggles. These solutions come in a variety of forms with different application techniques.
In Reader's Digest, Lee shares she likes Garnier Express Retouch Gray Hair Concealer since is so simple to handle thanks to the sponge applicator, enabling more precise concealment. If you prefer a spray, apply L'Oréal Paris Magic Root Cover Up immediately over new growth and about halfway down the length of your hair, says L'Oréal Paris. Cosmopolitan recommends Rita Hazan Root Concealer Touch-Up Spray, citing its slim nozzle as a bonus for precise application.
Powder cover-ups are also popular. "It's like an eye shadow," explains celebrity colorist Amit Thakur in Vogue India. "All you have to do is just dab it on where you need." Colorist Rachel Bodt told Allure she likes Madison Reed Root Reboot. "This is really easy to color over other colors or even lift them, plus the finish is shiny and natural looking." Finally, Shape recommends Color Wow Root Cover Up. According to color specialist Nicole Tabloff, this option is a mineral powder you dab with the supplied brush and is quite simple to use. It is also water-resistant, so it won't fade easily.
Longer-lasting options for covering your roots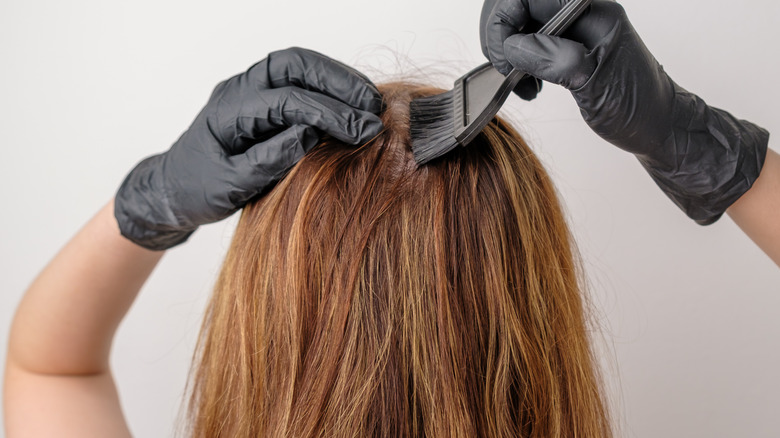 Vladimka production/Shutterstock
If you're looking for a way to cover your roots that will last, you'll want to use permanent hair color. Luckily, there are kits made specifically for root touch-ups, and you can also use any regular box hair color from the store. One thing to note, though? "The number one rule when touching up your own color is to put color only where it's needed — on the roots. If you keep putting dye where there's already color, your hair will look opaque and less natural," advises colorist Jaxcee in The New York Times.
Celebrity color professional Nikki Ferrara shared with Allure that she likes Clairol Root Touch-Up. "It comes with a foolproof little brush that makes application a breeze," she notes. Stylist Laura Rugetti prefers dpHUE Root Touch-Up Kit, telling Today that it is a long-lasting root color that you can apply at home in between salon visits.
On his Instagram, celebrity colorist Chris Appleton shared that he uses Revlon Total Color "I like to use this because it's vegan, it has no harsh chemicals, and it's also 100% permanent." He also did a home hair color tutorial on Today, offering a great tip when applying the paste to your roots. "A nice way to blend, this is a good little tip, is to use a wide-tooth comb and just comb the color through a little bit once you've got the color on the roots. That will give you a nice, even coloration."