Learn To Apply Glitter To Your Nails Like A Pro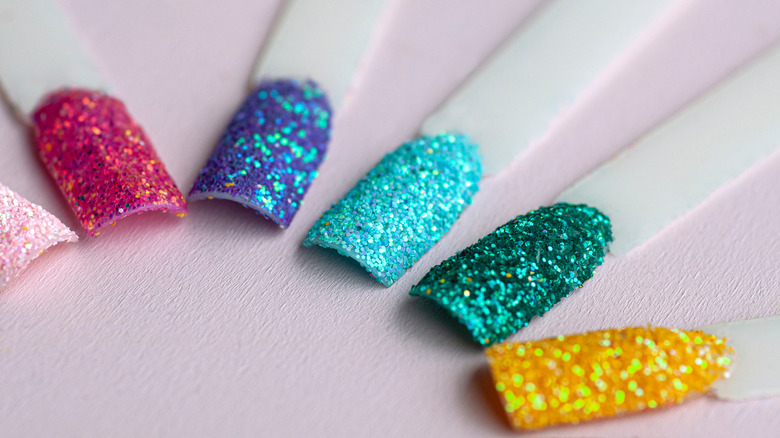 Iris_art/Shutterstock
Whether you're going for a sparkly geometric design, a glittery modern French manicure, or a shimmering accent nail, glitter polish is always a fun element to incorporate into your nail designs. If you're wondering what this design might say about you, glitter nails are often associated with fun-loving and free-spirited personalities, per Insider. Into the Gloss highlights the girly and playful vibes of the glitter look, mentioning that the shimmer can also be elevated for a more polished look.
As noted by Byrdie, there are so many different ways to wear glitter on your nails, but that doesn't make the application process any easier. Often, this polish type can look sparse and patchy when applied, making several layers necessary for a truly opaque look. Chunky glitter polish, specifically, poses this challenge. There's no need to worry, though, as there is a super helpful trick for applying it for a dense, sparkly look that is sure to dazzle.
Use a cosmetic sponge to apply glitter nail polish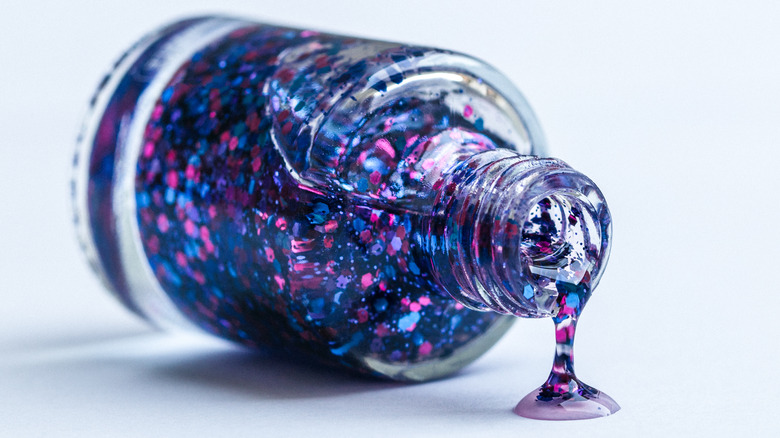 Emma Walsh/Getty Images
While you can always apply several layers of shimmery nail polish to build up to a compact, opaque look, there is a great trick to achieve the glittery design of your dreams while cutting down on wait time (per Glamour). As detailed by YouTuber Kelli Marissa, using a cosmetic sponge really eases the application process. Instead of painting the polish onto your nails, spread the glitter onto the cosmetic sponge and then apply it to the nails. The sponge will soak up the excess nail polish, applying the glitter densely instead of sparsely. It will likely take a couple of swipes to create the desired look, but it's much more effective than using a polish brush.
In their YouTube video, Cutepolish adds some other tips for easing the application process. For example, because glitter nail polish can be a hassle to remove, using a peel-off base coat is a great way to take off the varnish easily and avoid damaging your nail plate. The hassle of removing the polish extends to the excess glitter that might attach to your skin while painting. Because of this, using a skin barrier around your nails is a super helpful tip. Specifically, liquid latex works great.
Try these other tips for applying different types of glitter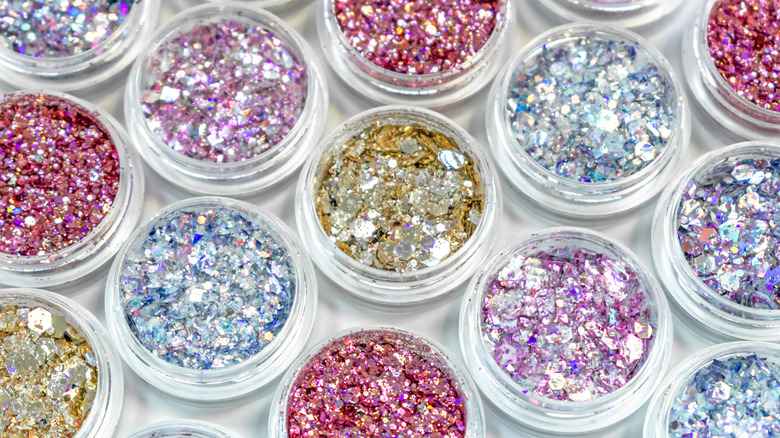 Iana Kunitsa/Getty Images
Using a cosmetic sponge is a great way to apply glitter varnish for an opaque look, but there are more ways to apply it to your nails, including some great tips for the painting process if you're using loose glitter. YouTuber Gabby Angelique breaks down how to easily apply it all over the nail: Simply start by painting your nail with a polish similar in shade to the glitter you're using for a seamless look. Then, use a fan brush to pick up and pour the loose glitter all over the nail plate while the base polish is still wet.
Make sure to clean up the polish before applying the glitter, as you don't want excess product drying on your skin. A skin barrier would be helpful for this process, too. To finish, tap off any excess glitter and gently apply a clear top coat to encase the product. If you want to create a design with glitter, such as a geometric shape or a French tip, you can use striping tape and a detail brush to achieve the look. Gabby Angelique has another great YouTube video with specific tips and tricks for using striping tape to create nail art.