Here's How You Can Really Take Your Makeup From Day To Night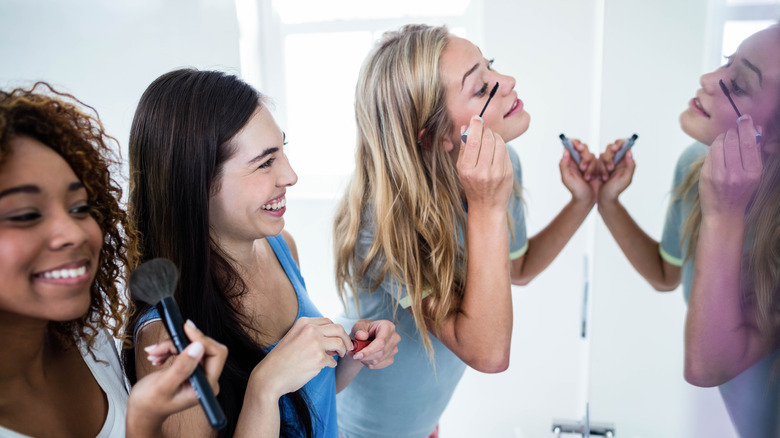 wavebreakmedia/Shutterstock
When you've been working all day but want to go out that night, there's no need to redo your entire look. After these tips, you'll definitely see the magic of makeup. Of course, there's more to day-to-night makeup than looking extra sultry for a night out. Per MasterClass, Bobbi Brown recommends changing up your look because the lighting is different. If your makeup looked fabulous in the early morning sun, it might not look as flawless in the evening. So, if you want to stand out in the dark, try bolder contrasting shades.
Thankfully, you don't have to completely take off your makeup and reapply to achieve fabulous glam. It also doesn't have to take forever. The ladies at Goop had a red carpet look ready in around 20 minutes, building on the client's daytime look. If you don't have time to run home before you plans, no sweat. Keep a makeup bag with the travel sizes of your favorite products, and you'll always be ready to go glam.
Bold lips and eyes are key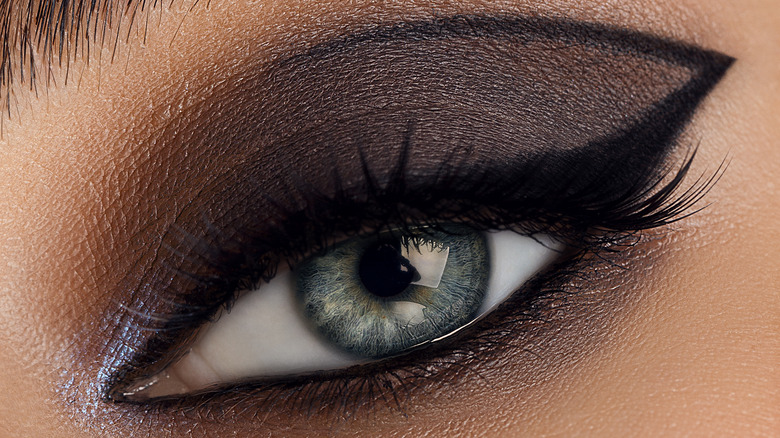 svetlichniy_igor/Shutterstock
Going out is the perfect time to kick it up a notch if you've been wearing lip gloss or nude lips during the day. Bobbi Brown recommends a bold lipstick for a night out, and for the best-staying power, be sure to use a lip liner (via MasterClass). However, if you want a bolder eye look, you may want to tone down the lips a little.
Transitioning your day eye makeup to night can be a simple task; you can't go wrong with a classic smokey eye. Professional makeup artist Savannah St. Jean gave Byrdie some tips on achieving this look. "Apply a wash of dark eyeshadow on the entire eyelid and then blend the shadow along the crease with a fluffy eyeshadow brush," says St. Jean. "Be careful not to blend the shadow too far upwards. By blending, the goal is to soften the edges of the shadow."
The best part is that you can likely apply a smoky eye over your daytime makeup. Once you've redone your eyeshadow, glide on some liquid liner and some mascara. If you want to take an extra step, you can wear falsies. After that, you're good to go.
Make your look last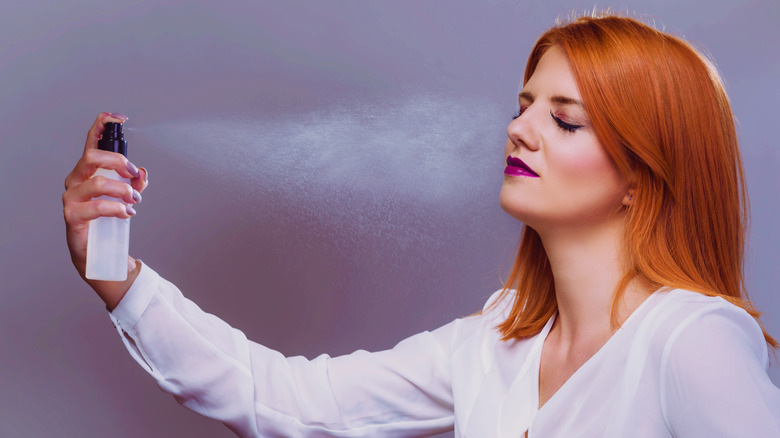 Lordn/Shutterstock
Whenever you've put extra effort into your makeup, you want to be sure that it lasts. To do that, makeup artist Andrew Sotomayor says to set your look before and after applying makeup (via Bustle). If not, your glam look may fall prey to the elements.
"Cold air causes the skin to dry out," says Sotomayor. "This can make your dehydrated complexion 'drink up' whatever emollients are in creamy makeup, leaving you with chalky remnants of your foundation. Or, worse, when you step indoors, you instantly go from freezing to sweating, and the makeup breaks down quickly. A multitasking setting spray addresses both of these problems."
If you want extra sweat protection, you can use both powder and a setting spray (via Self). This is how you go from day-to-night glam in just a few minutes. Whether you want to go all-out or fancy a more minimalist makeup look, you can customize your evening look with these tips. You'll look stunning at a party, at the club, and everywhere in between!