The Best Ways To Style That Perfect Pair Of Shades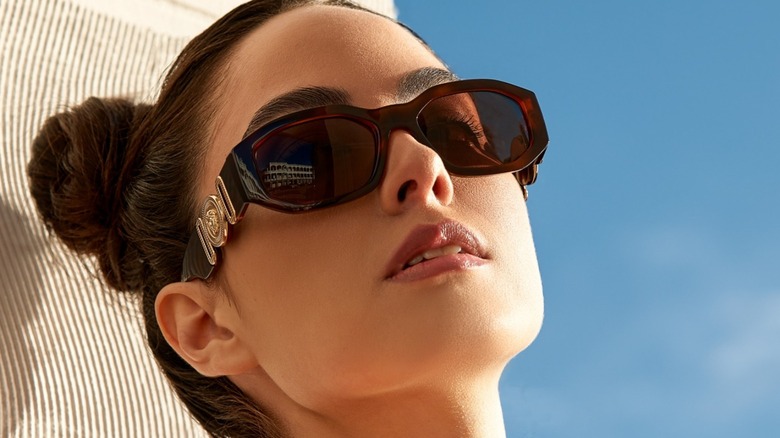 Gerain0812/Shutterstock
When we think of sunglasses, one word in particular comes to mind: fabulous. You know what happens: when you throw on your favorite shades to top off a stylish outfit, you transform. You feel like a secret star everybody should know — but of course, you're too exclusive for that. Fun and practical, the right pair of sunglasses can both protect your eyes and step up your outfit. Over the decades, sunglasses have come in all shapes and sizes – from the retro square to the sport, the round to the cat eye, and everything in between, there is a pair of sunglasses out there for all aesthetics.
Even still, finding the right pair of shades can be daunting. Sunglasses can dramatically change the way your face looks, therefore many people choose shades based on their face shape for the most flattering effect. Here are the best sunglasses if you have a round face shape, the best sunglasses if you have an oval face shape, and the best sunglasses if you have a diamond face shape. Of course, we think you should wear whichever pair you like best. Once you've found your favorites, check out these ideas on how to style them.
The classic cat-eye and square sunglasses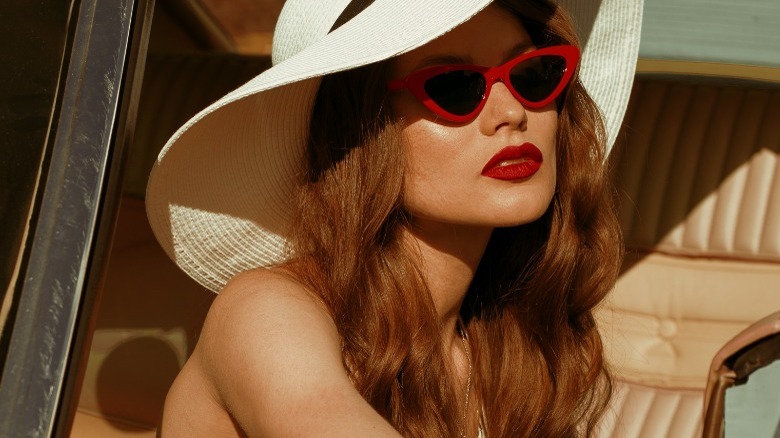 Victoria Chudinova/Shutterstock
First, the classic cat-eye. Like many accessories, sunglasses were once created for men, not women. Exasperated with the lack of women's options, Altina Schinasi Miranda, an American designer and inventor who once designed window displays on Manhattan's Fifth Avenue, decided to bring a new shape to the market for women (per The New York Times). Thus, the cat-eye sunglasses — first called Harlequin sunglasses — were born, and became a hit by the late 1930s. The best way to style these iconic shades is with a chic outfit that perhaps pays homage to the mid-century era they were popularized in, per Designer Optics. Paired with a bold lip, passersby will surely want to stop you on the street. We love this pair from Ray-Ban.
Next, square sunglasses. This shape scored popularity in the 1960s, where they were made in "a rainbow of colors" for men and women, per Zenni Optical. Due to the structured look of these sunnies, we love to see them contrasted with a lax fit: a button-down shirt tucked into a pair of wide-leg jeans, perhaps, or a maxi-dress or caftan that brings out your inner bohemian. We love this pair from Quay, which are also polarized to offer UV protection for your eyes.
Round and oval sunglasses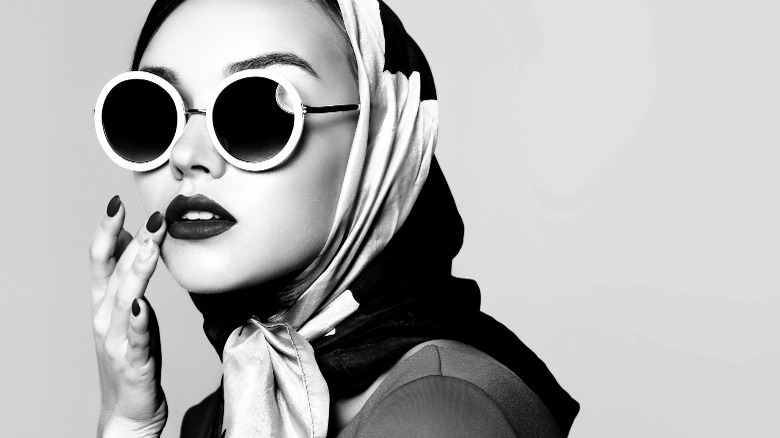 MaxFrost/Shutterstock
Another classic shape is round sunglasses. These sunglasses are often referred to as "John Lennon" sunglasses, as the English rock star popularized the look in the 1960s. Classically counter-culture, these sunglasses are perfect to wear with an outfit that has a little edge, like a plunging jumpsuit. Nowadays, these sunglasses have become more refined. Check out this fawn-brown pair from Velvet Eyewear.
But if circles are not your vibe, you could also go for oval sunglasses, like the kind Kurt Cobain wore in the 1990s, which were actually women's sunglasses. We love this style of sunglasses because they are subversive, playful, and ever-so-fashionable. They also come in a multitude of colors and shapes, so they can be worn with any outfit. We like them in chic black, so the contours of the shades really stand out, like this pair from Le Specs.
No matter which pair you wear, your outfit will thank you.