What Can You Wear When The Dress Code Is Dressy Casual?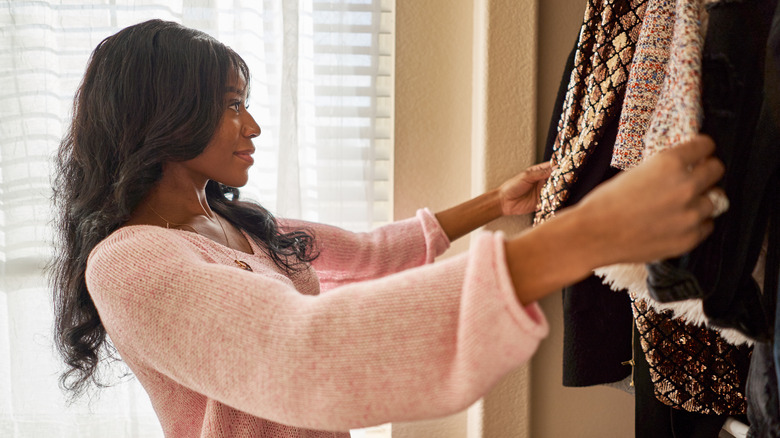 Joshua Resnick/Shutterstock
Events can be stressful enough without the added pressure of a dress code you're unfamiliar with. Most of us know the difference between black tie, white tie, or business casual, but the words "dressy casual" may strike fear into your heart. There's no need to worry though, as dressy casual gives you the leeway to create a fun look that won't leave you feeling awkward and out of place.
As defined by PopSugar, a dressy casual dress code is about feeling secure with what you're wearing but not so much that you show up in sweats, also known as "refined and relaxed." Keep in mind, a dressy casual look isn't as simple as slapping on a decent top and pants either. In fact, Emily Post Etiquette advises that dressy casual is normally the dress code of choice for events like networking, drinks with colleagues or friends, or dinner at a restaurant that's nicer than the average.
You may even have some items in your closet that are perfect for dressy casual without knowing it. 
You can't go wrong with a classic sundress or midi skirt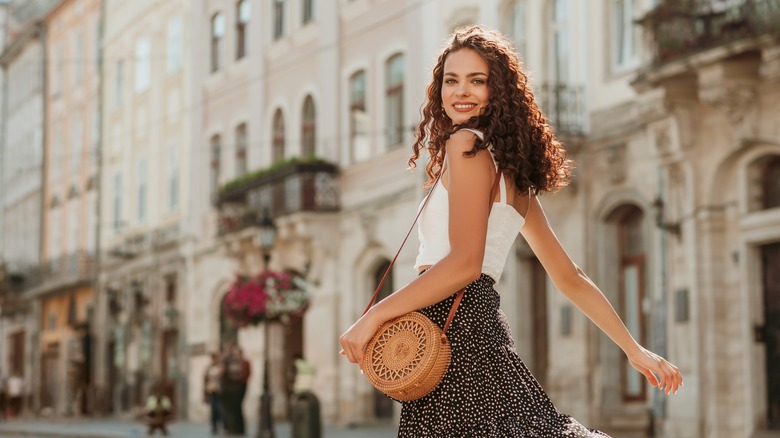 Victoria Chudinova/Shutterstock
One of the easiest ways to fit into a dressy casual theme is to wear a day dress, as per Cosmopolitan. The key to achieving a casual look here is in the material. Whilst jersey and cotton are typically frowned upon for more formal events, they are approved for dressy casual. Remember to balance out your look by adding some low heels or more formal shoes instead of sneakers and sandals. The New York Times also recommends shirt dresses, as they strike the balance between sophisticated and laidback.
If you find yourself in a tizz about finding the right dress, why not opt for a skirt instead? Bear in mind that skirts should be midi length (via Cosmopolitan). But be careful not to go too far in the other direction, either. Something as dressy as a sequin skirt will give the impression you're heading to a glam party rather than a nice family dinner. If you are worried your skirt may veer into an overly dressy territory, why not dress it down with a distressed denim jacket? This simple addition will balance out your look (per PopSugar). You could also choose an embellished denim jacket if you feel like the rest of your outfit is too casual.
Dressy casual gives you a lot more options than you think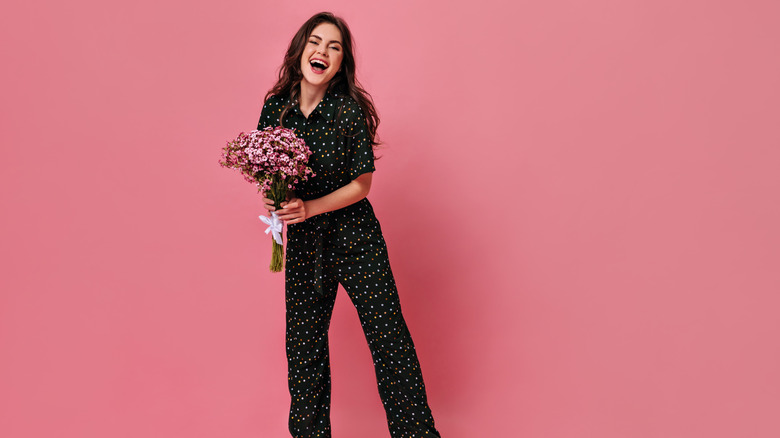 Look Studio/Shutterstock
If you don't feel comfortable in skirts and dresses, don't worry. A dressy casual dress code includes plenty of other options that are still on theme. Though jeans are normally a no-go for formal events, The New York Times states that black or dark indigo jeans are more formal than light washes and, therefore, acceptable. However, make sure your jeans have no rips, distressing, or other detail, as this will instantly give your look a more casual feel. Instead, pair your jeans with a staple button-down shirt or a blouse. Keep in mind, both of these should be in a synthetic material to avoid the t-shirt look.
Alternatively, a jumpsuit is another great choice. If your jumpsuit is on the more formal side, dress it down with loafers or sandals. Plus, per Cosmopolitan, a jumpsuit can have different types of pants, as they naturally have a more trendy association.
Whatever you choose to wear, just remember that balance is the trick to making your casual items work with your dressy ones for a hybrid dressy casual look.