How To Use Mascara Mixology To Get Your Best Lashes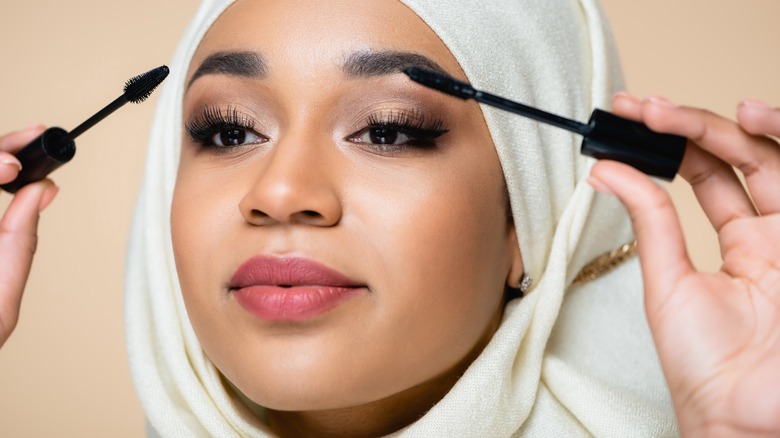 LightField Studios/Shutterstock
Sometimes, it seems as though finding the perfect mascara is impossible. Why is it so hard to find one that gives your lashes length, volume, lift, and curl? You may have one favorite mascara that gives you long lashes but doesn't hold a curl. Or perhaps your tried-and-true mascara gives your lashes all the thickness you could want but falls short on the lengthening aspect. If you haven't found one single mascara that works to provide you with all the desired results (let's face it, is it even possible?), you may want to look into mascara mixology.
Mascara mixology, also called mascara cocktailing, involves using a few mascara products with different formulas and applying them on top of each other (via Makeup.com). By layering a few mascaras that provide different results, you can achieve gorgeous lashes that one mascara on its own simply can't compete with. 
While mascara mixology has been the newest trend you may be seeing all over your TikTok #FYP, it's long been a "pro-MUA secret," according to cosmetic brand Huda Beauty. Rest assured, you don't need to be an expert makeup artist to be a mascara mixologist. In fact, you may find that it's just as easy as hitting the actual cocktail bar — only better because, by the end, you'll be batting the long, luscious lashes of your dreams. 
Determine your lash objective and collect your mascaras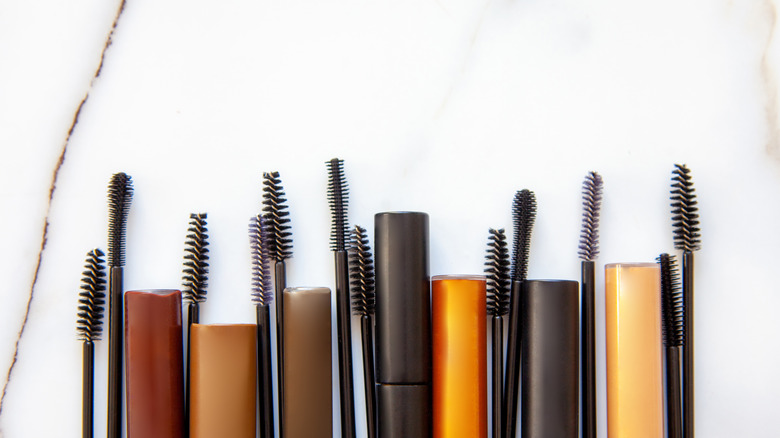 Kostikova Natalia/Shutterstock
When it comes to your lashes, you're probably well aware of how they naturally look and what you need from your mascara to achieve your best lash. The first thing you want to do when mascara cocktailing is to make a note of your desired look and collect two to three mascaras that can help you achieve it (per BeBeautiful). For example, if your lashes need extra help in the length and volumizing departments, gather a few mascaras that provide each.
If you have short lashes, Maybelline recommends reaching for a thick wand, as they "hold more product." Conversely, if you don't have many lashes and need help with volume, it's recommended to use a round mascara brush with a formula specifically marketed to volumize. If your lashes can't seem to hold a curl, look for a mascara wand with a curve shape, which guides the lashes upward while you coat them, per Total Beauty.
While mascara mixology is all about layering, that doesn't mean you should coat your lashes with every mascara in your kit. In fact, you want to be slightly strategic when determining which products to use, keeping in mind that not all mascaras layer nicely together. For example, professional makeup artist Jenny Patinkin told MindBodyGreen that "applying waterproof mascara under regular mascara can make the lashes brittle and stiff." Therefore, she recommends reaching for products with the "same base ingredient" to ensure they work together, not against each other.
Time to layer the mascara
Red Umbrella and Donkey/Shutterstock
Now comes the fun part. The first mascara you apply should lay down the shape, so reach for the curling formula if that's in your cocktail (via Makeup.com). Apply the mascara with a single coat, careful not to take extra dips into the tube. After that, apply another layer with your second mascara. Try using a lengthening formula with small bristles for the second coat, so it can extend the lash while combing them to prevent those dreaded clumps.
Layering two mascaras may be enough to provide a gorgeous result, but some may not want to stop there. If you agree with the latter, be careful when applying your third mascara to prevent overdoing it. However, topping your cocktail off with a volumizing mascara is recommended to really take those lashes to the next level, per BeBeautiful. And if you went a little overboard by the end and are left with clumpy lashes, don't panic. A few swipes of a lash comb may be able to help.
We know the saying "less is more" often applies to makeup. And when it comes to mascara mixology, that's especially true, unless spidery lashes are your thing. So, for that third layer, you may want to apply the mascara to specific areas that need that extra oomph instead of coating the entire lash (per Makeup.com). Sometimes, finding your perfect beauty regimen is achieved through trial and error, so continue to mix and match your mascaras to find the perfect cocktail for you.