How To Alter Your Foundation To Fit Any Season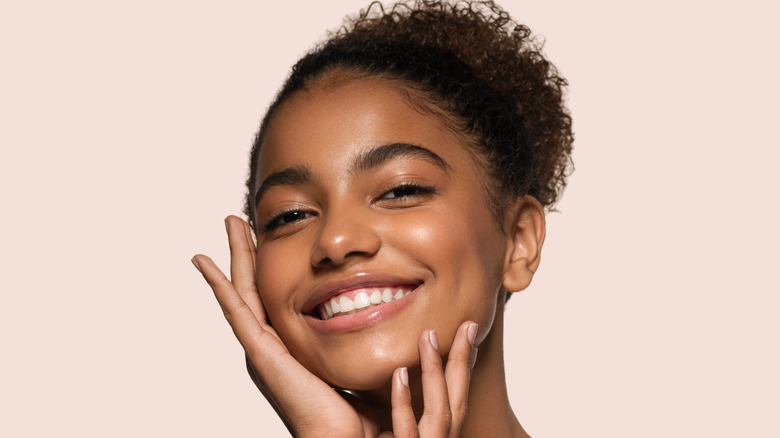 Irina Bg/Shutterstock
Finding the perfect foundation is never easy. Rarely do we get it right on the first try, grabbing the first shade on the shelf that catches our eye. It usually takes a few swatches or the help of a beauty counter makeup artist, and many times, even they can't get it right. The perfect shade must match undertones, whether they be cool, warm, or neutral, according to makeup experts at Jane Iredale. What's more, after you've snagged the perfect shade, it's likely only to be a perfect fit for a few months. 
In between summer tans and winter dryness, our skin goes through immense changes as the largest organ in our body, per MedlinePlus. Failure to keep up with these fluctuations in our beauty cabinet can lead to dull skin with foundation layered on top like a discolored bandaid. As the seasons change, it's important to re-evaluate our foundation and not mindlessly slather it on as a layer of habit. Your skin goes through changes, and so should your foundation.
Mix a moisturizer with your foundation during winter months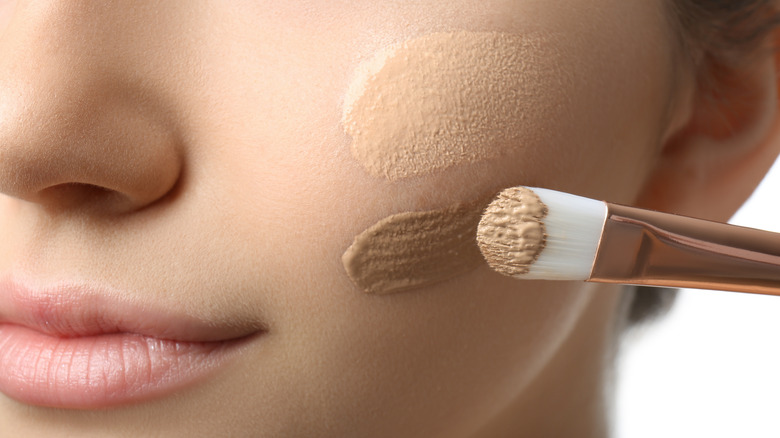 New Africa/Shutterstock
Losing summertime sun does more than just induce seasonal depression. Without rays of vitamin D to pump our skin and body with energizing immunity boosters, our skin also loses its protective benefits, according to Five Skincare. Winter temperatures also bring harsh cold temperatures and severe winds that can damage skin, stripping it of its natural hydrating oils and protective outer layers (via MedicalNewsToday). This time of year does not only rip away colorful vitality and vitamins from the skin but also sucks away moisture, creating paler, flakier skin.
Rather than running to the store and buying a lighter shade of foundation, simply mix your current foundation with your favorite moisturizer or hydrating primer. Similar to a BB cream or tinted moisturizer, you'll still garner full coverage with the added benefit of hydration. A few pumps of moisturizer will also lighten the shade of your foundation that already matches any red, yellow, or green undertones in the hue. It's important to still use a moisturizer with an SPF to protect against ultraviolet rays that are still lurking behind clouds during cold winter months (via Okanagan Skincare Centre).
Darken with a bronzer during summer months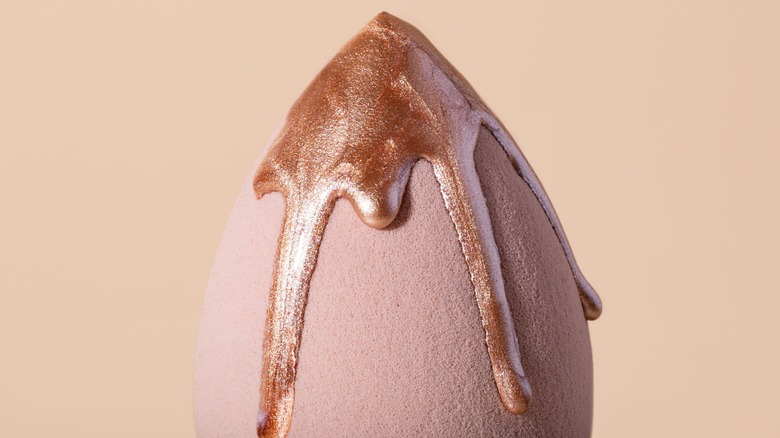 Bidzilya/Shutterstock
With the return of sunshine comes glorious vitamin-packed rays that fill us back up with healthy color and glowing radiance. Summertime makeup is all about highlighting and emphasizing the glow you just worked hard for on the beach. Unlike winter months when you need to lighten your foundation, the summer season may require you to go a shade darker to prevent any pale streaks in your beauty routine. If you're not ready to open up a new foundation just for a few months, opt for a liquid bronzer to blend with your current shade. 
Fenty Beauty's Eaze Drop'Lit All-Over Glow Enhancer is one example of a liquid bronzer packed with vitamin E, prickly pear extract, milk thistle, and pomegranate peel. The radiating formula is made to blur pores, brighten skin tone, and add a divine glow to natural skin. Add a few drops into your foundation to play up summertime tans and bronzed skin. You don't have to ditch your foundation in the summer, simply give it an extra shot of beauty.