The Expert-Approved Way To Make Glitter Manicures Easy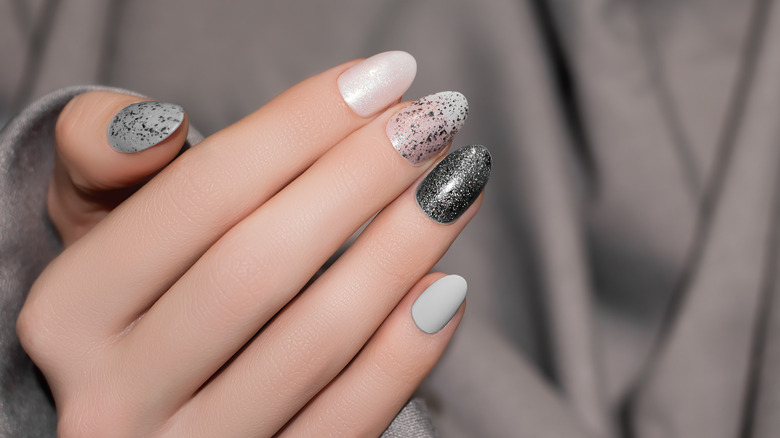 Devmarya/Getty Images
No matter what anyone says, glitter is absolutely accessible at any age. Young or mature, glitter is a fun way to add an extra flair to your day. Apart from being fun to work with, it's one of the top beauty trends of the season. In fact, makeup artist and CTZN co-founder Naseesha Khan explained to Ipsy, ​​"Adding sparkle to your winter beauty look can be as easy as using glitter eyeliner, glitter eyeshadow, or even a wash of fine glitter highlighter for a glow." If you want to incorporate one fun beauty trend, glitter is the best way to have fun with trends.
Advertisement
The easiest way to add glitter to your day is by incorporating it into your nails. If you are afraid of using glitter in other areas, adding it to your nails is a discreet way to have fun with your look. However, unlike nail polish additions, glitter can be a challenging medium to work with. Applying and removing glitter can help make your at-home manicures easier. Here's how to do it.
How to apply glitter to your manicures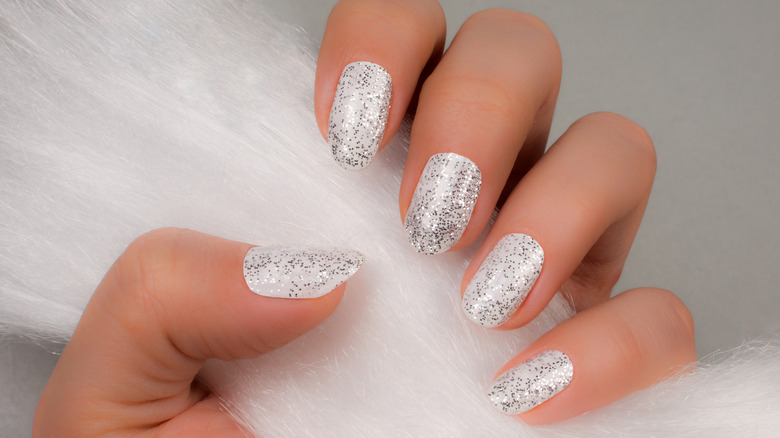 Baiajaku/Getty Images
Putting on glitter doesn't need to be a messy situation. Glowsly explains one easy way you can ensure you get fun glitter nails. First, you must apply a clear base coat followed by a base coat of the color you want. Once dry, wet a Q-tip until it's damp and dip the Q-tip into a glitter polish bottle. Dot the glitter into place on the nail. Once you have enough glitter for your liking, you can leave it to dry. Once dry, lather on a clear top coat to keep everything in place. 
Advertisement
F.U.N Lacquer mentions you can also achieve your glitter goals by simply using a sponge. Start once again with a clear base coat. If you want a colored base coat, apply a colored coat and wait for it to dry. Swipe a few coats onto the edge of a white sponge. Press it onto your nail and dab until you reach your desired opacity of glitter. Don't forget to add your top coat for ultimate protection against chipping. This way, you can have all the glitter with absolutely no mess. 
How to easily remove your glitter manicures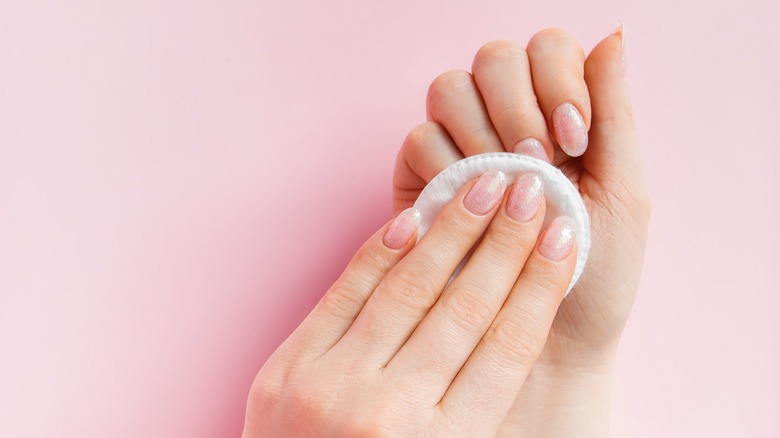 Pelagija/Shutterstock
Even though applying glitter to your nails is fun, removing it can be a less amusing task. Birchbox recommends soaking cotton balls with acetone and wrapping your nails with tin foil. Keep the tin foil on for 10 minutes so the acetone can penetrate the glitter. After 10 minutes, remove the tin foil and cotton balls. At this point, you should be able to remove the polish in one simple swipe.
Advertisement
Valentino Beauty Pure recommends buffing out the top layer of your nail with a file for even easier removal. Buffing the top layer of the nail creates enough pores for the acetone to penetrate the glitter and ensure you are able to remove the polish. If you find that regular cotton balls or pads are not doing the trick, switch them out for a sturdier wipe that can handle much more pressure. Thankfully, there are various ways you can remove glitter from your nails. This means you don't need to stay away from glittery nails and can enjoy this fun addition to your next mani.