If You Have Fine Hair, This Could Be The Haircut For You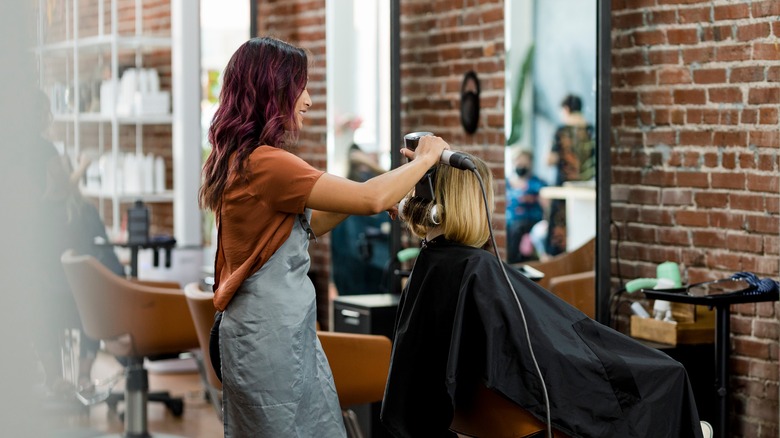 Rawpixel.com/Shutterstock
One of the hallmarks of having fine hair is a lack of volume. Philip Kinglsey defines having fine hair as having hair with a small diameter. Fine hair simply means that the hair strand itself is small, meaning that it can lack the appearance of volume and thickness. That is why choosing the right haircut to suit fine hair is essential if you want to create volume and bounce.
While it is true that one can choose any hairstyle they want, there are certain haircuts that will emphasize a lack of volume and thickness. If that is not your goal, then experts will recommend styles that will either hide these issues or create looks that can create an illusion of thickness and bounce.
Regardless, the newest haircut trends are the perfect place to look for inspiration if you want to turn your fine hair into a voluminous look you'll love.
Best haircut for fine hair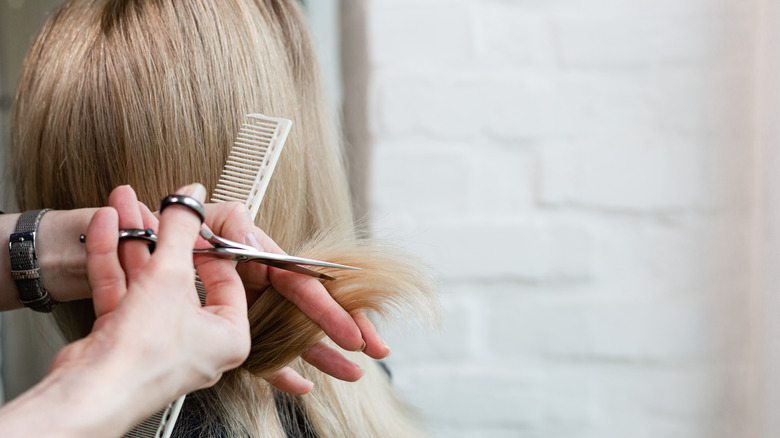 beton studio/Shutterstock
Although having fine hair can often mean a lack of volume, a butterfly haircut might be the solution you are looking for. Paul Labrecque, creative director of Paul Labrecque Salon and Skincare Spa, tells New Beauty, "The 'Butterfly Cut' is all about elevation. The cut lifts the hair high to maintain length and while letting all of its weight get lost in the internal layers, and looks great when it utilizes a diagonal cut and works off of a curtain bang." The butterfly cut has made a splash all along social media as it is all about gaining volume and height, something those with fine hair often seek.
Even though the butterfly cut is a perfect cut for those seeking a look with more fullness and movement, not every cut will look the same. Those with finer hair will find that their butterfly cuts will look slightly different than others. This is simply done to have more of an emphasis on areas that will make the hair look fuller.
Celebrity stylist Gina Rivera explains to SheFinds that those looking for a butterfly cut with fine hair will most likely need to add more layers than usual. A more layered look is done so the hair doesn't fall flat against the head. Adding more layers gives the hair an illusion of thickness.
Of course, whether or not to choose a butterfly cut is a conversation you should have with your stylist. While many people with fine hair find that the cut offers volume, Labrecque warns that for some people with very fine hair, the results can appear stringy.
Styling tips for fine hair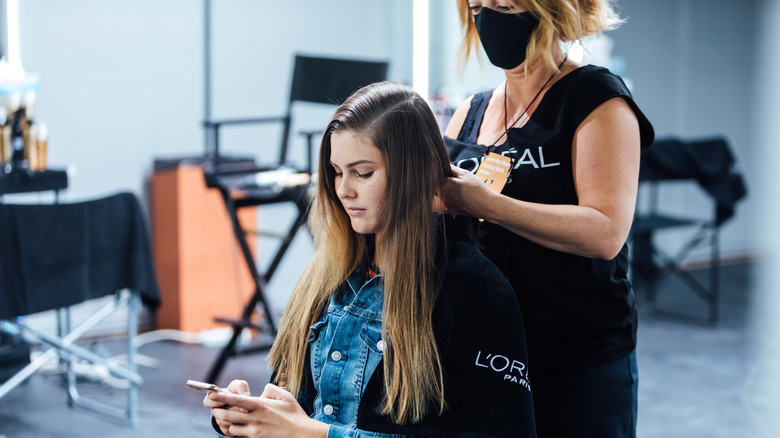 David Benito/Getty Images
No matter what haircut you have, styling fine hair might bring problems. From having to brush your hair in a certain way and what products to use, there are always rules surrounding fine hair.
John Frieda suggests keeping your dry shampoo close by when it comes to styling your hair. Oily hair is often a sign of fine hair, meaning you may often need a good dry shampoo to soak up that excess oil. A lightweight mousse can help add some texture and volume that might not naturally be there.
It's A 10 Haircare adds that having the correct type of shampoo and conditioner is vital to taking care of fine hair. A volumizing shampoo will help boost the volume in your hair while still cleansing your hair.
After showering, you want to be careful with how you treat your hair. No matter your hair type, wet hair is the most vulnerable state of hair, and this is especially true for fine hair. It's suggested to let your hair air dry when you can, and to add heat protectant if you must use heat. This extra step will help keep your hair healthy and ready for whatever haircut or style you choose.