Are Bambody Period Panties Worth The Money?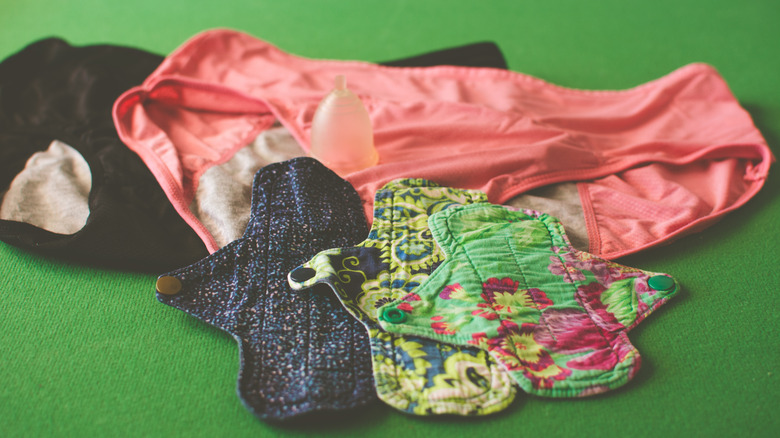 SIvan Peres/Shutterstock
We may receive a commission on purchases made from links.
If you've been researching period products, you might know that eco-friendly options are more cost-effective than traditional products like pads and tampons. Because you need to regularly buy single-use products, their cost really adds up over a lifetime of periods.
While the exact amount you spend will vary based on your personal cycle and flow, Pandia Health estimates that the average menstruator will pay $1,773 for tampons or $4,752 for menstrual pads in their lifetime. In comparison, a menstrual cup ranges in price from $20 to $40 and can last up to 10 years (per Forbes).
Similarly, period panties typically cost between $15 and $50 (per The New York Times) but don't need to be thrown out for several years (per WebMD). Depending on the brand you select and what traditional product you're comparing their cost to, period panties can potentially save you a good amount of money.
While Thinx and Aisle are on the more expensive side of the period underwear spectrum, Bambody is considered a bargain brand. Launched in 2018, this Australian label specializes in bamboo-based period panties (per Bambody).
With their products starting at $10.90, they're some of the most affordable underwear on the market. However, the question remains: are Bambody period panties worth the money?
What you should know about Bambody period panties
Bambody underwear is made out of bamboo, cotton, and spandex (per Bambody). Their line contains two absorbency styles: leakproof and absorbent. Both feature a gusset made of polylaminated bamboo and a second layer of bamboo fabric. The leakproof style offers less heavy protection for the purpose of being used on lighter days or with another product. The absorbent style features a crotch section made of polyester and nylon and is the more absorbent of the two, advertised as holding up to two tampons' worth of blood. This is definitely less than some other brands, but Bambody is also priced considerably lower.
Their price is possibly the most appealing element of this brand, with its absorbent hipsters being listed at $10.90 on Amazon, though other styles are more expensive. As mentioned in The New York Times, the downside to this cheaper price point is that your underwear might start to show wear faster than others.
Because their products are made out of bamboo, the brand seems to provide a more sustainable alternative to pads and tampons. Bambody's website explains its manufacturing process, mentions its production location, and expresses its commitment to social and environmental sustainability. While the company does appear interested in producing sustainable period product alternatives, it's worth noting that they also sell products through Amazon, which has been accused of unethical business operations (per Ethical Consumer) and unsustainable packaging practices (via Packaging in Europe). 
What reviewers and customers have to say about Bambody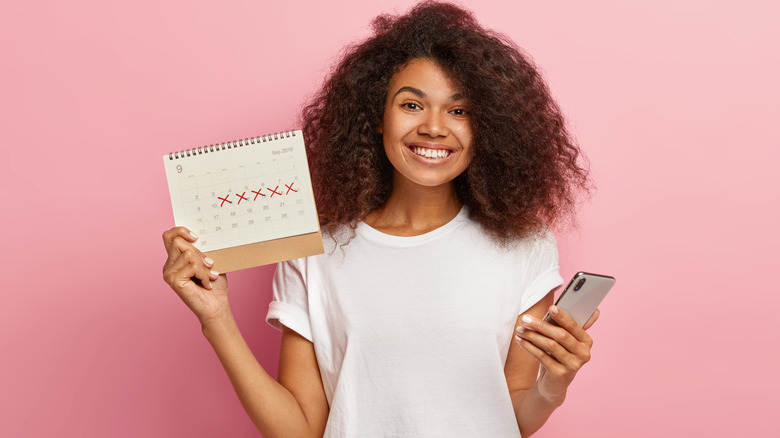 Cast Of Thousands/Shutterstock
If you're still unsure whether Bambody is the brand for you, then looking at reviews and customer feedback might help you decide. Bambody's lower prices are definitely attractive features, but product reviewers also name the underwear's comfort as one of their biggest pluses. The New York Times named them one of the most comfortable pairs out of the 20 brands they reviewed, while Buzzfeed compared the comfort of their styles and fabric to brands of similar price points.
With their absorbent hipsters earning a rating of 4.2 out of 5-stars on Amazon, it seems that customers are also very happy with these period panties, though many do suggest buying one or two sizes up.
One reviewer writes, "So comfortable. More comfortable than my regular panties ... I genuinely can't say it often enough: these are a game changer in terms of comfort during my period."
"These undies are amazing! I've been wanting period underwear for my lighter flow days. I ordered a size larger than I normally would and they fit perfectly so I'd recommend sizing up. Amazing deal for the price and VERY comfortable!" another reviewer says.
Overall, only you can decide what products are best for your period, but Bambody seems like a great brand to consider if you're wanting to test out period panties for the first time or are looking for something with lighter protection.