46% Of People Think This Is The Perfect Date Night Outfit - Glam Survey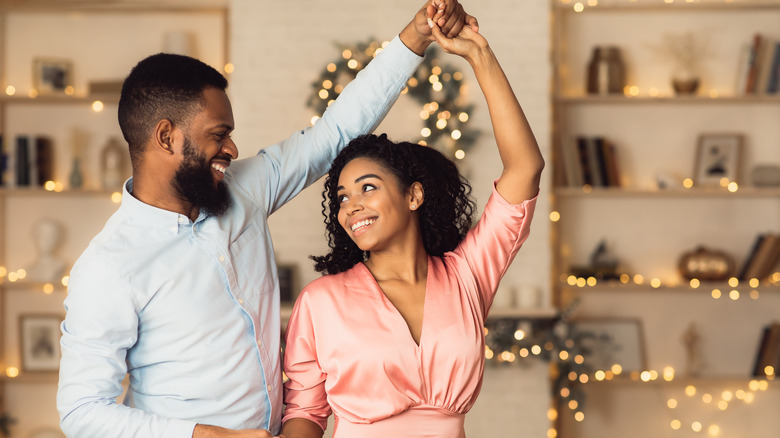 Prostock-studio/Shutterstock
We may receive a commission on purchases made from links.
Let's be honest, the perfect date night always involves wearing your best outfit. Confidence is key to laying on the charm, and invoking a little sexy allure in the perfect fit makes stepping out all the more exciting. There is absolutely nothing wrong with wanting to wear the perfect outfit for date night. In fact, science has proven that what you wear can largely affect your self-esteem, and if there's any night self-esteem needs to be on 10, it's out on a date (via Social Psychological and Personality Science). 
The question we all have is — what is the perfect date night outfit? The number of times we have turned our closet inside out digging for the answer to this question is insufferable. So we asked you, and the response was overwhelming. A whopping 46% of 587 Glam voters have decided they know exactly what the perfect date night outfit is, and tbh we realize now how much we've been overthinking the whole thing.
A nice top and jeans reign supreme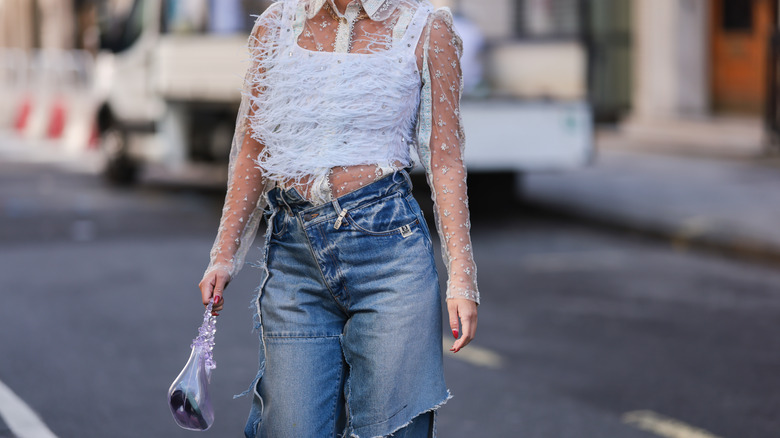 Jeremy Moeller/Getty Images
Here we are, stressing about the perfect date dress. Is it too sexy? Is it not sexy enough? Then a monumental 270 out of 587 voters let us know we were really complicating things. Rarely do we see numbers this big, with nearly half of you, a massive 46% of voters, declaring a nice top and jeans the perfect date night outfit. Has the perfect date fit always been this simple? 270 readers say yes, there's no going wrong with the perfect pair of denim to show off that girlish figure. Thank you for reeling us back in and taking things back to basics. We've decided that best-selling Jyothi split ankle jeans available on Revolve go great with a sexy pump that can march us through a night of wine and laughs.
After jeans and a flirty top stole half the votes, the rest of the polling was left splitting hairs. With only 16.52% of the votes, 97 individuals believe that a casual dress and sneakers are the best date night outfit. Trend forecasters at Top Trends Guide don't disagree that this is a good date look but recommend a dress with sneakers for daytime casual dates like grabbing a coffee, seeing a matinée, or doing lunch. It's having midday tea, not date night sexy.
Skirts and dresses are at the bottom of the votes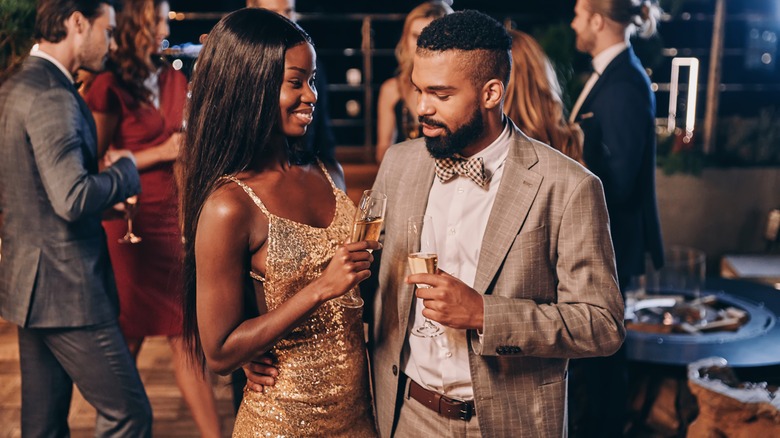 G-Stock Studio/Shutterstock
In third place, with only 14.65% of the votes, a sweater and booties received 86 votes. With only 10 fewer votes, 12.95% of pollers chose a dress and heels as the perfect date night outfit. Apparently, 76 Glam readers believe a sexy dress with added inches is the best look for a night out. With such a small percentage of votes, we had to do more digging on the psychology of a dress and heels. Imagine our shock when we found out one study revealed that straight women admitted to only wearing heels when they found their date attractive and prefer flats when their date is not so handsome (via Daily Mail). Yikes. Apparently, we women are ready to hike up the heels when we feel our date can handle the extra inches.
Coming in second to last with a mere 6.81% of the votes is a sweater and a skirt. Only 40 out of 587 voters believe this to be the perfect fit for date night. Trailing in last place with only 3.07% of votes is a bodysuit and trousers. Only 18 Glam readers are fearless enough to rock a one-piece and pants on a night out with their partner. Needless to say, no votes came close to attaining the power of sexy jeans and a nice top. Denim truly is the best asset.