How To Pull Off The Trendy Mushroom Brown Hair Color
Want to feel like a forest elf who's just awoken from their slumber in a patch of moss (with perfect hair?) Look no further than the latest hair trend, mushroom hair. One might find the cool, earthen tones that have influenced this look in a secret wood — and we've discovered the way there. Defined by neutral browns, muted blondes, and an ashen base, this hair stands out for being understated and adaptable.
Like light scatters through trees, this hair is "multi-dimensional," per Southern Living. Here's how to dispel the magic of the mushroom hair: the term covers a wide range of hues from light ash blonde to darker brown, and is achieved through a series of highlights and lowlights in subtle tones of brown, blonde, and ash, per L'Oréal Paris. As such, the mushroom hair trend will cast a spell on those of a wide variety of hair tones and skin colors.
Keeping the color's ashiness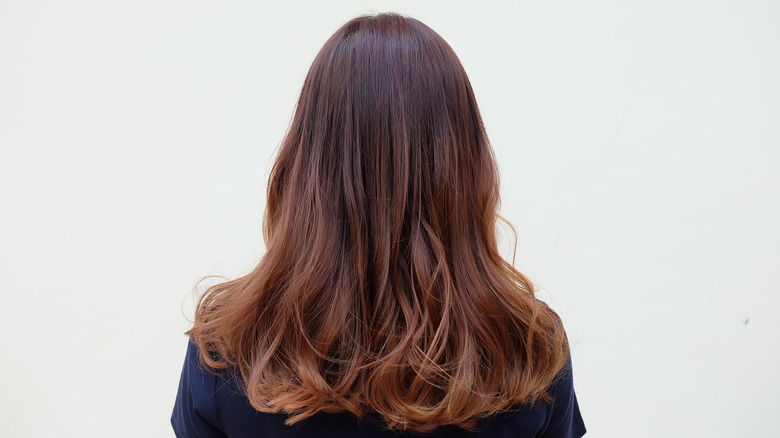 Maaleenn/Shutterstock
A colorist can first adjust your hair color to achieve the base color you prefer, whether it's a lighter or darker ashen hue, per L'Oréal Paris. From there, consult with your colorist, who can scan your features, including your skin tone, to determine which added highlights and lowlights will best match your complexion, per Hair Salon Pro. Should you be looking for that dark forest nymph look, ask for chocolatey lowlights to accentuate your hair's depth, per Hair.com. Should you be looking for that more lived-in light "bronde," ask for highlights to bring some brightness to your base color.
Once your perfect mushroom hair has been achieved, you'll want to maintain your hair color for as long as possible. The first step is to switch to color-safe shampoo and conditioner, which should help preserve the color on your hair, per L'Oréal Paris. Also be sure to use a heat protectant when styling your hair with hot tools, so as not to cause damage to your hair. And applying a toning gloss, either at the salon or at home, can help your hair color maintain its original dimensions. 
Incorporating the mushroom look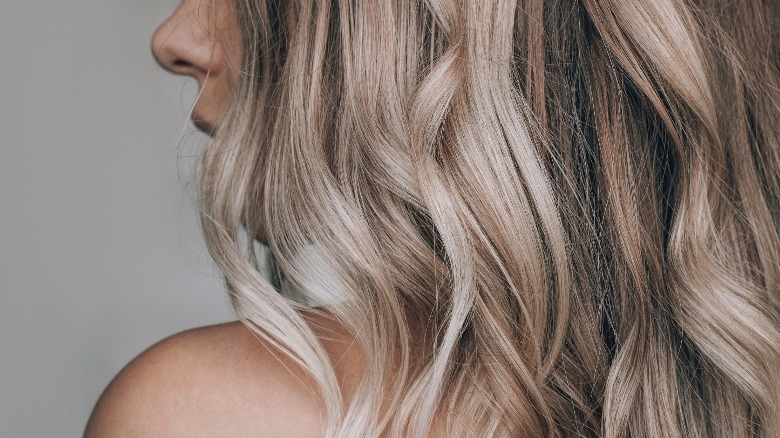 Marina Demeshko/Shutterstock
Another cool way to play with mushroom hair is to experiment with ice or metallic tones, per Southern Living. This will give the hair an extra shininess that accentuates the sharpness of the wearer, and bring out that spell-binding sparkle in your eyes.
One plus to mushroom hair: it's quite low maintenance, suitable for those who love to change their hair up on a regular basis or hold out for months, especially if your hair is naturally close to the style's defining ash-brown base, per Hair.com. And for those with grays, mushroom hair can be a great complement for incorporating or blending in those hairs, depending on your wishes. 
If you're not sure if mushroom hair is right for you, check out our tips for choosing the right hair color for you skin tone. While it is recommended to see a hairstylist to properly achieve this look, should you want to try it at home, L'Oréal Paris suggests that you check out some video tutorials first. If you go professional instead, you should visit your colorist every six to eight weeks if you want your mushroom hair to maintain its freshness, according to Hair.com. We're sure you'll feel as cool as a winter's day with this new hair!