What To Know Before You Get A Short, Tapered Haircut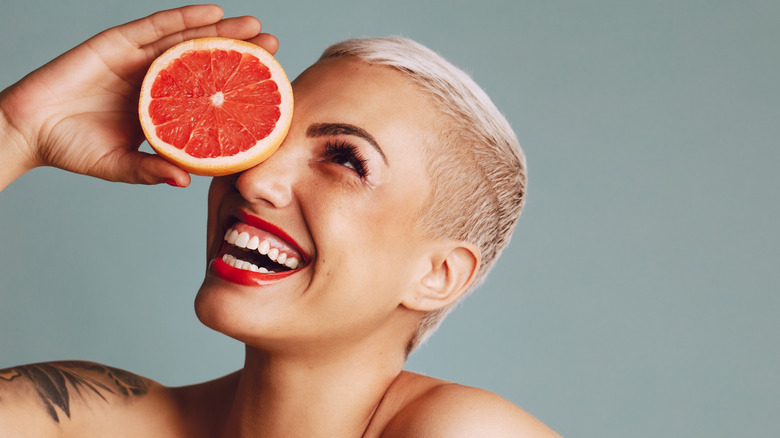 Jacob Lund/Shutterstock
Getting a haircut is a great way to change up your look every now and then, especially when you are going shorter. Lately, short haircuts have been trending and coming back into style. It's a great way to get playful with your hair with a low-maintenance cut. You may be thinking short haircuts offer fewer options for types of styles you can do, but from buzzcuts to French bobs, there are plenty of ways to find a short haircut that works for your style (via Glaminati).
According to The Right Hairstyles, short haircuts can help accentuate different features of your face. If you have a round-shaped face, this style can also help elongate your face.
Celebrities like Miley Cyrus, Rihanna, and Anne Hathaway have all rocked these super chic short haircuts. Some of these styles, like a tapered haircut, can be a little bit more on the bold side. So, if you are ready to rock the daring tapered look, there are a variety of things to consider.
What is a tapered haircut?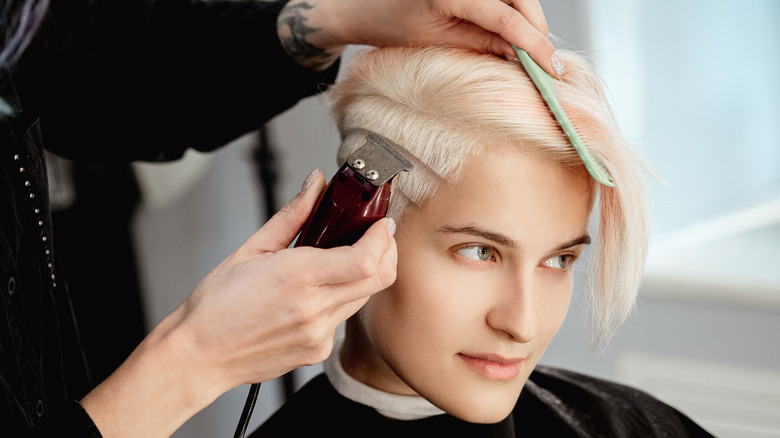 Spaskov/Shutterstock
A tapered haircut usually means the hair "tapers" at the nape of the neck and the sides of your head, usually in a shaved manner, per Honey Bramble. Keep in mind, however, that this style is certainly different from a fade, which is more sudden and dramatic. A tapered haircut tends to keep hair longer toward the top as it gradually shortens downward.
Often, tapered haircuts create a gradient effect because of the shaving method used to create the look. It is that same gradient that creates a smooth effect on the haircut that makes it look like a sharp polished cut.
Even better, a tapered haircut can work for all hair types. "This haircut is definitely suitable for all hair types and textures," celebrity hairstylist Andrew Fitzsimons tells Bustle. "Just consult with your stylist to gauge how short you want to go based on your curl type and the best way to style for your face shape."
This style of haircut offers versatility to work around your hair type, hair length, face shape, and overall desired style. Additionally, Fitzsimons tells Bustle that a tapered haircut, as with any shorter hairstyle, is usually low-maintenance. Consider your lifestyle, such as your desired commitment to your hair, and your hair's density when you are thinking about getting a tapered haircut.
Benefits of a tapered haircut
Even aside from looking fabulous, there are so many benefits to getting a tapered haircut. According to the hair care resource center and online database called You Probably Need a Haircut, tapered haircuts make styling and hair care feel like a breeze.
With this haircut that complements your face and your features, you will also find how flexible of a style it can be. Transform any bob, pixie, or crop haircut with a tapered look to be able to create more lift, volume, and styling opportunities with the longer layers. The tapering effect additionally helps remove bulk from your short style to give you a lightweight feel. 
Tapered haircuts can also come in many different shapes and styles. You can go for a messy tapered cut, as well as asymmetrical for that choppy look. You can choose to implement a side-part fringe into your haircut, where your longer strands frame your face while the subtle taper sits in the back, much like an inverted bob cut. Incorporate a taper into a pixie cut as well, to get some added volume into the pixie's layers.
If you want to make it more fun, play around with color on the longer layers or incorporate a design into the shave (via Hairdo Hairstyle). There are so many ways to have fun with this style for a refreshing new look.