Fall 2023's Best Bridal Trends Are Already Here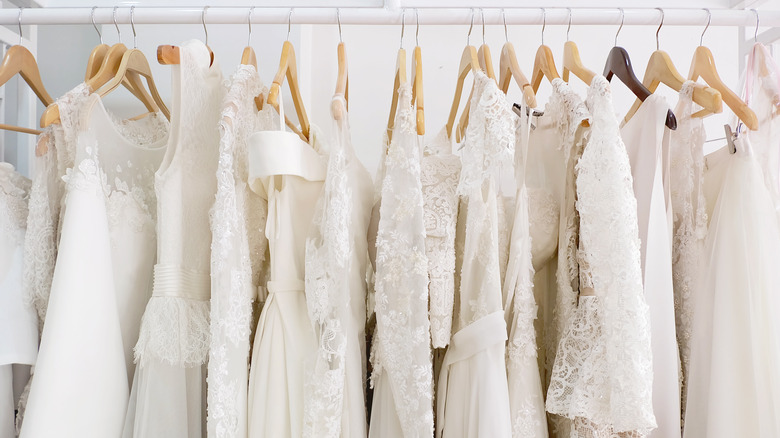 Pitchaya_T/Shutterstock
As you prepare for your big day, one of the biggest decisions you will face may perhaps involve your wedding attire, including your wedding dress. You might already have a dream dress in mind or maybe you are open to looking at more options. According to Southern Living, it is incredibly important to reflect on your personal style when it comes to making this decision. Additionally, think about where your wedding will be as well as other factors like the weather or how the dress will appear in photos. Design elements like the overall silhouette of the dress, how it will fit, and the fabric are just some of the details to think about.
There is a lot to consider when choosing the design elements and style you would like in your dress. It is ultimately important that you also keep an open mind when searching for the perfect dress. Luckily, the fall/winter 2023 haute couture and bridal runway shows brought a variety of bridalwear to the forefront of bridal fashion (via FashionWeekOnline.com). These trendy looks are chic, elegant, and perfect for any bride.
Florals for fall
Floral designs were popular in several Fall/Winter 2023 wedding dress designs, whether it was through lace, prints, or 3D flower motifs. While florals may be more common in spring, they certainly left their mark in these trending designs. For example, Rosie Assoulin's collection uses a unique design of 3D daisies for a luscious floral skirt of a dress, hats, and a crop top from a two-piece bridal set. These flower designs come in a variety of placement and sizes on the dress, making it the perfect opportunity to find one that works for you if you'd like a floral element in your dress.
Sheer sensuality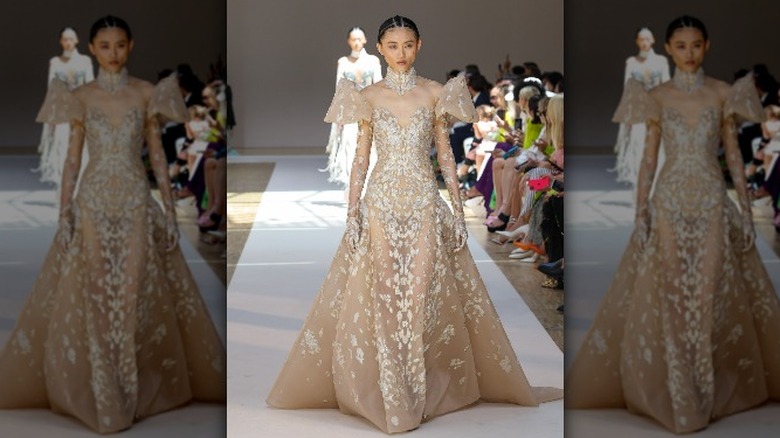 Peter White/Getty Images
A little transparency can go a long way. Many trending dresses for fall 2023 have a sheer element incorporated into the designs. Go for an ethereal, romantic look with a sheer corset or layered tulle to really add that magic touch. Sheer wedding dresses can add a touch of sexy elegance to your big day. Whether it is through lace or a variety of tulle designs, sheer designs show a little more to give a little more of a sense of elegant sensuality, per New Tess.
Ribbons and bows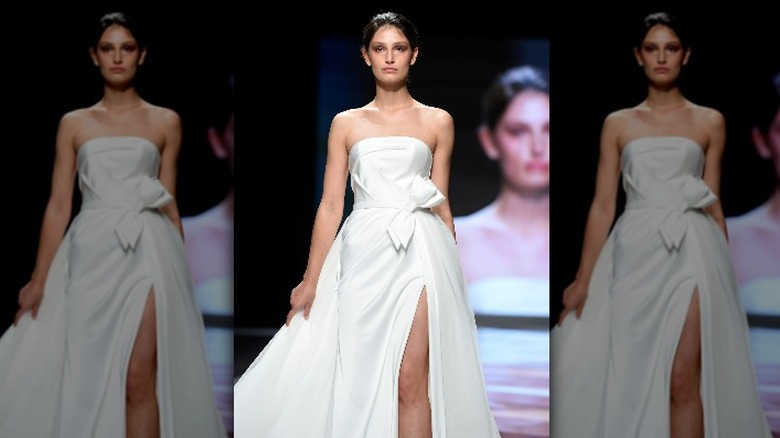 Stefania M. D/Getty Images
Prepare to be presented with a variety of wedding dresses with ribbon and bow designs for fall 2023. Through the use of ribbons, you'll notice many of these dress designs consist of a bow element whether it's tied at the waist, dainty, or artistically spread throughout the silhouette of the dress. They can be a statement piece through a bigger size on a sleeve and lower back or something more subtle and lightly tied at the front of the waist, per Carats & Cake.
Ball gown galore
Many of the upcoming trending wedding dresses are adding an extra touch of drama with a silhouette similar to that of a ball gown. Notably, the full A-line skirt and strapless bodice are key elements to a ball gown style dress, giving you a full princess moment on your big day. Ines Di Santo did not shy away from this voluminous drama with its Alia dress featuring textured tiers, beading embellishments, and a neck-turning Chapel train.
Classic backless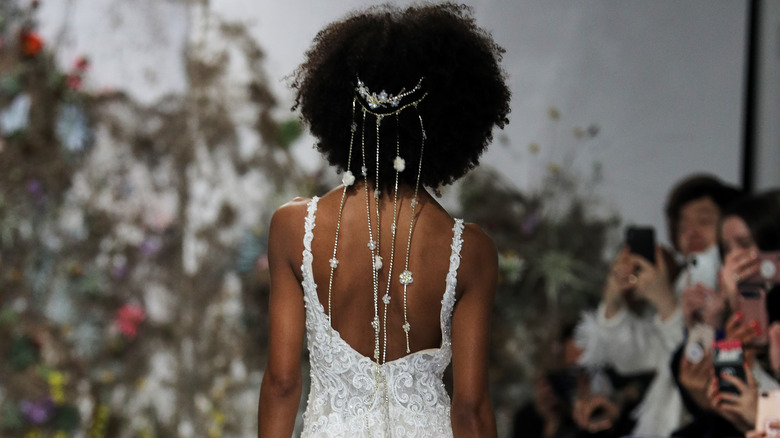 Thomas Concordia/Getty Images
A backless element put into any gown is a classic design. Embrace this look as it makes its way to be one of the top trending designs to have in your wedding dress. The best thing about a backless feature is that you can find it in a variety of gowns whether it is in the style of a mermaid silhouette, a ball gown, or any style of your choosing. This gives it a subtle touch of sexiness while remaining a timeless classic.
Cape elegance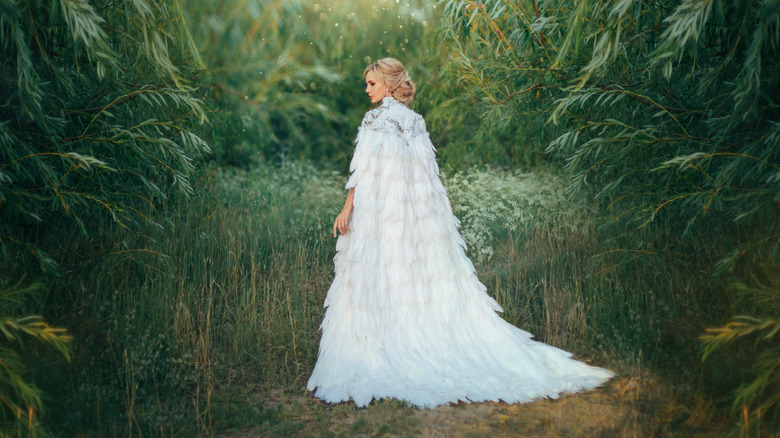 Ironika/Shutterstock
Using a wedding dress with a cape is a great way to add extra flow, and possibly a train, without the use of a veil for brides who would rather not use one. According to The Knot, using a cape allows you to have everything a veil provides without having to mess up your hair if you choose to take it off during your reception celebration, or at any point during your wedding. You can find them embellished, in lace, or in an elegant tulle.
Mini dress
Mini wedding dresses are in and are perfect for the modern bride, per Brides. A mini dress used to be known as the go-to option for the reception to party the rest of the night away, but the mini dress is working its way up, replacing traditional gowns. In Eli Saab's Ethereal Radiance Collection for fall 2023, the brand features a mini dress embroidered in sequins and beads with 3D organza flower motifs at the hem and neckline. By adding a floral organza cape, the brand elevates the mini dress for a bridal look. Because of their shortened hemlines, these dresses can become adaptable to the style of your choosing.