The Trendy Reverse Balayage Is The Best Way To Add Dimension To Light Hair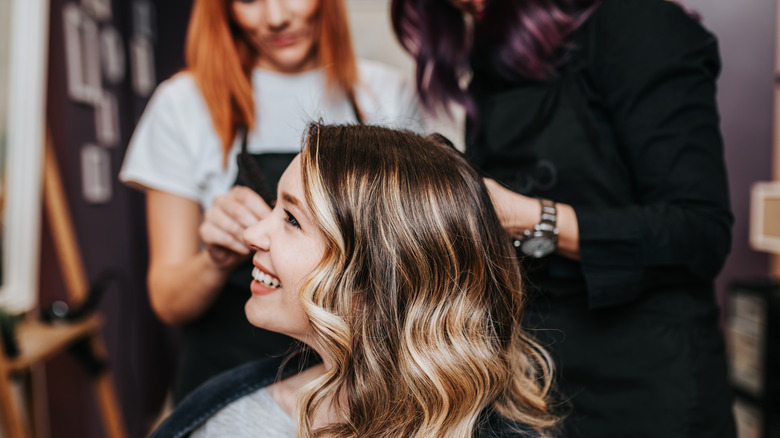 hedgehog94/Shutterstock
If you've gotten your hair colored any time within the last decade, chances are you've heard of balayage. This French hair technique dates back to the '70s but has only gotten popular in the United States within the past several years (via Tribe Hair Co). Unlike full foils, balayage is perfect for people who want a subtle change. According to Byrdie, balayage is used to achieve subtle natural highlights.
"Typically, balayage colors are shades that are slightly lighter than your base color, and the color is applied to create a more natural look," salon owner Gina Rivera tells Byrdie. "The end goal is to provide a lightened look while creating depth and dimension in a way that appears to be natural." If your hair is already blonde, it honestly may not get any lighter. That doesn't mean you'll be left behind by the balayage trend. Now, there's an option for even the lightest blondes: reverse balayage.
Reverse balayage is perfect for blondes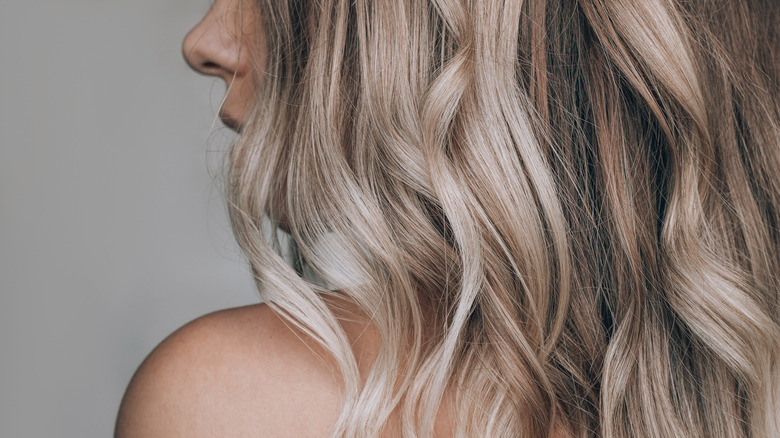 Marina Demeshko/Shutterstock
"Reverse balayage basically means adding depth back into your hair by adding darker color tones into your hair," celeb colorist Rita Hazan tells Byrdie. "This helps make your highlights pop by adding contrast, and it's a great way for blondes who just want to go a little darker." To put it simply, reverse balayage adds darker shades to the bottom layer of your hair. As a result, your natural hair around the top layer acts as natural highlighted pieces. This adds beautiful depth without the commitment of full foils. Any treatment that's low maintenance and highlights your hair's natural beauty sounds like a win.
Stylists weigh in with Glamour about the many benefits of this trend. "Reverse balayage adds depth back at the root," says colorist Lauren Grummel. "It lowers the contrast between highlights and root color and pops the rest of the highlights. It's great for blondes who want to go a bit darker without a lot of commitment."
Reverse balayage is easy to maintain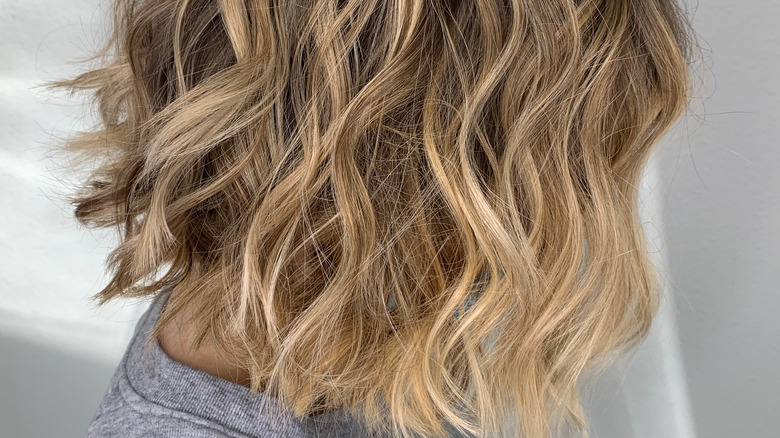 Sophie Hartmann/Shutterstock
Behind the Chair recommends reverse balayage for clients who want to transition from highlights to a more natural, lived-in color. Reverse balayage looks natural and won't need a ton of upkeep. This low-maintenance style grows out well, making it perfect for people who want to grow out their natural hair color (via Hair).
If you want to maintain your balayage, you're looking at salon visits every six to eight weeks (via Total Beauty). Just like any other treatment, there are several ways you can help your reverse balayage last. For instance, Luxy Hair recommends regular trims, deep conditioning, washing less, and using color-safe products.
Also, try to steer clear of hot tools to prolong your color even longer. If you're not sure that this style is right for you, don't despair. Find out more about balayage hair before you make a decision, and if you're ready to take the next step, check everything you should do to prep for a coloring session.