How To Get The Perfect Glow With Light-Reflecting Concealer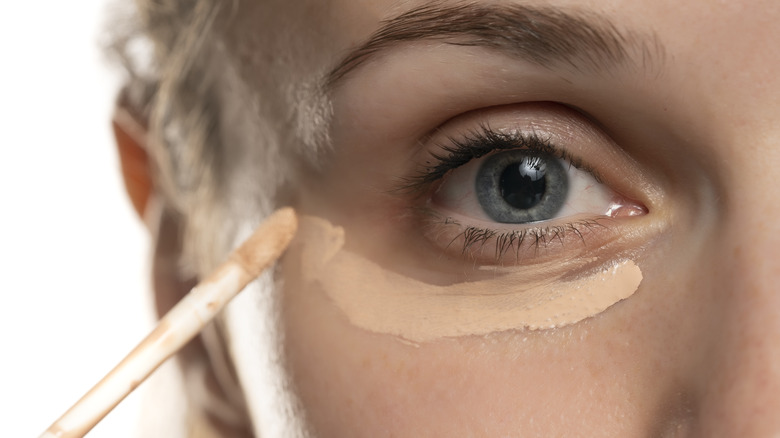 Vladimirfloyd/Getty Images
Whether you agree or not, beauty is always evolving. Whether trends change or not, it seems like there's always something new making waves and grabbing attention. Recently, the newest beauty trends seem to revolve around the idea of adding glow to the face. Not to be confused with shine, a glowy look is all about making the face look alive and plump with hydration. In fact, makeup artist Ehlie Luna tells Oprah Daily, "Dewy, glazed, dolphin skin isn't going anywhere. I think we'll see more of this as people find their holy grail complexion products, perfect their technique, and remain dedicated to skincare." While Luna emphasizes the importance skin care has in achieving glowy skin, it doesn't mean we can't use the help of some of the newest makeup products.
One major beauty trend making seeing a rise in popularity is light-reflecting makeup. While light-reflecting might seem too general, it's the newest beauty look capturing beauty lovers. Even though matte makeup once reigned supreme, new light-reflecting products are popping up every day from your favorite brands. With only a few steps, you can use these light-reflecting products and create the glowy look you want.
What is light reflecting concealer?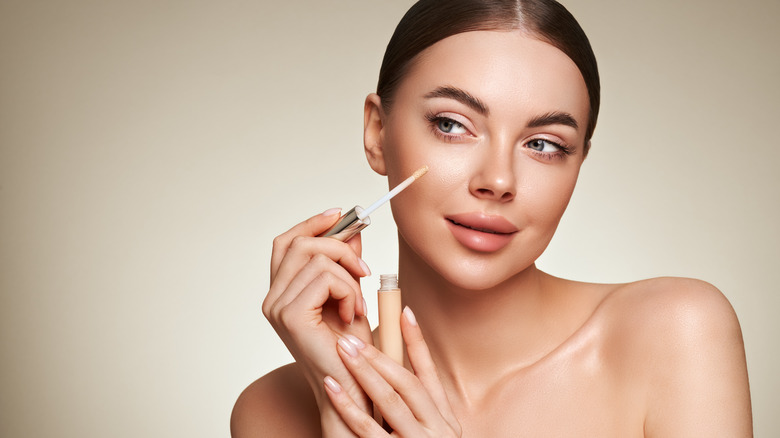 Heckmannoleg/Getty Images
Long gone are the days when we used to conceal everything and use only matte products. Makeup artist Disco explains to Who What Wear, "Light-reflecting concealer is a luminous formula that works to hide imperfections and give radiance to the skin—think inner glow. Their reflective ingredients bounce the light where applied and give a blurring effect to minimize the appearance of fine lines and pores." Light-reflecting concealers act as wearable skincare products, which give you coverage and blur out everything you don't want to see. This formula also brings attention to this area instead of hiding it.
Beauty Bible adds that the particles in the formula work to cover up fine lines or wrinkles while brightening up the shadows which cause dark circles. Instead of trapping the light and simply covering up, a light-reflecting concealer does exactly what its name says. These concealers will reflect light out, giving you the glowy look you seek. The products will turn those areas we tend to hide into points that will give that inner glow to your beauty look.
How to use light-reflecting concealer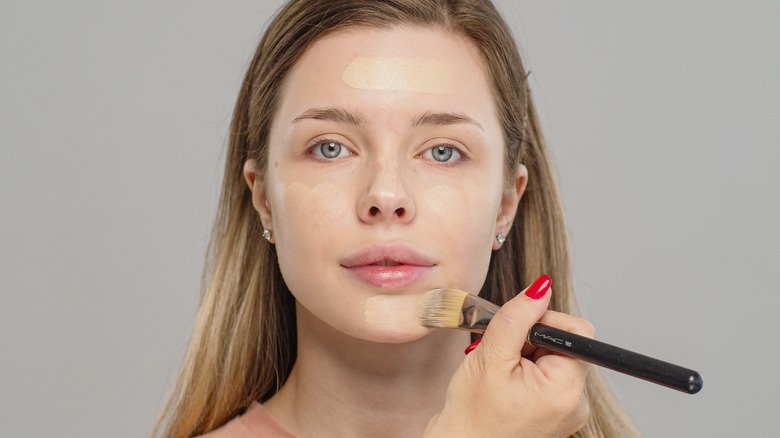 VALUA VITALY/Shutterstock
While light-reflecting concealers are still just concealers, they can be used in different ways than you've probably used them before. Beaut recommends using a light-reflecting concealer or a full-coverage concealer. If you are worried about not getting the coverage you want, you can layer these two products to get that glow but retain the coverage. What's more, you can use a light-reflecting concealer anywhere you want to add some glow. Use the concealer to lightly dab on your high points to give you that uniform all-around glow.
Dr. Hauschka recommends using their light-reflecting concealer either on top of the foundation or on its own. Unlike regular concealer, light-reflecting concealer can be used on top of foundation or other concealers seamlessly since it acts almost like a highlighter. Many of these concealers have a translucent finish, meaning that they can blend in perfectly with no rough transition between different colors. When using a light-reflecting concealer, take a chance and highlight areas that tend to be forgotten with regular concealers. These areas include above the lips and all around the eyes, not just the under-eyes.