Glam Survey: Which Is The Best Brand Of Drugstore Foundation?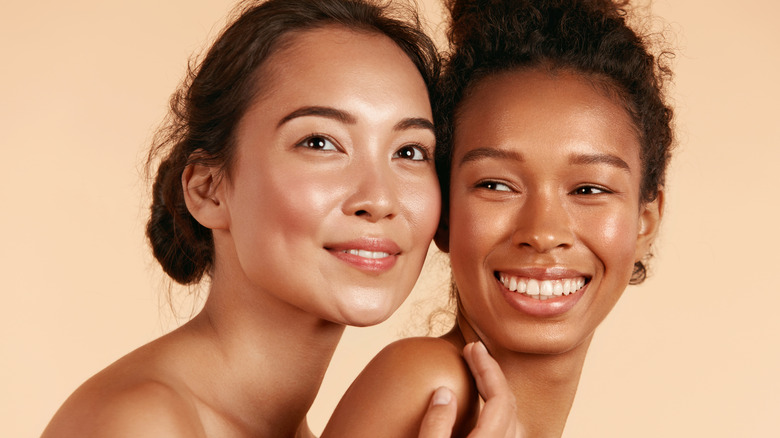 Puhhha/Getty Images
Finding the right foundation can feel like a setup to blow lots of money. For some reason, expensive seems to translate to better, especially in the beauty world where foundations can cost upwards of $300, according to luxury purists at Chic Pursuit. Don't get us wrong, though. Luxury cult classics like Giorgio Armani's Luminous Silk and Clé de Peau's Radiant Fluid are unmatched when it comes to hefty price tags that deliver. Still, there's something about a good ol' drugstore foundation that deserves more than just being called a dupe. They're the old faithfuls that never let us down and save our wallet an ego spend that tricks us into thinking beauty must be expensive. 
Now, we've asked our Glam readers which brand out of all the drugstore offerings has the best drugstore foundation? More than 500 of you — 587 to be exact — let us know exactly which ones to stick to and which ones are as cheap as they cost.
Maybelline takes the crown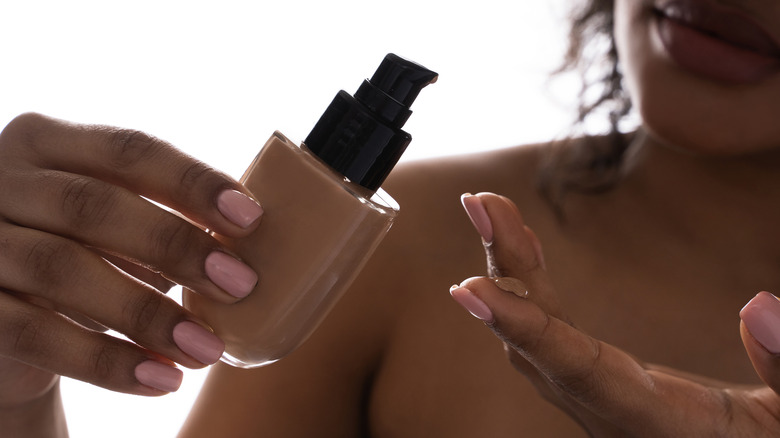 Jun/Getty Images
Maybelline New York flaunts itself as the #1 brand in the United States, and guess what? Voters agree. Out of 587 voters, nearly a quarter, or 24.19%, proclaims that Maybelline has the best drugstore foundation. Professional makeup artists Jaleesa Jaikaran and Dmitry Kukushkin recently told CNN that Maybelline's FIT Foundation is one of the best on the market due to the medium matte coverage it's able to provide both normal to oily skin types. 
Not far behind in votes and tied for second were CoverGirl and L'Oréal both with 21.29% of the votes. Both brands received 125 poll approvals from Glammers as the best drugstore foundation. L'Oréal is the world's largest skincare company originating from France, per Cosmetics Technology. But fun fact: we'll have you know that L'Oréal is a made-up French word created to reference gold and warm-colored hair. It doesn't translate to anything in English. Nevertheless, the brand's line of cosmetics — and specifically foundation — has been considered one of the best of all time because of its lightweight formula that creates flawless and refined-looking skin.
NYX is not a crowd favorite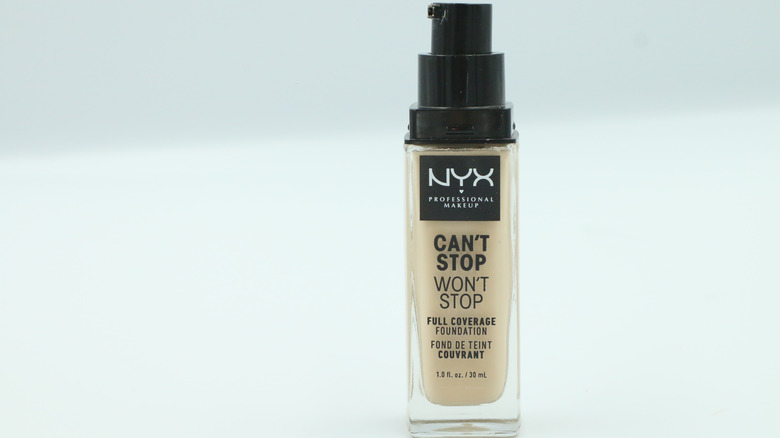 i am Em/Shutterstock
In third place with your votes, drugstore superstar e.l.f Cosmetics received a mere 14.65% of votes, with only 86 of Glam readers deciding they have their foundation of choice. Known as one of the top low-budget makeup brands, e.l.f. Cosmetics has been the go-to girl for quick fixes on a budget, teenage experimenting, and accessible basics. However, reviewers on Amazon seem to think the brand's $3.30 foundation creates smear lines and builds oil.
Trailing in fourth place is Revlon, which received only 68 votes and made up a little bit more than 10% of voters' choices. According to Business Insider, Revlon, once a pioneer and leader of modern cosmetics, recently filed for bankruptcy in June. Unfortunately, the lack of votes in the Glam community seems to reflect the business' decline. 
Finally, in last place, NYX Professional Makeup received only 6.98% of votes, garnering no more than 41 votes as the top drugstore foundation. Unfortunately, going up against beauty giants like Maybelline, CoverGirl, and L'Oréal is too big of a feat for NYX, which can get lost in popularity and beauty shelves. For now, it may ultimately be best to pick up Maybelline foundation at the drugstore, but don't ever be afraid to experiment. You never know what you'll like!