Why You Should Start Adding Red Palm Oil To Your Hair Care Routine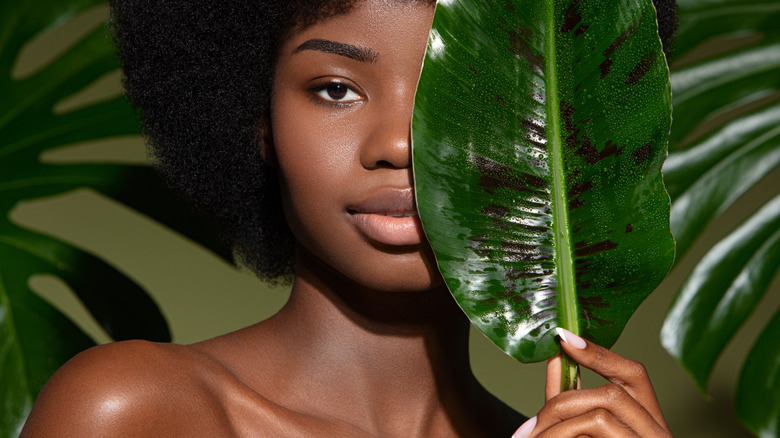 Beauty Agent Studio/Shutterstock
We may receive a commission on purchases made from links.
In a world full of supplements and treatments, it can be nice to turn to a natural option. Red palm oil has gained popularity for being nutrient-rich. Because it's less refined than regular palm oil, red palm oil retains more of its natural goodness and nutrients. WebMD claims you can get many of these benefits from cooking with red palm oil, but using it topically can also bring results. Red palm oil can help skin issues like eczema and be a treasure trove for your hair and scalp (via New Directions Aromatics). 
According to dermatologist Stacey Chimento, the benefits are plentiful. "Red palm oil is an antioxidant, rich in vitamin E that benefits the hair by promoting cell growth of the hair follicles, resulting in stronger hair," Chimento tells Byrdie. "The carotenes that give red palm oil its color can also help with the growth and division of cells that help prevent hair from becoming brittle and weak."
Red palm oil can help smooth and soften hair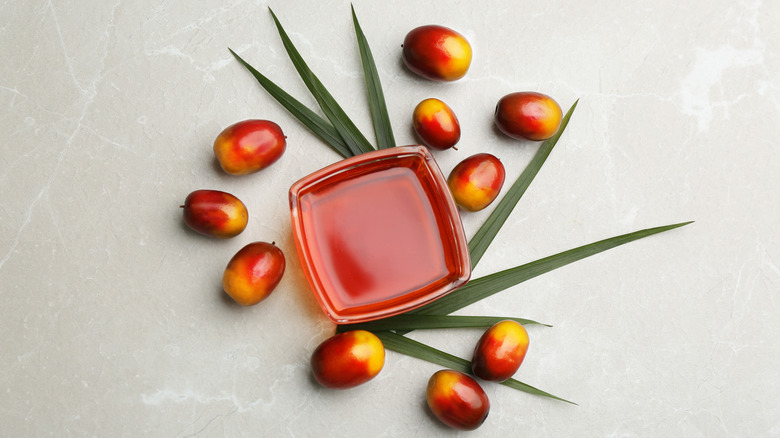 New Africa/Shutterstock
Palm oil's emollient properties are another reason behind its popularity. According to Healthline, an emollient "softens dry, rough, flakey skin, making it look and feel better." They're often an ingredient in moisturizers. For your hair, they act as boosters for your conditioner and even help your hair grow.
Red palm oil also contains antibiotics, which should make people with sensitive scalps rejoice. The oil deep cleans the scalp to set the stage for hair growth. Because of these benefits, Naturally Curly recommends it for any hair type, especially those who deal with dryness. In addition, because of these properties, red palm oil has become a game-changer for people with damaged hair.
A video by Discovering Natural details why red palm oil is such an awesome tool for dryness. The fatty acids and Vitamin E in the oil add moisture to your hair. Since problems like breakage and frizz stem from dryness, that's a pretty great reason to add red palm oil to your routine (via John Freida).
It's easy to add to your routine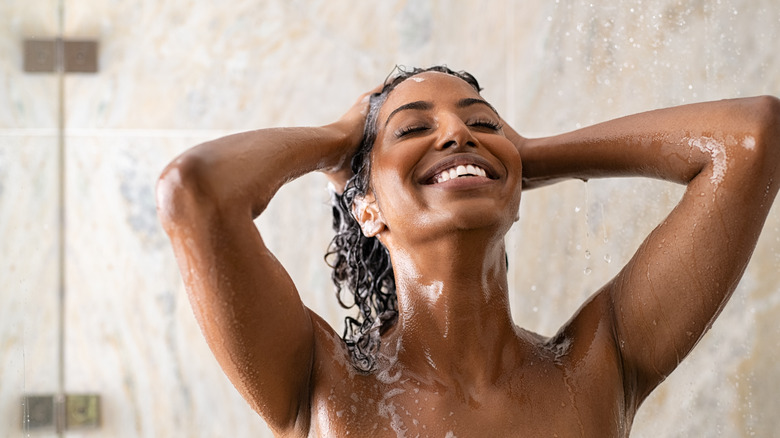 Rido/Shutterstock
To use for growth, StyleCraze recommends applying the oil before you wash your hair. Massage in the oil as a treatment before you shower. For help with overall moisture, it can be used as a leave-in conditioner — apply it after your shower to damp hair. 
While it's totally safe to use on your hair and skin, it's important to note that it can leave a reddish tint on hair, skin, and nails. No worries, though. It washes off easily with water (via Wildly Organic). Red palm oil typically comes in a balm, like coconut oil. If you don't want to use the oil directly, plenty of hair products feature the ingredient. SheaMoisture, for example, has an entire line of red palm oil products. If your hair is showing signs that it needs more oil, it may be time to start using red palm oil in your routine.